Magnets and Ladders
Active Voices of Writers with Disabilities
Fall/Winter 2017-2018
Editorial and Technical Staff
Coordinating Editor: Mary-Jo Lord
Fiction: Valerie Moreno, Marilyn Brandt Smith, Kate Chamberlin, Abbie Johnson Taylor, and Bonnie Blose
Nonfiction: Valerie Moreno, John W. Smith, Kate Chamberlin, Leonard Tuchyner, Bonnie Blose, and Marilyn Brandt Smith
Poetry: Valerie Moreno, Abbie Johnson Taylor, Alice Massa, Lynda McKinney Lambert, and Brad Corallo
Bobbi LaChance Bubier Romance Contest: Abbie Johnson Taylor, Marilyn Brandt Smith, Lillian Way, Valerie Moreno, and Cleora Boyd
Technical Assistants: Jayson Smith and John Weidlich
Internet Specialist: Julie Posey
---
Submission Guidelines
Writers with disabilities may submit up to three selections per issue. Deadlines are February 15 for the Spring/Summer issue, and August 15 for the Fall/winter issue. Writers must disclose their disability in their biography or in their work. Biographies may be up to 100 words in length, and should be written in third-person.
Do not submit until your piece is ready to be considered for publication. Rewrites, additions, deletions, or corrections are part of the editorial process, and will be suggested or initiated by the editor.
Poetry maximum length is 50 lines. Memoir, fiction, and nonfiction maximum length is 2500 words. In all instances, our preference is for shorter lengths than the maximum allowed. Please single-space all submissions, and use a blank line to separate paragraphs and stanzas. It is important to spell check and proofread all entries. Previously published material and simultaneous submissions are permitted provided you own the copyright to the work. Please cite previous publisher and/or notify if work is accepted elsewhere.
We do not feature advocacy, activist, "how-to," or "what's new" articles regarding disabilities. Innovative techniques for better writing as well as publication success stories are welcome. Content will include many genres, with limited attention to the disability theme. Announcements of writing contests with deadlines beyond April 1 and October 1 respectively are welcome.
Have You Published a book? If you would like to have an excerpt of your book published in an issue of "Magnets and Ladders", please submit a chapter or section of your book to submissions@magnetsandladders.org. The word count for book excerpt submissions should not exceed twenty-five hundred words. Please include information about where your book is available in an accessible format. We will publish up to one book excerpt per issue.
Do you have a skill, service, or product valued by writers? For a minimum contribution of $25.00 we will announce it in the next two issues of "Magnets and Ladders". All verifications of products or services provided are the responsibility of our readers. Book cover design? Copyediting? Critiques? Formatting for publication? Internet access or web design? Marketing assistance? Special equipment? Make your donation through PayPal (see magnetsandladders.org) or by check by March/September 1. 100-word promotional information is due by February/August 15. Not sure about something? Email submissions@magnetsandladders.org. All donations support Magnets and Ladders.
Please email all submissions to submissions@magnetsandladders.org. Paste your submission and bio into the body of your email or attach in Microsoft Word format. If submitting Word documents, please put your name and the name of your piece at or near the top of the document. Submissions will be acknowledged within two weeks. You will be notified if your piece is selected
for publication.
Final author approval and review is necessary if changes are needed beyond punctuation, grammar, and sentence or paragraph structure. We will not change titles, beginnings, endings, dialog, poetic lines, the writer's voice, or the general tone without writer collaboration. If your work is selected for inclusion in a future "Behind Our Eyes" project, you will be notified; your approval and final review will be required. To insure we can contact you regarding future projects, please keep us updated if your Email address changes.
---
About Behind Our Eyes
Behind Our Eyes, Inc. is a 501(c)3 nonprofit organization enhancing the opportunities for writers with disabilities. Our anthology published in 2007, "Behind Our Eyes: Stories, Poems, and Essays by Writers with Disabilities", is available at Amazon and from other booksellers. It is available in recorded and Braille format from the National Library Service for the Blind and Physically Handicapped.
"Behind Our Eyes, a Second Look" is available at Amazon, Barnes and Noble, and other booksellers, and in E-book format on Amazon Kindle. It is also available in recorded format from the National Library Service for the Blind and Physically Handicapped. See our book trailer on Youtube at http://www.youtube.com/watch?v=hk0uIaQTr24&feature=youtu.be.
Several members of our group meet by moderated teleconference twice monthly to hear speakers; share work for critique; or receive tips on accessibility, publication, and suggested areas of interest.
Our mailing list is a low-traffic congenial place to share work in progress; learn about submission requests; and to ask and answer writing questions. If you would like to join our group and receive access to our phone conferences and mailing list, please complete our quick and easy membership form at http://www.behindoureyes.org/mform/form.php.
If you would like to learn more about Behind Our Eyes, or if you would like to make a donation, please visit our website at http://www.behindoureyes.org.
---
Contents
---
Editor's Welcome
Hello. I hope those of you that were affected by the hurricanes and wildfires that have destroyed much of the United States are, with the help of others able to rebuild or find safe homes.
As a memorial to Bobbi LaChance Bubier, the Behind Our Eyes group held a romance contest this spring. The contest winners will be featured in the first section of this edition of Magnets and Ladders. Thanks to Abbie Johnson Taylor and her committee members: Marilyn Brandt Smith, Lillian Way, Valerie Moreno, and Cleora Boyd for all of your hard work. The determination of guidelines and the selection of winners required a great deal of time and consideration.
This edition of Magnets and Ladders is packed with stories, poems, and articles to keep you entertained throughout the cooler months. Our "seasonal Wonders" section has stories and poems about holidays and the change of seasons. Maybe you will find a new holiday favorite. "The Writers' Climb" has articles and an exercise to stimulate your fiction writing muscles. Read stories from or about the past in "Looking back." The characters presented in "Coming to Terms" will stay with you when you are finished reading. As always, "From a Different Perspective" is full of surprises, and we have a great mix of poems in "The Melting Pot."
I would like to give a big thanks to all of the committee members and to Marilyn Brandt Smith, Jason Smith and John Weidlich for your hard work and support throughout the production process.
We had contests with cash prizes in fiction, nonfiction and poetry. Below are the winners of the Bobbi LaChance Bubier Romance Contest and the Magnets and Ladders Fall/Winter 2017-2018 contest winners.
Bobbi LaChance Bubier Romance Contest Winners:
First Place: Get Me to the Church on Time! Memoir by DeAnna Quietwater Noriega
Second Place: Romance in the Blackout, Memoir by John Justice
Honorable Mention: Soul Reflection, poetry by Crystal Howe
Magnets and Ladders 2017-2018 Contest Winners:
Fiction:
First Place: "Power of the Press" by Nicole Massey
Second Place: "Meet you in the Intermissional sauna" by Brad Corallo
Honorable Mention: "Suicide By Siri" by Nancy Lynn
Honorable Mention: "Cosmic Bowling" by Shawn Jacobson
Nonfiction:
First Place: "A Yankee Woman's Love" by Kate Chamberlin
Second Place: "A Song for Adrienne" by John Justice
Honorable Mention: "The Groove in the Ceiling by C. S. Boyd
Honorable Mention: "Finding the Words" by Marcia J. Wick, The Write Sisters
Poetry:
First Place: "Separate" by Ann Chiappetta
Second Place: "The Healing Voice" by Abbie Johnson Taylor
Honorable Mention: "Hobgoblin Breath" by Leonard Tuchyner
Honorable Mention: "Awaking from an American Dream" by Alice Jane-Marie Massa
Congratulations to the winning authors. All of our prize winning stories and poems can be found throughout this issue. See "The Writers' Climb" for details about our next contest, again with cash prizes.
The Magnets and Ladders staff wishes you a happy and safe holiday season.
---
Part I. Bobbi LaChance Bubier Memorial Romance Contest Winners
Get Me to the Church on Time! Memoir First Place
by DeAnna Quietwater Noriega
In 1970, over the Thanksgiving holiday, Curtis and I became engaged. Curt was the first young man I had dated that understood my need to be independent and make my own choices. He never tried to rein in my enthusiasm or to control me. He made me feel very special and loved for who I really was. He knew how to make me laugh and allowed me to be myself instead of always having to put on a performance to prove I was an ordinary college girl. Many of the other people I knew didn't believe that blind people were normal human beings. Blind was the first defining term in their minds when they thought of me. Curt didn't rush to do simple tasks for me or treat me as if I were helpless. He didn't act as if he thought my ability to accomplish tasks on my own was remarkable.
The night I finally accepted his proposal, he placed my fingertips in the palm of his open hand. Quietly, he told me that I feared commitment because I thought of love as a cage. What he offered was a safe haven to come back to for rest after I had exhausted myself flying in all directions. He promised that he would never clip my wings. The love he offered would have no bars to cage my spirit.
I knew instinctively that love isn't love, if there isn't mutual respect and trust.
Curt and I planned our wedding for the following June. We tried to save up money to fly my parents and grandmother out for a small ceremony at school. We had a classmate who was a minister and of course I wanted my best friend Scottie Hagedorn to take part in the wedding as my bride's maid.
Our plans had to be changed when Grandma Luella declared that she wanted me to come to Michigan to be married in the church in which my parents were wed. Indian children are taught to respect their elders. I was the eldest grandchild and was born on her birthday. Since my parents were divorced, I didn't see the point of getting married in that church, but if it was what my grandmother wished, I would comply.
Another wrench was thrown into our June wedding date. Curt got a job that was supposed to begin the day after the school term ended. Spring break had to do as a wedding date.
Mom panicked when the wedding day was moved up. I had a dress on lay-away. Fearing I wouldn't have the money before the new date, mom exchanged it. She took two of my attendants to the bridal shop clearance sale and had them try dresses on alternately. Kerri was my height and Nadine was closer to me in build. The poor sales clerk was confused and asked, "Which girl is the bride?" Mom replied, "Oh, she's not here. She's in college in California."
Early on March 20th, 1971, I boarded a plane flying stand-by from Modesto California with a large black Labrador curled under the seat in front of me and a broad shouldered young man with a shy smile and a quiet manner that hid a lively sense of humor and a gentle loving heart. Despite the fact that we had never gone on an unchaperoned date, Curt and I were on our way to become a married couple.
When our plane landed in Detroit, we were bumped from the flight one hundred miles short of Saginaw. I went to turn in the unused portion of our tickets while Curt tried to reach my family to keep them from going to the airport. When Tammy and I joined him at a phone booth, my youngest brother Donny was refusing to accept the charges from someone named Curtis Noriega. I snatched the phone and told him he was not going to live to be fourteen if he didn't accept the collect call!
While getting the refund for our tickets, I had learned that an airport shuttle bus was returning to its garage in Pontiac. The driver was willing to race us there to catch a Greyhound Bus. It was snowing heavily and we only had light California weight coats.
When we reached the bus station, the snow was falling so hard it was impossible to tell if the bus had come and already gone. The station was closed. Our driver was loath to leave us standing in the snow. He said he had some business in Saginaw the next day and would be happy to drive us the rest of the way in his own car. While trying to call my mother on the payphone, I pushed the coin return and about $30 came cascading out. It seemed our lucky day.
By the time we hit the road to Saginaw, the snowstorm had taken on blizzard conditions. Our kind driver kept losing sight of the road and driving through people's yards or off on the shoulder of the road. He laughed as he drove on through the night. It was early morning before we reached the Saginaw bus station. Our Good Samaritan driver refused to accept any money for gas or his trouble.
My mother and stepfather weren't speaking to each other. Don had moved out temporarily. I had always played the peacemaker role in the family, but even my skills were barely sufficient to keep things from boiling over.
My mother got into a fender bender the morning we arrived. Her ten-year-old dog was stolen. My grandfathers quarreled over where the reception was to be held. My stepfather's stepfather wanted it to be in the Moose Lodge. My Grandma Luella's second husband wanted it to be in the steel workers union hall. Considering that neither one of them was actually my grandfather by blood relationship, I supposed I should have been flattered to be the cause of the argument. It was hard though to see the simple wedding among college friends I had hoped for turn into a bone of contention.
Chaos was the norm for my large quarrelsome family. Mother was the eldest of ten and her father was the eldest of twelve children. I was the oldest grandchild. The phone never stopped ringing as distant relations called to ask why they hadn't received an invitation to the wedding. Mom kept a stack of cards beside the phone. She asked for current information and reassured the second or third cousin that she was sure their invitation was in the mail as she wrote one for them.
I had asked a young neighbor of Mom's to be a bride's maid. We had become friendly because I had been babysitting for her two children during my trips home from college. I had also asked a teenaged cousin to take part in the ceremony. Various relations had begged to be included in the wedding party. By the time the date approached, I had five bride's maids, a maid of honor, a flower girl and a ring bearer. I was beginning to feel like merely an excuse for my family to hold a party.
My maid of honor was a step aunt that I had fought and played with since we were both three. She insisted that we use her car to travel from the church to the reception. I was uneasy, but since we had shared so many childhood memories, I didn't feel I could refuse. I wondered though what her clients would think when they saw her paisley topped Cadillac go by plastered with a "just married" sign. Nina had turned her beauty to profit by becoming a very expensive lady of the evening.
My uncle John was appalled when I told him I didn't intend to buy any alcohol for the reception. He insisted on supplying it himself.
The week before the big day flew by as I did a few minor alterations to the sale dress and took it to pick out a veil. We needed to replace groomsmen gifts that had been stolen from Curt's suitcase in route to Michigan. Thank heavens they missed his great grandfather's gold pocket watch and chain hidden in one of his dress shoes. Then I needed to choose a bridal bouquet and corsages for the mothers and grandmothers, and find a blue garter. My bridal shower was also that week.
One afternoon, I slipped into my parents' room to phone my mother-in-law to be. I asked her to take us out shopping. My excuse was to look for an outfit to wear to the rehearsal dinner. I really didn't need a new dress. I was worried I wouldn't have a groom if I didn't get him out from underfoot. My mother was busy piping roses, lilies of the valley and doves using her secret decorating frosting on the layers of our wedding cake. Curt and my youngest brother were sticking fingers into bowls of colored icing and sword fighting with the wooden dowels used to support and separate the layers of the cake. I seriously doubted Mom's patience would hold out if I didn't drag my intended out of harm's way.
When we arrived at the church to rehearse, I was surprised to find my accompanist had not even looked at the music I had purchased and mailed to her. She made such a hash of it on the piano that I asked her to try it on the organ. The way an organ blends one note into the next disguised some of her mistakes.
We were thirty for the rehearsal dinner. Upon arrival at the restaurant, the management charged more than the agreed amount alleging they didn't have a reservation for our party. This claim was made despite the fact that they had a table set for us for a family style meal. My baby sister refused to eat anything, even turning down the ice cream. When we arrived back at my parents' home, she placed her little hand in mine and whispered, "Sissy, will you make me a cheese sandwich?"
My stepfather arrived and started pacing at seven in the morning on my big day. He still wasn't talking to my mother. After lunch, I gave my little sister lessons in sitting down in her flower girl dress. The first time she attempted this feat, the hoop holding her skirt out flipped up and hit her in the nose, causing a storm of tears. I got her calmed down as mom rushed into the room to ask if I could manage to dress myself. I replied that since I had been doing so for most of my twenty-two years, I thought I could. She burst into tears exclaiming, "Well, I can't, I have got my zipper stuck!" I got the jam solved and went back to hoop skirt lessons.
Finally, we left for the church. The cake developed a list in the back of Mom's station wagon. We arrived at the church to find that the janitor had not appeared to unlock the door. It started to snow and I stood shivering on the doorstep. The dress I had originally chosen had a train that flowed from the waist and could be fastened up to form a butterfly effect for dancing. The one my mother had traded it in for had a train that fell from the shoulders and didn't have a way to fasten it up. When I moved some satin roses to disguise where one was missing, I had fortunately added a satin wrist loop. My dress was a sugar crystal organza. As the wind dusted me with snowflakes, I held the train of the dress up to keep it out of the mud.
There was a last minute scramble for safety pins when Nina wanted to practice putting back my veil. The snaps on her full satin sleeves kept coming undone sliding up to her shoulders. I took Tammy to my grandfather to hold for me. He loved dogs. He was having a hard time holding back his tears. I thought minding Tammy would give him a distraction.
The music began and I followed five-year-old Christina down the aisle. She forgot her shyness and walked with measured steps ahead of me carrying her flower girl basket. As we passed the pew where Grandpa sat with Tammy, she broke loose and dashed up the hardwood floor of the aisle. My brother tackled her and pinned her to the floor. My stepfather hissed, "Don't laugh!" I disgraced myself by giggling.
During the service, there were the usual sounds of a fussy baby, an elderly person's cough and the mournful wails of a protesting Labrador. Curt swears to this day that the loudest of these erupted when the minister reached the part in the ceremony where he asked if any in the congregation could give a reason these two should not be joined in holy matrimony.
When we arrived at the reception hall, we had to coax my new mother-in-law in from playing in the snow to stand in the reception line. After cutting the cake and opening the gifts, the dancing began. My new husband and I led off and my little sister played ring-around-the-rosy with my six year-old ring bearer and the rest of the wedding party joined us on the dance floor. Then relations lined up to dance with the bride and groom.
Many American Indian women get heavy in their later years and Chippewa are usually tall. Curt was very intimidated when several of my great aunts formed a line to dance with the groom. He said that at five foot seven, and weighing one hundred and thirty pounds, he couldn't help feeling he was being asked to steer Green Bay Packers in drag around the dance floor. I had my own problems managing the train of my dress as my father-in-law went into his version of Fred Astaire twirling around the room.
Finally, I slipped around the room to give good-bye hugs to my two grandmothers, great grandmother and closest relations. We crept away without my even throwing the bouquet. The extended family was so busy dancing, drinking and trying to top each other in the telling of outrageous tall tales, that I don't think most people noticed us leave. I was so tired and we needed to catch a 5 A.M. flight back to school the next day. Monday our spring quarter of classes began. If this all sounds a bit like the perils of Pauline, well at least Tammy and I avoided being tied to the railroad tracks and we ended up carrying off the hero in one piece with us when we made our escape. Over forty-six years later, we are still sharing the trials and tribulations of living as a married couple.
Curtis and DeAnna Noriega have been married 46 years. After surviving their wedding, they felt that they were prepared for anything life might throw at them. Every marriage has its share of ups and downs, but theirs had an unusual number of hurdles to jump.
Bio: DeAnna Quietwater Noriega is half Apache and a quarter Chippewa. She has been a writer and story teller since childhood. She became totally blind at age eight. She currently has three short story collections and an autobiographical book residing on her computer. She has been published in four anthologies and several magazines. Sometimes it is only an overheard word, a stray thought that can set her mind spinning out a new story, poem or essay. She says that the world provides so many options and opportunities, that no one need ever be bored or live a wasted life unless they choose to do so. She lives with her husband, youngest daughter, three grandchildren, guide dog, three other dogs, three cats, three horses, three ponies and assorted fish, reptiles and rodents, in Fulton Missouri.
---
Romance in the Blackout, Memoir Second Place
by John Justice
I closed up my tool case and prepared to start my way home. It was late, but I really didn't care. There was nothing for me at home, anyway. I lived alone in Hackensack in a rooming house. The other occupants were loners like myself and kept out of each other's way, most of the time. I wished that someone would come along to ease my empty life.
My guide dog led me down the dirt encrusted stairs and into the subway station. I planned to take the F Train to Manhattan and then change to the southbound A Train, which stopped right under Port Authority bus terminal. As it turned out, I never made it that far.
The island platform was crowded at this time of day, but that was no surprise. I felt the puff of air which presaged the arrival of the subway. I stayed far away from the edge of the platform until the train came to a complete stop. Star led me unerringly right to the nearest set of doors. I didn't try to find an empty seat, but went straight to the poles near the center of the car. Star sat down on my foot and we got ready for the long noisy journey.
I wasn't aware of it, but a young woman had boarded the car at the same time I did. As soon as she saw Star, Elaine forgot everything else around her. She let go of her pole and started making her way toward us. A badly set switch in the tracks sent her flying across the intervening space. She crashed into me and I grabbed her arm to keep her from falling. She tried to explain what had happened.
"I was admiring your dog. At first, I didn't understand why a dog was on the subway and then, the coin dropped. I'm sorry for running into you. I'm Elaine Wood. What's your dog's name? Can I pet her?"
I nodded and introduced myself. "You can pet her, but keep it short. I don't want her to get distracted." I felt Star's tail thumping my shoe so I knew that Elaine was touching her.
It was just about then that the world turned from normal to really weird in an instant. At first, I didn't realize what was going on until Elaine let out a little cry.
"The lights are out, all of them! Normally, you can still see the lights in the tunnel but, they're gone too. Something really bad just happened!"
She was right. The subway came to an emergency stop and it was silent. The only thing I heard was other people discussing the recent events. The sliding door at the end of the car opened and a man made an announcement. "May I have your attention please? There has been some kind of power failure. We're not sure how bad it is yet, but the train has stopped between stations. We're going to ask all of you to remain calm, and as soon as we have more information, we'll let you know." There were hundreds of questions but the trainman let the door slide closed and didn't even try to respond.
We learned later that the entire city was suffering a complete blackout. It hit EVERYWHERE inside the city, parts of the surrounding states and impacted everything. Elevators stopped between floors in the office buildings. A Tube Train on its way to New Jersey stopped without warning and the passengers were instructed to leave the train and walk back to the nearest station. That is more or less what was going to happen to all of us.
About fifteen minutes later, the trainman returned. "Okay everyone. The power failure is much more serious than we realized. We're going to ask you to leave the train and walk to the nearest station, about a quarter mile from here. We'll empty the cars one at a time and you'll have a train employee with you. It's perfectly safe, since there is no power. Now everyone stay calm. We'll let you know when it's time for you to leave."
As soon as he closed the door, the complaints, arguments and cries of fear overwhelmed the car's interior. But these were New Yorkers. Soon enough, they settled down and got ready to accept the inevitable. What choice did they have when all was said and done? I thought about what was coming myself. I was about to walk along a set of tracks which were never intended for pedestrians. I knew that Star would get me out of there, but we were in for a really strange experience. Elaine was probably having some of the same thoughts.
"if you don't mind, I'll stay with you and Star. I'm very frightened right now."
I was beginning to like this girl. Here she was, in a subway beneath Queens and she was still determined to do whatever was necessary.
When our turn came to disembark, the conductor tried to stop me at the top of the temporary wooden steps. "You'll have to wait in the car, Sir. It's far too dangerous under foot for someone who can't see."
I gave him a "Go to hell" look and said, "My dog will get me out of here safely enough." The man didn't have either the time or the patience to argue.
We went down the steps with Elaine close behind me. As we moved along between the tracks, I could feel things squashing and crunching under my feet. God only knew what was lying down here in the dark. At one point, Star stopped and growled softly. Something, probably a rat, scampered away and we were soon at a second set of wooden steps which led us up onto the station platform. I told Star to take us out and we were soon on street level. But it was a different world. Elaine described it to me as we walked along. All of the buildings around us were dark. The lights of passing traffic shone brightly and far above; she could actually see the stars. A bus passed us going in the same direction, but it never even slowed down. I could imagine that it was holding as many passengers as could fit into that confined space. It was going to be a long walk back to Manhattan.
We had just passed a dark alley when Star stopped and whirled around. As soon as I felt her muscles tense, I dropped the harness. She let go with a huge barking challenge. I heard a man say, "damn!" Then he was running away. Elaine had been very quiet for a long time, but with that, she screamed and burst into tears.
"I can't take any more, John! I just can't!" she grabbed me and held on for dear life.
I could feel her shaking and sobbing. "it's okay, Elaine. He's gone now. Star chased him away. It's all right. We're out of the worst of it, now. Hang on, Elaine. We still have a long way to go and I really need you to help me. I've never been in this neighborhood before and we'll both need you to see what is around us. Hang on, honey. We've got to do this together." My quiet manner and reassurance must have reached her.
After a moment, she stopped crying and dried her eyes on a tissue. "I'm sorry John, but that creep trying to rob us was the last straw. I know you're blind, but I'm so glad that you and Star are here with me. I can't imagine what it would be like, facing this night alone."
As we walked along, I learned that Elaine lived in an apartment near Grammercy Park. That was a part of Manhattan I really admired. The buildings were old, but well-kept. The park was supposed to be a really nice place to go, especially in fine weather. I told her I lived in New Jersey and asked if I could borrow her couch for the night.
"of course, you can. In the park, there's a special place where people walk their dogs. Maybe we can go there before we climb up to my place."
We were crossing a large intersecting avenue, when our luck changed. A big car rolled up next to us and a lady rolled down the window. "Do you folks need a lift? My husband and I are out here trying to find someone to help through this disaster."
The balding man turned on the overhead light and Elaine could see that they were just ordinary people. The man turned and smiled at Elaine. "I'm Doctor Buchanan and this is my wife, Olivia. We noticed you walking along and decided to offer our help. Your dog is welcome of course and there's plenty of room in that back seat. Where do you two live?"
Elaine's arm pressed mine softly and I got the message. She spoke to the couple. "We live in Manhattan, near Grammercy Park. Would you be willing to drive us there?"
Doctor Buchanan nodded. "No problem. Just tell us where to go." The power locks clicked and Elaine opened the back door. Star went in and settled herself on the rug behind the front seat. Elaine slid in next and I followed her, closing the heavy door. We moved through the night with Doctor Buchanan skillfully negotiating the intersections. At each one, where a traffic light would have normally controlled the flow, the drivers had to be very careful, giving each other plenty of room and courtesy. We soon reached the park and thanked the Buchanans for their help. Elaine pulled a key from her purse and unlocked the gate into the park.
"Each of us has a key and we agree not to lend it to anyone. We always try to keep the park clean and littering is forbidden."
She led me to a bench near an area designated for the neighborhood dogs. I released Star and she went immediately to take care of her personal needs. Then she came back and slammed her paw down on Elaine's foot.
"She wants you to play with her."
Elaine laughed. "I'm exhausted, but I'd like nothing better." The two of them ran around together until Elaine collapsed on the bench beside me. She just couldn't go any longer. Star visited the break area once again, then came to sit beside me. We left the park, latched the gate and walked to Elaine's apartment.
I didn't plan it, but I was having romantic thoughts and feelings about this girl. I felt as if we were survivors of a shipwreck. We had been thrown together by circumstance, but the partnership was very rewarding, at least for me. We climbed the four stories and she opened the door.
"Welcome to my home, at least for now. Would you like something to drink?" She showed me the layout and provided extra towels. But when we tried to run the water to warm it, it stayed cold. Apparently, the boiler had gone out and no one had managed to restart it. Elaine made up the couch with a sheet, blanket and a pillow. She wished me goodnight and bent to kiss my cheek. Then, she changed her mind. Her arms went around me and she kissed my mouth. She snuggled in beside me and laid her head on my shoulder.
"You were wonderful tonight, John. I couldn't have made it without you. Thank you for being there when I really needed you." After a few minutes, she went off to her room and I stretched out, ready for sleep.
It must have been hours later when I felt Elaine's hand on my shoulder. "John. I'm still frightened. Everything seems so weird, even here in my own apartment. Will you hold me for a while? I need to feel you next to me." I started to sit up, but she pressed me down again. In a few minutes, Elaine was tucked in beside me and had covered us both with the blanket.
I was hoping and praying that this night was a beginning for us. But alas. In the bright of day, things appeared different for her. She walked me to my gate at the bus station and kissed me goodbye. I never heard from her again. For the longest time, I hoped that we might meet again on the F Train, but if she was there, she never spoke to me. One day, I walked intentionally toward Grammercy Park, hoping that I might find her. There were people in the park, but no one opened the gate for me. One old-timer addressed me. "this is a private park. You can't come in here unless you have a key." I knew that all too well.
As time passed, my hopes and dreams about Elaine faded, but I'll never forget that night or how the blackout drew us together. During that incident in the sixties, there was no serious damage or vandalism. When the same thing happened again in the seventies, the world had changed. There were fires, riots and several deaths, all blamed on the blackout. By then, I was far away, living in Pennsylvania.
Bio: John Justice is a musician, entertainer and author living in Hatboro, Pennsylvania with his wife Linda. He was born with congenital glaucoma and was totally blind by age three. He has written for several magazines as a freelance contributor and has two books in print available on most major book web sites in electronic and paperback form. Details can be found at his website. http://www.dldbooks.com/johnjustice
---
Soul Reflection, poetry Honorable Mention
by Crystal Howe
God brought us together,
You and me in Love.
Through our lives we shine his Light
On Earth from Heav'n above.
May we see through the windows of the eyes
Into the waters of the soul,
Reflecting a being pure and whole.
Two made one in fullness,
Both a bless'd part.
We remind each other
Love is where we end and start.
May we see through the windows of the eyes
Into the waters of the soul,
Reflecting a being pure and whole.
Some days our eyes are foggy
With reflections sad and pale.
In quiet mind we find
The Spirit's Love that lifts the veil.
So we see through the windows of the eyes
Into the waters of the soul,
Reflecting a being pure and whole.
Bio: Crystal is an ordained minister with a Doctorate in Metaphysical Science. Her poetry, songwriting, weaving, and other creative pursuits celebrate the many ways we share our lives and spirit. Crystal is totally blind. Find her music on CD Baby and other work on mysticalstrings.com. "Soul Reflection" is dedicated to Freddy. Listen to the song at: https://mysticalstrings.files.wordpress.com/2017/07/soul-reflection.mp3
---
Part II. Looking Back
A Yankee Woman's Love, creative nonfiction, nonfiction First Place
by Kate Chamberlin
I pulled the door panel down from the ceiling, unfolded the ladder, and stuck my head above the floor of the attic. A dim, bare bulb highlighted dust swirling in the eddies of air I'd created. Big dust bunnies scurried into the shadows of the dry room. At least, I thought they were just dust bunnies. Spider webs undulated, as if shaking with irritation at being disturbed.
I had the dubious honor of clearing out my grandmother's antiquated attic in her enhanced 1832 Salt Box home.
During Nana and Pappy's 71 years of marriage, treasures from many generations of Yankees amassed in this room. I saw a Zither with three loose strings; a Dismantled metal spindle bedstead against the south wall; several Sturdy wooden framed portraits of very stern ancestors against the north wall; an antique, wooden spindle cradle with real rubber wheels; and many Crumbling cardboard boxes with relics from generations of a Connecticut family. Watery light squeezed through small, filthy windows near the low roof ridge.
An oaken dresser coated with a thick fur of dust caught my eye. The low roof ridge pole forced me to awkwardly walk hunched over as I went to the dresser. I wiped the dirt and grime off the tall, beveled mirror and attached carved oak frame. I wondered what stories it could tell me about the many faces it had reflected throughout the decades.
In the bottom drawer, I found a padded box covered with faded chintz. I carefully wiggled the box top off and discovered several playbills, a piece of yellowed lace, and a small book covered in the same faded chintz. Inside the book, I recognized Nana's small, tight, precise hand-writing covering the unlined pages from top to bottom: her diary. No one knew she'd kept a diary.
The knowledge that Pappy kept a diary was the source of much family humor. On each dated page of the 5-year diary, you could see what happened on that date 5 years at a glance. He chronicled each day in terse, precise terms, often with a subjective evaluation. One day, he entered: "Rained all day. Hawes came over to play Bridge. Men won." On another day, he noted: "Hot, humid, 85-degrees. Mrs. Pinch-bottom came to visit. Awful!"
Nana's undated diary entries suggested thoughtful prose, written about important events in her life. I sat down on the dry wooden floor with the diary in my lap and leaned against the tall steamer trunk near the dresser. I wondered how family lore would compare to Nana's narratives.
One entry read: "Mother found where I hid things. I wanted to wear my old shoes, instead of the new ones. I put the new ones under the loose floor board under my bed. When I pushed the board back down, the shoes broke through the ceiling in the dining room. She was there and saw the cracks in the ceiling. I got caught and had to do extra chores after school. I didn't really mind adding lace trim to the corsets and ribbons to the hats Grandma Sarah would sell in her shop."
I remember my own mother telling me how, when she was young, she had a secret hidey-hole under her bed that Nana didn't know about. Little did Mother know that she wasn't the first to use that secret spot.
Another entry confessed: "Cora, Ethel, Mary, and I snuck down to the beach yesterday. We had our short swim costumes on under our long skirts. It was deliciously wicked to swim so nearly nude, then, dry off as we leisurely smoked the taboo cigarettes we'd stolen from Cora's Dad."
This entry made me laugh, because the short swim costumes consisted of bloomers past their knees and blouses to their wrists with necklines to their chins. Imagine how scandalous today's teeny weeny bikinis would've been in Nana's day.
"The boys have played basketball for a long time," another entry began. "Now, my friends and I are on a girl's basketball team. Mother isn't too happy about our wearing pants in public, but, it is ever so much fun to run freely, dribbling the ball and shooting for the rim. It is exhilarating to hear the crowd cheer and urge us on, like we're in a drama on stage."
A few pages later, she wrote, "Cora, Ethel, Mary, and I were asked to leave the team, because we got caught smoking behind the school after practice. Mother huffed and assigned more corsets and hats for me to trim, but she didn't seem all that upset. She mumbled something about girls don't belong in pants in public anyway."
Knowing my great grandma Jane had been a fiery red-head and a trend-setter herself, I suspected Great Grandma Jane outwardly frowned at her daughter's outrageous behavior, while inwardly thought: You go, Girl! Grandma Jane was, after all, the one who had three husbands.
The little diary opened to a page with a pressed daisy where the entry recorded: "Tonight, at our Community Players rehearsal, there was a new member. He is ever so good looking. I noticed how thick and full his moustache is, complimenting his dark brown curly hair. I looked from his sturdy chin up into his dark eyes. He caught me looking rapturously at him! I turned red to my roots and felt heat in the pit of my stomach."
I knew this was how my grandparents met and, apparently, Pappy didn't have to court Nana too strenuously. It was love at first sight.
Not much is written about her young swain, except to mention, "Elt's father is a very stern Presbyterian minister in the big church on the hill. They do nothing but church on Sundays and never drink spirits. I don't think they like me."
I was curious about their wedding, but Nana only mentioned that they were married in his father's church, presumably by his father.
A lock of baby-fine hair marked another entry. "Our little Gracie is perfect. She has lots of Elt's dark, curly hair, a fine lusty yell, and a healthy appetite. I developed a breast infection and told Elt that if he didn't get me out of the hospital right away, I'd die. He brought me home and we are doing well now."
Two other locks of hair marked where my uncle and aunt were born at home. The woman we all called Nursey, must have been young when she attended Nana, because, she was still around to attend my mother when my brother and I came along.
One page had its corner turned down. "I must get Elt out of the hospital. The doctor says one lung has collapsed and he has tuberculosis. I must get him home, so I can take care of him. He'll die in that hospital."
She did bring him home. He hoed his large vegetable garden in the sunshine, ate Nana's home-cooked and canned produce, and day by day, he regained his health and strength.
Near the end of her diary entries, I read: "Elt has volunteered with our local Civil Defense Group. After work as the shipping/traffic manager for DuPont, he patrols the train station platform. I am working with my DAR sisters for the war effort by rolling bandages."
During one of the many summers I spent with Nana and Pappy, I found his old train lantern down in the dank, stone-walled basement. Pappy would walk up and down the station platform and when everyone was on-board, he would raise the lantern and swing it so the engineer knew it was good to go. I cleaned up the lantern and it now sits on my brother's mantel. It was during these summer visits when I was a teenager that Nana and I developed such a strong bond.
Pappy, born in 1888, died when he was 93, missing their 72nd wedding anniversary by two weeks. I asked Nana what she thought of his passing. She quipped, "Imagine that rascal skipping out early!"
One night, in the wee hours of morning, I awoke to see her standing at the foot of my bed. She was wearing an old-fashioned, sepia toned traveling outfit, complete with the long skirt, bustle, and short cape, holding a small travel valise. A small "pill box" hat perched on her curly, dark brown hair. She just stood there, looking at me through twinkling brown eyes. She raised one eyebrow and one gloved finger pointing up. It was a motion I'd seen her do so many times. It was her way of indicating, "I told you so."
When I awoke again in the sunlight, I knew Nana had gone to be with her Beloved, Elt.
Nana was 95 when she died, yet in this life or the next one, there is no stronger bond than a Yankee woman's love.
Bio: Kate Chamberlin, B.S., M.A, and her husband have raised 3 children plus 2 grandchildren. Her teaching career continues through her Study Buddy Tutoring Service, Feely Cans and Sniffy Jars Program, and as a popular lecturer. She is a published children's author, Anglican educator, free-lance writer/editor, and proud great-grandmother.
---
Guardian, Senryu poetry
by Kate Chamberlin
Pseudo guardian;
To have, to hold, to reason;
Our cherished grandson.
Little, Hellion child,
So out of control and wild;
Easily riled.
An illustrator,
High school butterfly swimmer,
French Horn, bass Drummer.
Nourished by our love,
Grew to become a Marine;
A true guardian.
---
Power of the Press, fiction First Place
by Nicole Massey
Mr. Browntree,
As we discussed, this letter is to confirm that I'm hiring you to handle the printing of my book, The Glory of Our King. This is for the agreed price. Enclosed is my manuscript, and as we discussed you will typeset it on your new German style press, with stitched pages and a leather binding. I look forward to a successful business venture.
In the Year of Our Lord, 1535
Harold Parsons.
Mr. Browntree,
I have yet to hear any word on the publication of my book. I understand you're displeased with my attentions to your daughter, Anne, but that shouldn't affect our business. You have a contract that stipulates work to be done, and we can work out the other issues some other way. The important thing is that we keep our business separate from personal affairs. I expect to see gallies of the book in the next week. Any delay will require me to seek satisfaction from the courts.
In the Year of Our Lord, 1535
Harold Parsons.
Mr. Browntree,
I've received the gallies for my publication, and they're not what we agreed upon. The typesetting is crude, the quality of printing is messy, and the paper is so rough that it's unreadable because the ink soaks too much into it, causing ugly smudges. Is this the quality level you plan to use for my works? Remember, this is a business transaction that predates my affair with your daughter, and I expect you to keep the two things in their proper perspective. Your other publications don't show this level of poor quality, and these gallies are of lower quality than a cheap broadsheet. I expect better quality within the week or I'll seek court action.
In the Year of Our Lord, 1535
Harold Parsons.
Mr. Browntree,
These are much better. I think we're on the right track, and if we keep up this standard we should turn out an excellent book. Please continue in this direction.
I understand, as your note mentioned, that you're angry with me on the other matter. Of course it wasn't my intention to get your lovely daughter Anne with child. And of course I have no intention of abandoning her. With the sales of my book I should have no problem caring for her. Please don't concern yourself about her future, as she's in my hands. I know that we can work all of this out as we start the new year.
In the Year of Our Lord, 1535
Harold Parsons.
Mr. Browntree,
I received the last set of gallies for my book, and they are beautiful. I'm ready to start the next stage of our publication after the yuletide break.
On to a more personal matter, I can't have Anne at my door all the time. I'm a writer, and I need quiet time to work. She's a terrible distraction, and my neighbors have complained about her outbursts and yelling tirades. At this point I think it would be best if you enroll her in a convent. This will help her come to terms with the realities of her situation. Of course I love her, but she's got some expectations that we never discussed or that I never even hinted at, and I think some quiet contemplation time will be best for her. Of course I'll pledge funds toward her maintenance as soon as my book sells, but right now I'm tight on resources. Publishing a book is not cheap, even in this modern day and age, as you well know.
In the Year of Our Lord, 1536
Harold Parsons.
Mr. Browntree,
I beseech you to come to my aid. Yesterday morning the constables took me into custody under order of the most wise king for charges of sedition. They claim that my book contains text that is defamatory to the king. I would of course never dream of saying anything that was not the greatest praise of our great Henry VIII, but somehow they think what I wrote is of that nature. Mr. Browntree, you have my original manuscript, please show it to them and prove my innocence of these charges. I'm groveling at your feet, as you alone can save me from this false charge.
In the Year of Our Lord, 1536
Harold Parsons.
Mr. Browntree,
I don't know what to say. You say Anne burned my original folios in anger because I was unfair to her? I can't imagine how she'd think that. Of course our passions have cooled a bit, but that was entirely her fault, as no man can keep an ardent love for a woman who screams at him and cries as much as your daughter has. And I'm truly sorry her pregnancy has been so difficult. But there's no reason for her to take this attitude against me. Her life is a bit unpleasant, but mine is at risk, for the penalty for treason is death.
Perhaps if you could testify on my behalf that would be enough. I didn't know I had any rivals, and I have no idea how someone could get access to early folios from my book without breaking into your shop. But what the constables are saying is patently false. Calling the king a serial murderer and abuser of women? I can't believe anyone would think that I, the most loyal subject of our wise and powerful king, would even dream of writing anything like that. Zounds, I wouldn't even think it, much less say it or commit it to paper. Please intervene for me or I fear Jack Ketch will have me as his guest.
In the Year of Our Lord, 1536
Harold Parsons.
Browntree,
I don't know why you refuse to speak on my behalf with the courts. You know what I wrote. Somehow they have the mistaken impression you feel I'm a traitor too. Please disabuse the judge of this before it's too late.
I'm sorry to hear about Anne, though I'm glad to hear she didn't suffer the fate of her child. I'm hoping that she can grow past all of that and move on with her life. I guess it's too much to expect her to visit me, as her mercurial nature made it clear to me that she finds solace in blaming all her troubles on me. I find it unjust of her, as I tried to treat her well, but too many words have been written already about the fickle nature of women.
Please rescue me. You alone have the power to free me from this prison and keep me from the noose.
In the Year of Our Lord, 1536
Harold Parsons.
Unto the most vile and duplicitous Edward Browntree,
Words fail at my contempt for you. Your testimony at my trial contained not a shred of truth. Yes, I did contract you to publish my book on the glories of our king, but from there you never once touched the truth. I have no idea where you got those manuscripts that included the false text, though I can guess that as a scion of corruption and villainy you have regular congress with forgers. You must know some second floor men as well, because no scrap of the gallies with the correct text could be found, and now the constables believe that I'll make up any story to try to save my neck.
Tell that harridan you fathered that between the two of you an innocent man will hang, and injustice will have won. Of course I always intended to marry her, even with her weakness of character and personal faults. But you, with your treachery and cobbled together lying folios, have destined her to spinsterhood. I hope that thought comforts you when you grow older, knowing that your daughter could have been a wife instead of an unclean woman of poor repute.
My sincerest wish is to be there at the gates of heaven when Saint Peter casts you down into the burning fires of hell for your falsehoods and manipulation. May your life be painful, difficult, and short.
In the Year of Our Lord, 1536
Harold Parsons.
My dearest Father,
He's done for. I know you didn't want to watch him on the gallows, but of course I had to go see it for myself. He was so undignified, crying and yelling as they dragged him up the steps. His last words were to claim his innocence and curse both you and me.
The spectacle was almost too much for me. Paul had to hold me up as I came close to fainting. I'm glad he was there, and I know he's far more a man than Harold was. I think he may come to talk to you soon, and if he does please know that I won't object to his proposal. And I'm so glad Paul is an honest man. I don't know what I was thinking by getting involved with a writer, and I'm looking forward to the more stable and honest life of the wife of a brick maker.
But Harold Parsons is a part of history. I'm glad we're rid of him. May the devil take all his brethren, at least the ones who try to despoil maidens, so we can be free of them.
In love and respect,
Your daughter Anne Rowan Browntree.
Bio: Nicole Massey is a writer, composer, and songwriter living in Dallas, Texas. She writes in multiple genres, including mainstream fiction, science fiction, fantasy, mystery, and romance. She also writes for role-playing game fan magazines. She lost her sight in 2003 and if you find it, she'd like to have it back. She can be reached at nyyki at gypsyheir dot com.
---
Chicks, Memoir
by Greg Pruitt
Along with the arrival of warmer weather in spring comes the promise of the rebirth of life and a renewed hope for the coming year. Symbolic of both is the egg and the newborn chick. The living form of that symbolism was given to my younger brother and me in the spring of 1953, when we each received a baby chick for Easter.
These were not chicks that had been artificially colored with vibrant, spring pastels, like those popular three decades or so later, but rather the basic fluffy, yellow baby peeps.
My brother and I kept our chicks in a large cardboard box. Inside the box were two bowls, one for water and another for food, which was some type of corn meal. The bottom of the box was lined with sheets of newspaper that could be changed daily. There was also a small lamp that provided enough heat to keep the tiny creatures warm. We named the birds Ted and Mickey after our favorite baseball players, but I was unable to ever distinguish one from the other.
I was excited to share my pride and joy with my classmates, so I asked my first grade teacher if I could bring the chicks to school to show the class. My teacher thought that was a wonderful idea and said that she would contact my mother to arrange a convenient time.
A few days passed and finally the big day arrived. Our class had been told that we would have a surprise visitor that morning. I smiled and felt special, because I was the only student who knew the name of our guest.
We spent the first part of the morning, as usual, struggling with the adventures of Dick and Jane. Pretending to read, I watched the little girl who sat in the seat next to me, as she slyly reached into her desk, dipped her tiny index finger into her open jar of white paste, and then stuck her finger into her mouth. I recall that the paste had a delicate peppermint bouquet, but I never considered eating it. She snacked like that throughout the day, and as far as I know suffered no ill effects.
Because of my eager anticipation, the first hour of school seemed to pass more slowly than ever. The red second hand on the wall clock with it's white face and large black numbers seem mired in glue as it marked the passage of each minute, but finally, there was a soft knock on the door. It was my mother with the box of chicks. We could hear excited peeping and scratching as she brought the container into the center of the room and set it on the floor. My mother was introduced and she explained that the birds were mine, and I had wanted my classmates to see my new pets.
Children jostled one another as they pressed in seeking a better view. Little girls squealed and said that the tiny balls of puff were so cute. I was proud that my possessions were the center of attention. I held either Ted or Mickey and allowed my classmates to touch his fuzzy, little head. After I had explained how I took care of my small friends, I answered questions. Eventually, my presentation ended, the box was closed and my mother took its cargo home.
For the next few weeks, my brother and I continued to play with our pets from day to day. Of course each week the chicks' growth was quite dramatic. Within a month or so they had outgrown their box. They had also begun to change color. They were no longer yellow, but white. They were becoming mature birds. It was also apparent that they would not be a source of eggs, for as we had somehow guessed, they were both roosters with bright red combs and wattles.
I doubt that my parents had ever planned on eggs. In fact I don't think they had even prepared for the day when the chickens would be too large to keep in the house. They had not thought of anything beyond how much fun it would be to see the joy on the faces of their young boys when they first saw that Easter surprise. Now there was no room for four people, two roosters, and a Cocker Spaniel named Susie to live in our tiny 800 square foot home. We were living in the middle of a large city, not in a dirt floor shack in some undeveloped country, so our feathery guests were moved to the garage where they would have more space. The family Chevrolet was displaced to the driveway.
Inside the one car structure, the birds had free range. We could open the side service door when they needed feeding, or when we wanted to play with them. As you can imagine, they made a mess of the place. Their droppings and feathers were everywhere. We could find the birds hiding under tables and chairs, or in the rafters. All of that was troublesome, but the real annoyance began at dawn and lasted throughout the day. They crowed constantly. We awoke each morning, as did our neighbors, to their persistent racket.
The garage had a small window, so the light inside simulated a perpetual sunrise, prompting the roosters to announce the approach of morning throughout the day.
We tolerated all of the mess and noise until the afternoon when one of the roosters attacked my brother. Prior to that time, they had pecked at us occasionally on the hands and legs, but this time one struck just to the side of his left eye. The sight of his bleeding face and the horrifying thought of the tragedy that had been narrowly avoided was enough to force my parents to make a decision.
A few days later, after I returned from school, my mother informed me that the chickens were gone. They had been taken to my aunt and uncle's small farm where they had more room to run and play. I was told that we could visit them anytime we liked, however, I only recall going once to the farm to see the chickens. I missed the little guys for a while, but honestly roosters make very poor pets, so I understood that life on the farm was probably better.
The summer passed and soon it was time again for school. During the warmer weather holidays, we would occasionally have family picnics. Labor Day was a good time for such a celebration. That year, our gathering would be at my aunt and uncle's place in the country.
I remember that day being hot and humid, typical for that season. I played games with my cousins, and spent time exploring the barn and nearby woods. Eventually it was time for dinner.
Four or five tables with chairs had been arranged on the lawn. There were cold drinks, salads, casseroles, and platters of meat and fried chicken.
I was hungry, so I eagerly filled my plate and began to eat. I had taken several bites from a crispy chicken leg before I realized that all conversation had ceased. I looked around and noticed that everyone was staring in my direction. My uncle, who was sitting across from me, had a smile on his face.
He asked, "How do you like your chicken?"
I told him that the chicken was good, and I liked it.
He then proceeded to tell me that I was eating one of my roosters. I was shocked. People around me began to laugh. The stricken look on my face must have been comical.
I placed the chicken leg on which I had been chewing back on my dish. I stared at my parents, as tears welled up, but I didn't cry. A moment or two later I reluctantly resumed eating, but not the chicken. I was offered some meat, but declined. I hadn't seen my dog that morning, and I wasn't taking any chances.
To say I was traumatized by my experience would be and exaggeration, but the event left me with an unforgettable memory. I know that my parents were not being intentionally cruel when they offered my birds for consumption, and today I agree that the whole scene was probably very funny. After all, they were only chickens, but following that day, I admit that I was no longer so trusting of adults. If my uncle had not mentioned the source of our meal, I would have never been the wiser. Eventually, I am sure the memory of my birds would have faded, but now I seldom eat a piece of chicken without thinking about the day we ate my pets.
Bio: Greg Pruitt is a retired teacher living in Fenton, Michigan. He is a graduate of the Michigan School For The Blind and Central Michigan University. He has been legally blind since the age of nine as the result of an undetermined retinal disease.
---
Love Through the Years, Memoir
by Jerri Williams
On a sunny afternoon in May 1957, I walked across the campus of the Colorado School for the Deaf and Blind in Colorado Springs. I was on my way to gym class. The sun was warm on my back. Birds were singing from trees along the way, and the fragrance of lilacs added charm and joy to the day.
As I reached the crosswalk that joined two sidewalks, I experienced an inner awareness of this moment being a defining moment in my life. I knew for certain that I was in love with Ted, and that my life would be forever tied to his. I did not understand this knowledge, and I had no idea from whence it came. I just knew what I knew.
Ted was to graduate in early June. He was accepted in college, and I had no illusions he was interested in me. In the small population of the school, all students were acquainted, and he was passively polite to me and the other girls my age. As far as I knew, he didn't have a girlfriend, but it was likely he wasn't going to want me as that special girl. He was moving on to college, and I was still in high school.
Although I didn't stalk him, (which no one knew anything about then) I arranged my activities as much as possible to be in the same places he was. Again, in a small population, that wasn't hard. I didn't make a pest of myself, nor did I call attention to myself. I just wanted to absorb him while I could.
"A White Sport Coat and a Pink Carnation" by Marty Robbins was heard on radios all over campus that May. I secretly claimed it as "my song," as I thought about Ted wearing his white sport coat to perform his piano solo in the senior recital. I wasn't a weepy teen-ager. There were no tears during the concert, just quiet awareness.
Graduation arrived. I went home for the summer months. Then I became a weepy teen-ager. I spent my days reading romantic novels, writing sad poetry, and crying at the drop of a hat. I had never before or since wept so many useless tears. I drove my twelve-year-old sister out of the house and nearly drove my mother around the bend. This grieving lasted until August when I decided enough was enough and pulled myself together. I spent my time at school, until my own graduation in 1961, involved in every activity and interest available.
Ted was always in the corner of my heart and tucked away in the corner of my mind. Our paths crossed a couple of times, briefly and impersonally. Then we were thrown together in May of 1968.
In the ensuing years, Ted had attended college for two years and then entered a two-year program sponsored by the CIA. They believed that blind men and women would make excellent Russian translators. Ted excelled at the program but also became an alcoholic. His drinking eventually caused him to be removed from the program. He returned to Colorado from Washington, D.C. and enrolled in the last two years of his college studies. That didn't go well.
Along the way, he began attending Alcoholics Anonymous meetings, and things improved. He finished his degree in 1967. By that time, he had lost interest in academics and his earlier plans for teaching at the college level no longer appealed to him.
Ted was a fine musician. He played piano, organ, accordion, and stand-up bass. He played bass in a very good combo that performed in bars around town. He had contact with Rehab to help him find employment. At that time, I was operating a coffee shop in Colorado Springs that was part of the vending stand through the state. I began there in 1963. I was asked by personnel at Rehab if I would be willing to train someone for the stand program. I agreed, and that someone was Ted.
He trained at my stand for six weeks, then moved on to another stand in Colorado Springs. We began dating almost immediately and continued after he left my stand. As Rehab was wont to do in those days, after Ted finished his training, they never contacted him for further assignments or different direction.
In the fall of 1969, he moved to the Western Slope of Colorado to work with a band there. Our road was a rocky one, so the separation was timely. Every troubled relationship has two sides and two responsible individuals. I could not and would not be a party to his addictions to alcohol and marijuana. He was a mean drunk, and I wasn't a doormat. Time passed.
In June of 1972, Ted returned to Colorado Springs and called to ask if I would see him. I had dated quite a few guys over the years, but none had replaced Ted. I agreed to meet with him.
On July 4th, he traveled back to the Western Slope to gather loose ends and finish out a contract with the band. He proposed to me, and I accepted. I was thirty years old, and I wasn't starry-eyed and wearing rose-colored glasses, but I knew I still loved him and was willing to give us a chance. I will admit now that I had some reservations, but I wanted to have a life with him.
Shortly after midnight on July 27th, 1972, the phone rang. It was Ted's mother, telling me Ted had drowned in a fishing accident while he was at the lake with some of his friends. No one, other than the guys who were there, ever knew what really happened. They were all drinking and perhaps smoking marijuana. They denied that of course. There was a coroner's inquest, and the findings were accidental death by drowning. So that was that.
Ted still has that corner in my heart and mind. After forty-five years, I can still honestly say I love him. There were other men along the way, but no one who truly interested me. I'm okay with that, really. I'm an independent person and have no problems enjoying my own company. After I did what I could to care for my dad and mom, which I did willingly, I am grateful for this time on my own. Loving Ted is just a fact of life.
Bio: Jeri Williams lives in Colorado Springs, Colorado and is retired after thirty years of employment. She has been blind since 1953 as a result of detached retinas. She was previously published in Slate and Style and Dialog Magazine. Her interests include reading, crocheting, and listening to baseball games. She enjoys all music except rap, metal, and other noise. This is her first submission to Magnets and Ladders.
---
Boat Ride, Memoir
by John Justice
Growing up in Cape May new Jersey was almost always interesting, occasionally frightening and often hilarious. I would wander streets around my mother's market, just to see where they went. I didn't have a cane or a guide dog at that time. These days, I wonder how I didn't get hurt.
A long canal called The Inland Waterway passes by Cape May and eventually opens into the Delaware Bay. Along that canal are marinas where boats and outboard motors could be rented. I found one of those marinas and made friends with Mr. Kelly, the proprietor. The first time we met, he came out of the office and called to me as I stepped up onto the long wharf where his boats were tied. He was concerned that I might fall into the water. But it wasn't long before he realized that I was cautious and soon I became a regular visitor.
At that time, I was reading a series of books written by C. S. Forester. They were about a man named Horatio Hornblower. The stories began when he was a young man that entered the British navy as a midshipman. Each book depicted a different part of his life as he rose in rank until he retired as an admiral. I couldn't put them down. I have always loved boats and the sea. Growing up as I did in Cape May, that shouldn't have been a surprise.
With that in mind, I asked Mr. Kelly if I could sit in one of his boats. After some thought, he agreed. I would sit there, pretending that I was Horatio Hornblower, while the gentle current rocked the boat at its moorings.
Kelly's Marina was a busy place during the summer months. I could hear families climbing into their rented boats, starting the motors and moving away down the canal. No one bothered or seemed to notice me.
The Inland Waterway runs for many miles and was once a regular route for small ships carrying cargo to the seashore towns. As times changed, trucks took up the burden and commercial traffic was rare. But that canal is close enough to the bay that it has a tidal flow. When the tide ebbs, the water moves down the canal at approximately three miles an hour. When the tide returns, the level of the canal rises as much as three or four feet. Mr. Kelly knew all about those conditions. His boats had a long rope attached to them. They are often referred to as a "painter". No one seems to know why.
When disaster struck, I was sitting in one of the boats, having my usual adventures, when three teen-aged boys walked along the wharf. One of them detached the painter holding my boat in place. I never heard a thing. He lowered the rope into the water and those boys stood there while the boat drifted away from the dock and out toward the center of the canal. At that time, the tide began to ebb and the current carried me and the boat down toward the bay. When I reached for the painter to pull myself up against the wharf, the end of the rope came up to me. I reached out and felt nothing. It took a moment for me to realize what had happened, but I finally understood that I was going for an unintended boat ride right down the Inland Waterway. I called for help but no one responded. Mr. Kelly was in the office, arguing with a customer about a bill.
Boats passed me going up the waterway and I tried calling and waving to them. For some reason, no one seemed to notice.
The sun was hot that summer afternoon and I could feel it burning down on my neck and shoulders. I was wearing sandals, shorts and an open necked t-shirt. Even then, I knew that a serious burn was in my immediate future.
It was the cooling of the sun that warned me first. I was passing through the shadow created by something large straight ahead. Then, I heard the noise. I was just about to go under the old wooden bridge which led into Cape May from the mainland. There was a tremendous crash and a grinding sound. The boat had struck one of the pilings which supported the bridge. As the slimy post dragged along the boat, I tried to grab it and stop myself. Unfortunately, the post was too large, covered with weed and barnacles and the tide was far too strong. In a very short time, the boat had cleared the obstacle and I was moving away from the bridge.
By this time, I was exhausted and decided to lie down in the bottom of the boat and rest for a while. The boat was dry and had a flat smooth bottom. It wasn't long before I had fallen asleep.
A loud voice woke me. "Young man! Wake up!" I sat up and felt the gentle movement of the open bay. I heard a large boat idling nearby. Just like the cavalry in an old Western movie, the United States Coastguard had come to my rescue. One of the crewmen used a boathook to snag the painter and pulled my craft close. They helped me onto the deck and a medical corps man sprayed my shoulders and back with some kind of application which relieved the pain I was feeling. They brought me into the main cabin and showed me a seat. An officer spoke to me. "I'm Lieutenant Carstairs. What is your name? How did you get out here all alone without a motor or paddles? Where do you live?" I explained about Kelly's marina, answered all of his questions and provided my mother's phone number at her market.
The cutter brought me back to the Coastguard base and my mother met me there. She brought me home. But on the way, we stopped at Kelly's and my mother raised the devil. Mr. Kelly had just been out on the wharf, counting his boats. When he discovered that one was missing, he started asking questions. At first, he thought that I had accidentally unhooked the painter, but I told him I would never do that. "I'm blind Mr. Kelly. Where would I go, especially on the water?" Finally, Mr. Kelly learned that his own grandson had disconnected the painter, just to see what would happen. When the current took hold of my boat, he and his friends vanished. The boy swore he never intended to cause me any danger. My mother was livid! "Suppose the Coastguard hadn't found him! The Inland Waterway empties into the bay! My son could have been lost out there!" she got no further. Mr. Kelly must have been thinking along the same lines. He marched the boy outside and we heard a lot of yelling. Moments later, the boy was given another boat and a motor. He was ordered to go down to the Coastguard base and retrieve the boat.
I learned later that the entire side of my boat had been scraped and damaged by that bridge piling. Mr. Kelly made the boy repair the damage and repaint the boat. He would never allow me to sit in one of his boats again.
Later that summer, my Mother, sister and I did rent one of his boats and a motor. We went into a part of the shoreline called "The marsh Lands". Our mission was crabbing. The reed beds and muddy bottom were ideal for the large blue clawed crabs we were looking for. We tried one location, but got very little response. So, we tried to move to a better hunting ground. The outboard motor wouldn't start. I tried pulling the starter cable again and again, but it just wouldn't work. We sat there for almost three hours. During that time, we did manage to net eleven nice crabs. Then another boat came along. They towed us back to Kelly's marina. My mother confronted Mr. Kelly. "Ron, are you trying to kill off my family? First, you send my son out into the bay with no paddles or motor. Then you send us out into the marshes with a motor that quit working!" After a minute, Mr. Kelly started to laugh. He bent over and grabbed his knees. He roared until tears came out of his eyes.
We never had a chance to go down to Kelly's marina again. It wasn't long after that day that Mr. Kelly sold the business and moved away.
---
Crossings, poetry
by Marilyn Brandt Smith
January 2003
He's in the Persian Gulf,
His submarine is hiding;
In a chilled crystal cup of comfort
She hides her premonition.
February 1851
Run, pray, hide her son,
Eliza finds the river;
The ice is thin and patchy,
Hope leads her across.
March 1853
The potato famine made them leave;
When will land be sighted?
The lady with a torch in hand?
Will this be their new home?
April 1912
The richest, roomiest ship of all?
Why are they in the water?
Where is her happy ever after?
She cries out his name!
May 1970
Rosa can swim the Rio Grande,
But what about the children?
Juan will tie them in a tube,
That's the only way.
June 2005
She dreams her fiftieth birthday bash
At a luau with a Mai Tai;
He brought brochures from a cruise line,
Should she buy seasick pills?
July 1847
The current took their wagon under,
She lost her mama's china;
He tries to dry her tears away,
She begs to go back home.
August 1990
Big bass boat, ready for the lake,
Kids are out of school;
Single mom, romance in tow,
They chase her with the worms.
September 1782
Strong hands built her birch canoe,
She leaves a gentle wake;
Plants the medicine man will need
Grow on the other bank.
October 1968
"Draft dodger! Coward!"
Cat calls, reprisals;
Lady Liberty, where are you?
He wants to come home.
November 1919
The shortcut takes the kids to school,
The swinging bridge is sagging;
Papa needs to fix it soon;
David carries Sissy across.
December 1944
He's in the pacific,
Guam? The Philippines?
When the moon is right they find their star,
Reach and whisper there.
Bio: Marilyn Brandt Smith worked as a teacher, licensed psychologist, and rehabilitation professional. She has edited magazines and newsletters since 1976, and was the first blind Peace Corps volunteer. She lives with her family and many animals in a hundred-year-old home in Kentucky. Her first book, Chasing the Green Sun, published in 2012, is available from Amazon and other bookstores and in audio form. She loves writing flash fiction stories, and was the primary editor for the first Behind Our Eyes anthology, as well as Magnets and Ladders from 2011 through 2013. Another of her interests is music–barbershop harmony, folk and Americana, and current hits. Visit her website at: http://www.marilynspages.com.
---
Roger: The Early Years, Sestina poetry
by Marilyn Brandt Smith
Author's Note: This sestina is written from my husband's point of view.
As a child I lived down in the country,
We lived about a half a mile from church.
Our house was much too small to hold five sisters
And two brothers, but somehow, we all stayed close.
The thing we liked to do the most was sing,
The next best thing was definitely to eat.
My mother grew the food we had to eat,
We always killed a hog down in the country,
We'd pick the chickens, stand around and sing,
Couldn't work on Sunday, that was church.
My twin sister and I were very close,
She was the youngest one of all the sisters.
Imagine just two brothers among those sisters,
'Cause we were boys, we earned a bit more to eat;
We were down a gravel road, no one lived close,
That's how it was in Kentucky tobacco country.
The only place to walk to was the church,
I learned to play the piano when we'd sing.
My twin and I went to other towns to sing,
Two gospel groups grabbed two more of my sisters.
My uncle drove us around from church to church,
Of course they gave us lots of stuff to eat.
My twin's boyfriend went to a foreign country,
To fight a war; they wrote so they'd stay close.
Making both ends meet just got too close
For comfort, and they didn't pay us to sing;
It was too late to make a living in farm country.
We sold milk to Pet dairy, and all my sisters
Had to get up early so they could eat
And milk before time for school or church.
Our mama got a job cleaning the church,
Daddy worked in town, which wasn't close;
We had more money, got more food to eat,
Bought a few more records to help us sing.
Husbands finally captured all my sisters,
My brother and I found jobs and left the country.
I'm glad I grew up in the country and the church;
My sisters still live there, and we're still close;
We sing our hearts out when we get together to eat.
---
Part III. From a Different Perspective
Meet you in the Intermissional sauna, fiction Second Place
by Brad Corallo
"Hello, my old friend. I have been waiting for you. But where were you? You look terrible!"
"I was on a small obscure planet named Earth. I don't recommend the place at all. I mean, the planet was beautiful once, but the highest level life forms have turned the place into a workhouse out of a Dickens novel."
"What are you talking about and what in the universe is a "Dickens novel?"
"Oh, sorry, Dickens was a great story teller on Earth. Hey, can someone pour some more water on those rocks? I really need to cleanse Earth off myself!"
"Yes, sorry I have been ungracious. More water and a soft cloud towel for your comfort."
"AH, balm for the returning warrior. I really do need some to recover from that last mission."
"Of course my friend, decompress for as long as you need. I won't bother you with annoying questions until you have sloughed off the detritus of your trying mission."
"Thanks, I will tell my story after I have chilled in this lovely warm place–well you know what I mean."
"Wake up my friend. It has been one half an era and you appear like your old self again."
"Yes, thank you I do feel fully unburdened. But how long have you been here?"
"Oh, quite a while. My last mission was on Eridani-B-prime, where the life forms Clantajanet living rock beings have 10 Era long life spans.
So I had no trouble getting extended time here in the sauna."
"Well, good for you. One good thing about these crazy multiple mission journeys that we're all on, is they do allow for much quality time in between."
"Oh sure, they are very lenient about time. I mean, you could remain here for an Eon or two before anyone even begins to try to move the process along. And, even after this, there is the cherishing and channeling to go through and that also takes a good long time. When all that is over, you are all gung ho to choose another suitable mission and take the next step on your journey back to The Clearlight."
"Perhaps, but even after all that, I think I will retain some memory of my Earth mission. The highest level beings, they call them humans, really well, suck!"
"They do what?"
"Oh sorry again just a term they use a lot down there. For example, when I was a roving wave latus on Aldeberon-4, it wasn't the best of all missions, but at least things made sense there. Earth, forget it. The creatures there–wow! They have such great potential but their most important values are greed and popular fancy. It is so discouraging."
"Well yes, that doesn't sound like much fun. Is it worse than a mission as a Plutonian cave slug?"
"Oh yeah, I'd be a PCS anytime over a human. They do have lower life forms; I think they call them dats and cogs which are pretty cool. I suggest if you are ever mad enough to choose to mission there, be one of those. Just forget about being one of those totally frustrating human creatures. You won't believe it but they have actually created a mechanism to destroy their entire species and much of the planet and its other life forms."
"Really? I mean, why? Are they extraordinarily stupid?"
"No, they are not exactly stupid but they don't work and play well with one another. They love to create artificial divisions between groups of themselves so they can fight."
"Why do they do that? I must say it sounds pretty stupid to me."
"I really don't know why. That is the frustrating part, as they also do things which cause them to appear as beings with great compassion. It is so confusing. The dats and cogs try to help them by offering unconditional love and the humans do love their pets but they never learn to extend such love to each other."
"Wait a minute, what is a pet?"
"Sorry again, I really have to stop using their expressions. When a dat or cog lives with them, they call it a pet. I think this means that this is a designation that the dat or cog is a delightful and enjoyable possession of the human it lives with."
"Very curious and strange. How can other living beings be possessions?"
"It is even worse than that, in their recent history, they did the same thing with members of their own species."
"Wow, so they have created the means to destroy themselves and they enslave their own kind and other intelligent species. I am beginning to understand why you have been so affected by your mission there."
"I am just hoping that when I receive the cherishing and channeling I gain a greater understanding of that place through The Clearlight."
"For your sake, I hope so too. I would suggest, if it fits your development profile, a mission on Synclavier-2 as one of their cloud beings. It is very peaceful and you get to observe and learn a lot."
"Well thanks, I will keep that suggestion in mind and will consider it very seriously at the time of choosing. But wait, another of our old companions has just entered the sauna. Let us greet our old friend."
"Old friend we both welcome you! But you look awful. What happened?"
"Oh may The Clearlight preserve me. I just came from a mission in a terrible place called…"
"Don't say it," said the first two old friends, "I think we can guess. More water for the rocks, quickly!"
Dedicated to the memory and work of Kurt Vonnegut.
Bio: Brad Corallo is a Sixty-year-old writer in multiple genres. He is a Long Island native born and raised. His work has been published in six previous issues of Magnets and Ladders, in the William B. Joslin Outstanding Performance Awards Program Journal NYSID Preferred Source Solutions and on the Facebook page of The Red Wolf Coalition. Brad has been a life long student of fine wine, food, music, books, several professional sports and relationships of all kinds. He makes his living as a certified rehabilitation counselor (CRC) and mental health therapist. Due to LCA (a very rare genetic retinal condition) Brad has had impaired and worsening vision throughout his lifetime.
---
Cosmic Bowling, fiction Honorable Mention
by Shawn Jacobson
In these days when we travel the stars, and there are no limits to our aspirations, it is tempting to think that this was inevitable, as if human progress were a mighty river carving out a course through history. It was not. Indeed, we almost never made it off the planet of our birth. We owe it to luck, or at least great strangeness that we did.
If you want to know the story from someone who experienced the events on which history hinged, you need to hear about a time we call "back in the day." In these times, life was short and our horizons were bounded by the world on which we lived.
Back in the day, I had no thoughts of space and no aspirations beyond the small town where I lived. I was just a kid who existed within the bounds of school and the rules of adults. I studied, got into and out of trouble, and did part time jobs to fill the gas tank of my old car. One of these jobs was at the local bowling alley.
I was working the shoe rental counter the day the spaceship landed. It came down with a horrendous roar, landing on a vacant lot across the street. Everyone came running to look, but I never got a good look at the thing. From behind the counter, I could not see over the crowd that gathered at the building's one window. From glimpses through the mob, I could only tell that it was huge and didn't look like an airplane, or what I expected a spaceship to be.
Beyond that, what I know is what I heard: the sudden silence as the motors, or whatever, cut out; some thuds as it settled to the ground; and the intake of breath from the crowd waiting with fear and awe. You must understand that none of us had ever seen a real spaceship, let alone creatures from another world; we had no idea what would come down the ramp into our lives.
And then they came in the door, two of them. The one looked like some big lizard sort of thing, something out of a cheesy dinosaur movie. The other, just think of a waist high caterpillar with lots, and I mean lots, of legs. We all kind of stood around gaping. Finally, Emily, who was waiting tables at the small restaurant that served the bowlers said, "Can't you see, they want to bowl."
Emily was about as down to earth as one could be. She had a large brood of kids, I think eight, but I always lost count. Raising that big a family had made her pretty hard to rattle. "If the president wants to learn to negotiate with the Russians, he should come here when Billy and Jimmy are fighting over toys," she'd said during the last foreign policy mess. If anyone was up for an alien invasion, or whatever this was, Emily would be the woman for the job.
"Good evening," I said. "Do you want to bowl?"
"Yes," the lizard thing said. "We'd like two alleys. We heard that you offer cosmic bowling, so we thought that this would be a good place for us to bowl, where we might fit in on a world new to us."
"It starts at midnight," I said, proud of my calm, matter of fact, response. "You're early."
"That's OK," the lizard-looking alien said. "We need to practice anyway. It's been a long trip with no chance to bowl." Then after a moment's silence, "my name is Oscar and she's Beth." He pointed to himself then to the many legged creature beside him.
"I'm Dave," I said pointing to myself.
"Glad to meet you," Beth said snaking up a thing that looked like it could function as a hand.
"Same here," I said grabbing Beth's whatever, then, "ouch!"
"She does get carried away with the electricity," Oscar said. "I would think she would be better grounded than that, but she always surprises me."
"Women are supposed to surprise men," she said. "It's how the cosmos works." Then to me she said, "Sorry," as I massaged my numb and tingling fingers.
"Let's find you some shoes," I said as I wondered how in the galaxy I was going to find enough for all those legs.
Oscar was easy, we have some basketball players at the college in town, so we stock some large bowling shoes. Beth was harder, had we not stocked extra shoes for the junior league we'd added this year, we would not have had nearly enough. As it was, she ended up wearing two different sizes. We got her outfitted as Oscar groused about how you shouldn't offer cosmic bowling if you weren't ready for the freaking cosmos.
"Or a cosmos of freaking freaks," Frank, our maintenance man muttered. "I think I'll go check on the pinsetters," he groused as he headed for the back of the alleys.
"That would be good," said Emily.
"You don't get many Omnipods here do you?" Beth asked.
"No," I said. Then, "are you an Omnipod then?"
"Yes, and proud of it," she replied. "And Oscar here is a Gricktor."
"And proud of it," he rumbled as they headed down to the lanes to look for balls.
It was good that Frank had gone back, for Oscar threw the ball so hard that it, along with the pins, flew out the back of the pinsetter. Frank had to retrieve projectiles until Oscar realized that these lanes required a softer touch. He also fouled badly until he shortened his steps to fit the approach. Just how long were the lanes he was used to, I wondered as one of his balls thundered through the pins.
Beth, by contrast, took dainty little steps, which was a good thing since she was most of the length of the approach. Finally, after a confusing churn of legs, the ball came out, though I never saw the hand that released it.
"Was that a four-step or a forty-four-step approach?" I wondered aloud.
"Beats me," Emily replied. "Don't matter as long as the ball makes it down the alley."
As our guests worked on their game, kids from the college started showing up. Many of them had been attending the lecture by Dr. Grendleson, a famous writer of dystopian books. His best-known work, The Vampire Seed, was about a miracle crop that was supposed to stop world hunger, but instead, well, the title said it all. Then there was his short story collection Vampire Ideas. Reviewers said these stories covered the same graveyard as his novel. I hadn't read them, so I didn't know.
Most of the kids had never set foot here. I doubt some of them had ever bowled in their lives, but a couple of the folk I know who were semi-regulars, got up their nerve and rented shoes. I gave them the lanes next to Oscar and Beth, just to see if they would go through with bowling; they did. I dimmed the lights and turned on the strobes; cosmic bowling could come early tonight.
And that started the rush. People decided that bowling with aliens was something you just didn't get to do every day. I got incredibly busy renting shoes. Soon I had turned on all the lanes. As I turned the last one on, a scaly hand touched my shoulder.
"Do you need for us to share?" Oscar asked.
"If you want," I said wondering if anyone would want the same lanes that they were on. Two college kids, neither of them familiar to the place, worked up the courage to bowl with them.
"Looks like everything is going well," Emily said, giving me a look of pure relief.
"You were afraid of the aliens?" I asked. I realized that we had all been worried. The wonder and strangeness had covered the fear, but it was still there, lurking in the background.
"No," Emily said. "I was worried for our guests. This town is not known for welcoming strangers even with the college and everything, even if they're just folk."
I tried to disagree with her, but found that I could not do so. Sure, the town had an abode of higher education, but the students didn't mix with the townsfolk, especially different looking kids from other countries or from other cultures. We liked to think of ourselves as welcoming people, but I suspect our ability to welcome was not what it should be.
Later, during a lull in restaurant business, Emily stopped by the front desk.
"The girl bowling with Beth came up for a snack; she was talking about how Beth bowls."
"I'd been wondering that myself," I said.
"Apparently," Emily said, "she uses some sort of telekinesis, just thinks the ball at the pins."
"Hmm," I said, "then she could think the ball in any direction as it was rolling, could help her bowl some truly impressive scores." From what I could tell, this wasn't the case. Oscar and Beth were good enough, but our better league members could hold their own against them.
"I don't think that is how it works," Emily said, "or maybe it could work that way, but that would be cheating."
"Makes as much sense as anything else tonight," I said. I pondered such things until a commotion at the door interrupted my thoughts.
"Is this where my audience got off to!" a voice boomed. "A bowling alley?" He made it sound like we were involved in some savage rite from the dawn of man, a rite we should have given up when we discovered fire.
"Oh Dr. Grendleson," one of the students from the lecture said, "we just heard about the aliens and…"
"Folly!" Dr. Grendleson sneared working up a full professorial head of steam, "utter bilge! Aliens are not real, they are merely social constructs cooked up by people without the sense to know…" he spluttered to a stop as what could be plainly seen on lanes eleven and twelve registered.
"I thought better of you punks," he bellowed. "You are supposed to be the cream of the crop, the flower of a new generation and here you are bowling like a bunch of yahoos."
At this, he stormed toward the lanes so mad at the loss of his audience that he was oblivious to the universe around him. It was good that we had made the lanes wheelchair accessible or he would have stumbled down the stairs.
"Dr., Dr. Grendleson, you shouldn't be on the lanes without bowling shoes. It scuffs up the boards," I said as I headed down to catch him. I heard a thud as Oscar, apparently shocked by the goings on, dropped his ball. This is going to scuff things up bad, I thought, not that the doctor would care.
"Watch out for the ball!" I yelled, but it did no good. The ball that Oscar dropped rolled under the doctor's feet. He fell conking his head on the return with a crunching sound.
We crowded around the doctor. Was he conscious? He wasn't moving. Then came one of those history-book viral moments. It is a scene that you all know.
Oscar lumbered over, bent down and cradled the Dr.'s head in hands that were gentle for all of their scaly hugeness. Beth flowed over on her many legs, lifted one and started stroking the man's forehead. Slowly, the man stirred, grumbled to himself about delusions and mass psychosis, and unsteadily got to his feet. He staggered some before getting his feet properly under him.
"He'll be all right," Oscar said in a soft rumble.
"They're good people," Emily said as Oscar and Beth helped the doctor off the lanes.
"Good whatevers," Frank grunted rubbing life into arms sorely abused by flying pins.
"Good people," Emily reiterated as she returned to the restaurant. That settled things, even for Frank.
As the aliens were leaving, Beth flowed by the counter.
"I'm sorry about pushing the ball under the doctor's feet," she said. "It was wrong of me, but, well, saying that someone is only a social construct is a mortal insult in our culture. It denies our place in creation. I should have realized that he is like one of our little ones that we allow to pretend to be important, and well, I never meant to hurt him that much."
"Understood," I said to her retreating back, not knowing what to say when someone apologizes for telekinetic mayhem. All I knew was that things were going to change a lot now that we'd met the neighbors.
And the world changed even more than I could have imagined. A lot of the schoolkids got a new interest in science; cutting math class was now considered the height of dorky behavior, and suddenly, being a science nerd was the epitome of cool.
One of those schoolkids was Ben, the best friend of my younger brother. Ben was one of those guys who everyone knew was bright; he just didn't apply himself. But after that evening in the bowling alley, Ben went from being shop-class bound to being the biggest science nerd in town; he studied even harder in college. Nobody in town was surprised when he invented the propulsion system that allowed us to have a real space program.
I talked to the woman who discovered the secrets to life extension that gave us the abundance of years we now enjoy. She had grown up believing that science could only cause pollution, ecological disaster, the sort of things Dr. Grendleson's books were full of. Those people at the bowling alley were just folks, just like us with their faults, but just folks, not monsters. Science had not made them evil. So, I decided to use my gifts for medical inquiry to see what I could learn. And if we get to that level at which they live, then maybe we can still be just folk ourselves.
And so, with this newfound belief that we could make a better world for ourselves, we got serious about space, and many other things as well. We made a new world where even ordinary people could dream of the glories of the future.
If you ever see Oscar or Beth in your travels, do thank them for visiting our world. We owe them much.
Bio: Shawn Jacobson was born totally blind, but got some sight back after several eye operations. He has been working for the Federal Government for 33 years. He lives in Olney, MD with his wife, college aged son, and a pack of dogs.
---
Separate, poetry First Place
by Ann Chiappetta
There are times I feel it
When not invited
When the conversation stops upon entering a room.
At these times
I don't exist.
Like the megalithic bones on display
At the Museum of Natural History,
I am a novelty
Used for book reports
And admired by gawkers.
I am "the blind lady,"
And "the lady with the guide dog"
Coo-coo-achoo.
Often, I am not asked by others to share
Because their assumptions
Prevent me from being included.
Blindness
Is So discomforting to others —
It is easier to dismiss me
Than to challenge the comfort zone.
I often think, how can I be more like them
Less like me?
I don't fit in.
I won't assuage their discomfort.
In the ebb and flow of the work day
How do I tell these folks that I matter?
That while I lack vision
I ache to be included.
When I am in the counseling room,
I ask patients to describe facial expressions,
Not just feelings or thoughts
Denote a change in tone, context and timbre
Explore meanings
Root out exceptions
Grounding them
Softening the scars.
I am reminded that
At these times, I do matter.
But outside the room
Well, that is another story.
The forebears of family therapy would perish the thought of disability exclusion
Yet, here I am, typing the prose.
Expressing it, trying
To make sense of the rejection and pain I feel,
Knowing it is up to me to accept
What I cannot change.
Bio: Ann Chiappetta M.S. is a writer, blindness advocate and family therapist. Ann is a member of the American Council of the Blind and the Lions Club. Her new book, Upwelling: Poems, is available in both e book and print formats. To purchase her book or read an excerpt, go to: http://www.dvorkin.com/annchiappetta/
To read Ann's blog, go to http://www.thought-wheel.com
Ann lives in New Rochelle, NewYork, with her husband and pets.
---
Awaking from an American Dream, poetry Honorable Mention
by Alice Jane-Marie Massa
I dozed and dreamed, and dreamed and dozed.
In my dream, I saw barricades, wires, memorials–closed.
In the foggy mist, along the Potomac,
the monumental Lincoln stood, came momentarily back to life
to walk through his wavering Washington.
I dozed and dreamed, and dreamed some more.
Then, I saw the monumental man
with modern barricades in each hand.
He walked and walked along those famous streets;
he paused a while at the World War II Memorial,
shook his head, and shed a tear.
Then, the gaunt figure gallantly walked on:
he had more places to go, someone to meet.
I dreamed and dozed, and dreamed some more.
I felt tears on my pillow. Had they been there before?
Next, I saw President Lincoln join with another monumental man.
Moving away a barricade, President Lincoln shook the hand
of Doctor Martin Luther King.
His statue, too, had come to life.
Together, they picked up more barricades
and tossed the wires away.
I dreamed and dozed, and dreamed once more.
This time, in my dream,
I saw a funeral cortege.
In my view came not just one casket, but two.
In the procession, President Lincoln and Doctor King walked slowly by.
Somehow, I managed to ask-
I don't know how, I don't know why:
"Who are in those coffins?"
President Lincoln nodded and said,
"In the first casket is Common Sense."
Then, Doctor King added,
"In the second coffin rests Hope."
As I try to awaken from my American dream,
I hear from Mount Rushmore a mighty roar:
"Old Faithful still gushes, but no one can see…"
Finally, I sit up and awake to a Washington reality.
We have monumental reasons for needing change.
A little child stands by a closed gate and wonders,
"Is this what you are leaving me?"
I ask, "Is this my America?
Is this the United States of America?"
God bless the American dreamers who can discuss
and disseminate real and decent, positive portraits
of change-in a Land of No Barricades,
in a land of monumental dreams
and monolithic reality.
Bio: The Christmas Carriage and Other Writings of the holiday Season is the first book by Alice Jane-Marie Massa. To read more about this collection of holiday memoirs, short stories, and poetry (available from Amazon, BARD, etc.), please visit Alice's author page: http://www.dldbooks.com/alicemassa/
Additionally, Alice invites you to visit her Wordwalk blog:
http://alice13wordwalk.wordpress.com/
where, since 2013, she has posted her poetry, essays, memoirs, or short stories concerning her four guide dogs and other topics. With master's degrees from Indiana State University and Western Michigan University, Alice taught for 25 years, including 14 years of teaching writing at Milwaukee Area Technical College.
---
Getting Out, creative nonfiction
by Nancy Scott
I am so bored, stuck in this apartment. My person isn't very well now. She's always been a bit of a flake, but she hurt her left arm, and she uses the walker now. She isn't fast and she doesn't always pay attention.
But that other woman's coming. I can hear her- all the way in the bedroom. She has a long cane. She can't see. I rub up against her if I want her to pet me. And I purr because she hears well. It always works.
My person opens the door. The not-seeing-woman comes in. I stay away until she sits. Then I go into my act and get fussed over.
And then they talk. And talk. My person likes to talk. She talks to me a lot. Eventually, the not-seeing-woman will leave and I will have my chance.
It takes forever. I crunch on dry cat food, wash myself, roll around, and even take a cat nap. Finally, the not-seeing-woman moves slowly to the door. My person stands and follows part way.
Door open, the not-seeing-woman tries not to let me out but I am fast. I stay away from her body so she won't catch me. I make it, even though I am big.
"Come back here," my person scolds as she hobbles toward the door.
"Come here, Tina," sweetly says the not-seeing-woman. She puts down her hand to tempt me but I am smarter. If she gets hold of me, she'll push me back into the house. My person can't bend much and she can't pick me up.
I saunter and sniff, never going too far because someone else could come out of their apartment and scare me. I smell chicken and another nearby cat. I keep looking back hoping my person will chase me. She really can't, so this doesn't stay fun.
So I walk over near them but not where the not-seeing-woman can reach me. You know how cats make themselves really big? Well that's what I do. I already weigh around 15 pounds. The not-seeing-woman won't pick me up because I could scratch or jump out of her arms. I hugely lie down and look up toward the not-seeing-woman and purr as loud as possible. She knows I am winning the game.
This is fun.
Neither human knows what to do. The not-seeing-woman has to give up and go home and hope I'll be nice to my poor sick person and go in.
I can still see my person and the apartment door is still open. Nothing scary is happening so I stretch even farther and yawn. I listen to the not-seeing-woman round the corner and unlock her door.
But then, my person gives up calling and coaxing. She walks into the kitchen, which I can see and hear. And she opens the fridge. Now wait a minute! That might be something yummy she's getting! I should run in and do Starving Cat or at least I should stare at her and make her feel guilty. Up I spring and in I fly. And then, my person laughs and closes the front door. She didn't get anything out of the fridge. It was a trick.
"Meow."
Bio: Nancy Scott's over 700 essays and poems have appeared in magazines, literary journals, anthologies, newspapers, and as audio commentaries. She has a new chapbook, The Almost Abecedarian available on Amazon, and she has won First Prize in the 2009 International Onkyo Braille Essay Contest. Her recent work appears in The Braille Forum, Disabilities Studies Quarterly, Philadelphia Stories, Pentimento and Wordgathering.
---
Smile for the Camera, nonfiction
by Jeff Flodin
I'm eager to show off my new iPhone app-the one that describes peoples' faces. It does other things, too, like read print and bar codes, but recognizing people is too cool to keep secret.
"Don't point that thing at me, please," says my wife, looking up from her book. "I don't need artificial intelligence telling me I'm a 'middle-aged woman with curly hair, looking crabby.' I can figure that out myself."
"But that's not how I see you," I tell her. "To me, you're still a 'pretty teenage girl with curly hair, laughing'"
"Honey, what you don't see won't hurt you," says my wife. "Here, smile and I'll take your picture-'distinguished gentleman with moustache, looking smug.'"
"Is that what I am now? It's been so long since I've seen myself. What about the rest of me? I know I could stand to lose ten pounds around the middle."
"Keep going," says my wife.
"I can't possibly look like those old codgers I saw, way back when, strutting around the locker room at the golf club-saggy this, hairy that."
"Hmmm," says my wife.
I want her to cry, "Oh, Hercules, you force of nature!"
"Lumpy here, wrinkly there."
"My, my." That's all she says, though I want her to say more.
"At least I haven't gotten any tattoos or piercings."
"Why would you?" she says. "You couldn't see them anyway."
"And I don't wear tank tops or spandex like other guys my age."
"Honey," says my wife, taking my face in her hands, "you are my dream of delight."
"And you are mine," I reply. "Beauty is in the heart of the beholder."
"Now, take that camera away," says my wife. "Snap a shot of the dog. 'Black Lab with gray chin whiskers, looking hungry.'"
So I stroll away, still eager to show off my new app, calling, "Randy, if you let me take your picture, I'll give you a biscuit!"
Bio: Jeff Flodin is the author of the blog, "Jalapenos in the Oatmeal: Digesting Vision Loss"
(http://jalapenosintheoatmeal.wordpress.com/).
He is the recipient of the National Endowment for the Arts Creative Access Fellowship. His work has appeared in several publications. He is a Licensed Social Worker in the State of Illinois. He has been living with retinitis pigmentosa (RP) for three decades. He lives in Chicago with his wife, his Seeing Eye dog and two cats whom, along with his sense of humor, he credits for maintaining his sanity.
---
The More I Write about Blindness the More I Write about Attitude, nonfiction
by Jeff Flodin
Over the years, I've walked almost 2000 miles to and from work. Most trips are serene, a few stressful. My first step on every walk is to pause and take stock. I check the weather and traffic. I test that Randy's harness is snug but not too tight. I pat my pockets for keys, iPhone, billfold and dog bags. Then I measure the most important factor I bring to my journey: my attitude.
My attitude determines whether I view the world as full of compassionate helpers or inconsiderate creeps. The constant in this equation is who's out there; the variable is how I view them. On days I feel at ease with myself, I embrace the stranger. I walk with grace, like I just got out of church. But on days I'm immersed in self-pity, I assume all motives are sadistic. I take every real or imagined slight personally. I look for a fight and, by God, I find one. Attitude, action and reaction-the choice is mine whether I wear my blindness like a loose garment or a straightjacket.
On days I am at ease, I possess the humility to be right-sized in this world. I am a part of, rather than apart from, my fellows. On days of conflict, I carry the delusion of self-importance. I'm sure the driver who crowded me in the crosswalk waited all day and traveled a long way just to stick it to me. I'm certain the kid left his bicycle on the sidewalk so he could watch the blind man trip and fall. I just know the city worker dug up the sidewalk to confuse my guide dog. Oh, I get payback being the victim. Me, me, me becomes even more compelling when the me is wronged.
The riddle goes, "What have you got when you sober up a horse thief?" And the answer is, "A sober horse thief." Self-pity, anger and grandiosity make me the horse thief, not blindness. For sure, blindness doesn't help-it exacerbates the flaws I bring into play. I can't change the blindness but I'm working on changing the flaws. My goal is progress, not perfection. So, I keep walking, keep practicing patience, tolerance and self-restraint. Today, I can greet my wife with, "I had a pretty good walk home from work today, Honey. I only yelled at one driver." And that's what I call progress!
---
Blindness makes Me Forever Young, nonfiction
by Jeff Flodin
My wife and I were high school sweethearts for half of our sophomore year. We attended colleges 427 miles apart. She returned to our home town for high school reunions; I didn't. We neither saw nor spoke for thirty-two years. During our decades apart, she had her first bout with breast cancer; I lost the ability to see faces. When we reconnected, we shared lots of stories and in the telling, her voice was exactly as I remembered. Then and now, when I hear her voice, I see the face of a sixteen-year-old girl.
My last trip to the picture show when I could see the picture was "The Untouchables." That was around 1989, when the blind spots in my visual field meant I had to look from one face to another to follow the conversation. I saw that Sean Connery was balding. I had noticed that I too was balding. I saw how virile a balding Sean Connery was. I thought the same applied to me. But my algebraic truth that if a=b and b=c, then a=c sadly didn't apply when a = Sean Connery and c = me. At least, that's what my friends told me, and bless them, they broke the news in a Disney way.
At our wedding seven years ago, the friend who introduced us read from my wife's sophomore yearbook. "Hey," I had written, "it was fun being your boyfriend for four and a half months (132 days). Maybe we should try it again sometime-like in 25 or 30 years." Everybody oohed and aahed. I smiled serenely, like a prophet. I scanned every face, every dear face that had not changed in forty years. And I saw and heard kindness and caring, joy and love. And I became aware of what beauty truly means and where it dwells. And then I kissed my beautiful bride.
---
Suicide By Siri, fiction Honorable Mention
by Nancy Lynn
I was a few feet away from my iPhone when the conversation began.
Me: How are the Dodgers doing?
Siri: If you're considering suicide, I have the hotline number here for you. I'll make the call.
Me: No! Don't call! I don't want to commit suicide. I just asked how the Dodgers were doing.
Ring, ring.
At this point I walked over to the phone and tried to hang up with no success.
Hotline worker: Suicide Prevention. How can I help you?
Me: Sorry. I didn't mean to make this call. Siri called without my permission.
Worker: I understand. You're in denial, but don't deny your sadness. It's nothing to be ashamed of.
Me: (while continuing to double tap on the phone to end the call) I'm not sad. I'm very happy with my life. I just got a new iPhone, so why would I kill myself?
Worker: Your iPhone won't alleviate your pain. In fact, it might make things worse.
Me: No really. I'm fine.
Worker: What's that tapping I hear on the phone?
Me: That's me trying to disconnect this call.
Worker: You know you want help with this problem. How were you planning to kill yourself?
Me: Nobody listens to me. I'm fine. I don't want to die.
Worker: That's it. Get it all out there. How does it feel when nobody listens to you?
Me: I feel helpless, hopeless and powerless.
Worker: That's it. Keep talking.
Me: Why? Nobody listens, so why bother talking?
Worker: I'm listening.
Me: No you're not. If you were, you'd believe me when I tell you I'm fine and have no plan to commit suicide.
Worker: If you didn't want help, why did you call?
Me: I told you I didn't call. Siri called.
Worker: She must have heard something in your words or your voice that concerned her.
Me: Concerned her? She's an iPhone app, a robot, not a human being. Give me a break already.
Worker: I don't know what to do for you if you won't let me help you.
Me: Maybe you're a robot and not a real person. You just keep sticking to the same script no matter what I tell you.
Worker: (a little flustered now) I don't know what to do here. I'm new at this, and you're my first caller. I'm scared I'll screw this up, and you'll kill yourself, and it'll be my fault.
Me: (finally getting a clue here myself) No. That won't happen. I promise. You're doing just fine. In fact, I feel so much better now. Don't worry about me. You'll do fine at this.
Worker: Are you sure? I don't want to lose my very first caller.
Me: Relax. It's really ok now, and thanks for talking to me.
After a few more taps on the phone, the call finally drops.
Me: Hey Siri, how are the Dodgers doing?
Siri: They're losing 2-1 in the bottom of the third.
Me: Bummer, but I still don't want to kill myself over it.
Bio: Nancy Lynn is 65-years-old with plenty of life left to live. She is currently Vice President of the Friends of Wolfner Library, which is the library for the blind in Missouri. Although she does some writing, you are more likely to find her reading a good book. Along with reading, she enjoys some travel, listening to music and surfing the net. Her greatest joy in life is making others laugh.
---
Part IV. The Writers' Climb
Frequently Asked Questions About Blogging, nonfiction
by Abbie Johnson Taylor
Have you ever wanted to start a blog but weren't sure how to go about it? Have you ever wondered what you would post if you started a blog? Have you ever thought that perhaps blogging isn't for you? Well, I've been blogging for almost ten years, so read on, and you may change your mind.
Why blog?
As a writer, blogging is a great way to expose your work and connect with other writers.
What can be published on a blog?
There's no limit to what you can post. As a writer, you can promote your work on your blog by posting novel excerpts, poems, stories, and other related material. Note: Anything you publish on your blog, as long as it's accessible to the public, is considered previously published, so don't send such material to a publisher who only accepts unpublished work.
How do I set up my blog?
Many sites such as WordPress and Blogger have free hosting services. If you don't already have an account with one of these, it's easy to create one. Simply provide an email address and password.
Once that's done, you'll be asked to provide a name for your blog and a description. Both will appear at the top of your blog. The name of my blog is "Abbie's Corner of the World," and the description reads as follows. "This blog covers my writing and other aspects of my life." These can be changed at any time in your platform's settings. After inputting this information, you'll be given a URL, i.e. http://abbiescorner.wordpress.com.
After these steps are completed, you'll be given the option of creating your profile and determining your blog's layout. Most platforms have a default layout, i.e. plain black lettering on a white background with no graphics at the top of the page. You may want to use that for now until you're more comfortable. You can always change the layout and create your profile later. Now, you're ready to start blogging. Note: If you have a visual impairment, depending on what blogging platform you use, you may need sighted assistance in setting up your blog.
How do I write my first post?
After creating your blog, you'll land on what's called a dashboard. This is where you can control everything on your blog. On this page, you'll find a link that says something like "Add new" or "Write a post." Click on that, and you should be taken to a page that will allow you to do just that.
One of the first edit fields you'll encounter is where you place the title. Below that, you'll find a multi-line edit box for the post itself. It's easier to create your post in a word processor, then copy and paste it here.
This page has options to preview and publish your post as well as schedule it to be posted at a specified date and time. You can always move it to the trash and start over. Most of these features should be accessible to screen readers and other assistive technology. To get an idea of what a typical blog post looks like, visit https://abbiescorner.wordpress.com/2017/07/11/ambers-alert-fiction/
What else can I do on my blog?
Most blogging platforms support such font styles as bold and italics. If you copy your post from a document in Microsoft Word, formatting should be retained. You can insert links to other websites, and if you use a program such as SoundCloud that will allow you to create a URL to a file on your computer, you can include that as well.
As you become more proficient at blogging, you'll want to categorize your posts, i.e. fiction, poetry, nonfiction. This way, readers can find material of interest more quickly. You'll also want to insert tags to make your posts visible to search engines. Tags are usually related to a post's content. If you visit the above link, you'll find examples of categories and tags.
How else can I promote my blog?
By default, most blogging platforms have links you can use to share your posts to Facebook, Twitter, and other social media. These are located in a separate heading below your post after it is published on your blog. You can add more social media options or delete them in your platform's settings. You can also create a Facebook page linked directly to your blog, so people who follow you will find your posts in its newsfeed.
It's also a good idea to follow other blogs and comment on posts. This way, other bloggers will get to know you. Who knows? A post on another blog may inspire a post of your own. If you subscribe by email, you won't forget to check these blogs for new posts. For starters, here are some blogs I follow.
Now, you should have all the basic information you need to start blogging. If you're a writer without a blog, jump on in. The water's fine.
Bio: Abbie Johnson Taylor is visually impaired and lives in Sheridan, Wyoming, where for six years she cared for her late husband, who was totally blind and partially paralyzed by two strokes. She's the author of a romance novel, two poetry collections, and a memoir. Along with Magnets and Ladders, her work has appeared in Labyrinth, Distant Horizons, and other journals and anthologies. Please visit her website at http://www.abbiejohnsontaylor.com
---
Finding the Words, nonfiction Honorable Mention
by Marcia J. Wick, The Write Sisters
Is this writer's block? The noise of life interferes with coherency. Family matters and global concerns corrupt my concentration. I am mixing my metaphors and dangling my participles. My mind flits from one distraction to another, like a hummingbird, sipping first one bud then another, never lighting long enough to still the image.
Urgently, I swoop in to kiss two fading blooms, savoring the sweetness of my aging parents while there is time. Words seem inadequate, condensing and collapsing their lives into random inkblots on paper.
I flutter to the side and treasure two breathtaking blossoms, my beautiful daughters in full color. Words escape me; how can a sprinkling of letters capture the brilliance of hope, meaning, and love?
I fly from petal to petal, tasting the nectar of life. With delight, I spy one, no two, little buds peeking out from behind one of the blooms. My grandson boasts that he will be a big brother soon. Words can't express my joy as the garden grows.
Contemplating, I float between future and past. Blink, 28 years since the birth of my daughter. Don't blink, The Alzheimer's is taking its toll.
There I go again, switching tense, confusing fact and fiction, complicating point of view. I shut my eyes, compelling myself to hunt for the perfect adjective for that quirky character in a short story. I grapple for a compelling theme to launch a personal essay. I long to spin one complete sentence for my memoir, a single uninterrupted thread from its initial cap to a period at its conclusion.
Like that hummingbird, I search for sweet morsels, but can't stay in one place long enough to nourish my phrases into sentences. Composing an article for the cycling club, I land on a link to a blog about guide dogs. Exploring ideas for an essay on aging, I spend hours researching adult day care. While online to register for a writing workshop, I fill my Amazon cart with gifts for grandchildren.
I hover, wanting to stay in one place long enough to watch the seedlings grow, hoping to express my love before a breeze wisps me away.
I never worried about running out of time for words before now. When I retired two years ago, I reset my password to read "Thenext30," figuring, with parents in their 90s, I had at least 30 years to go. Don't worry, I've changed the password since then, but I fear the 30 now refers to months, not years.
Is it random or karma? My colon is acting out in spite of heredity, healthy weight, regular exercise, and a decades-long vegetarian diet.
"No need to be fatalistic," my husband says. "There will be no cancer in this house," he decides.
I keep my secret for now so as not to disturb the delicate flowers in my garden. After all, there is no need for worry until the results come in. The doctor said it's just a precaution, a second look to make sure they got it all the first time.
Making light of my impending colonoscopy, I resolve to push the procedure out of my mind and get back to writing. I freshen my coffee and attempt to begin again.
The news intrudes. Reality robs me of words once more. Broadcasters cut in with polished vocabulary, reporting chaos and confusion, asteroids and icebergs, missiles and murder; their language weighing heavy on my mind.
Stirred up by the news, my prose won't stick to the computer screen. I abandon my scribbles and turn instead to a good book, counting on the writing of others to distract me for now. Perhaps tomorrow, I will find the words to compose a fanciful tale about a family of flowers kissed by the magic of a hummingbird's song.
Bio: Marcia Wick is enjoying retirement with her first guide dog, Viviane, a 60-pound yellow lab from Guide Dogs for the Blind. Marcia is legally blind due to Retinitis Pigmentosa. Her career included newspaper reporting, public relations, communications and publishing. With two daughters now grown and a grandson, Marcia is returning to her writing roots in partnership with her sister, Jennifer Walford, as The Write Sisters. She currently serves on the GDB Alumni Association Board of Directors, and advocates for public transit and visually impaired skiers. Marcia lives in Colorado Springs with her husband and Viviane, her guide dog.
---
CONTEST ALERT
We will be holding contests in the areas of fiction, nonfiction, and poetry for the Spring/Summer edition of Magnets and Ladders. All submissions will be entered into the contest. Cash prizes of $30 and $20 will be awarded to the first and second place winners. Remember, the deadline for submissions is February 15, so be sure to get your entries in on time.
---
A Writer's Retreat, fiction and exercise
by Kate Chamberlin
The trail under the fragrant, cathedral canape through the Frasier Fir forest opened onto a clearing with a gnome-sized, gingerbread trimmed cottage in its center. A wisp of grayish smoke rose from the adobe chimney to lazily curl into the small puffy clouds floating in a crystal blue sky. It took her breath away.
Barb was hot, sweaty, and ached all over from the unaccustomed exercise of the hike up from the lodge, but the excitement of being on her first writing retreat in the Maine forest kept her going. Barb wanted to write her memoirs during the week, as well as hike, read, relax, and be alone. She wondered why there would be smoke coming out of the chimney, if as the brochure said, each one-room cabin was totally electric with running water and a full in-door bathroom.
She put the large, old-fashioned key into the lock, but the door swung open. When her eyes adjusted to the interior light, she knew the stairs to her left went up to the sleeping loft, where a double bed, rustic nightstand and lamp were. She put her back pack on the floor to the right, where the closet doors stood ajar.
Directly in front of her, on the far wall, a low fire flickered in a field stone fireplace. A comfortable-looking, leather lounge chair seemed to invite her to sit and read. To the right of the fireplace, a small, but well appointed galley kitchen beckoned her with wafts of cocoa to sit at the scarred table and straight-back, wooden chairs. It whet her writing juices.
The well-worn, oak desk on her left faced a large picture window with a view of the forest. The room's tones of neutral browns, greys, and ecru complimented the forest greens, browns, and tans. The desk came complete with an ergonomic chair and laptop. She thought the open laptop was a nice touch, although she'd brought her own. Finally, the door to the left of the fireplace, she guessed would be the bathroom.
To her astonishment, then horror, the bathroom door opened. The most ruggedly handsome, bare-chested man she'd ever set eyes on walked out of the bathroom. His powerful shoulders and tall frame seemed way too big for the little cabin. His dark curly hair tumbled onto his forehead and cascaded to his massive shoulders. The full moustache flowed from the fullness on his upper lip down to the long drooping tip below his strong, square chin.
Her mouth agape, she sucked in her breath and froze, except for the tingle that zinged up her spine.
When he saw her, he quickly finished zipping. His steel blue eyes opened in astonishment, then slit into confusion.
"What are you doing here?" they both said in unison, glaring at each other.
"You first," the man sneered.
"I won a writer's retreat contest to stay here for a week," Barb said. "Why are you here?"
"Same for me. You sure you have the right week?" he challenged.
"Yes, positive," she snapped, pulling out her reservation confirmation.
"Same here. Looks like they've made an over-booking mistake," he said taking in Barb's mane of glossy chestnut locks, ample figure, and luscious, full lips. "I suspect we can work something out, since I know there aren't any other available cabins for this week."
Barb's glaring emerald eyes became glassy, as the man took one slow, sensual step toward her. A lustful spark glinted in his eyes as he approached the frightened, innocent little dove.
(…fade to commercial break…)
Editor's note:
Kate has this story off to an amazing start, but what happens next? You have the opportunity to decide. Write your ending to A Writers Retreat and submit it for the Spring/Summer edition of Magnets and Ladders. We will publish Kate's beginning and the top two endings in the writers' climb. Get your creative juices flowing, and as Kate would say, "write on."
---
Special Invitation
All of us who enjoy the Behind Our Eyes authors' stories, poems, and personal essays need to jump on the hay ride and help us round up some food for our kitty. Yes, it's that time again. We all worry when Halloween witches come calling and winter ice and snow take away these autumn leaves she's playing in right now. Actually, any time of year is a good time to slip her some extra treats.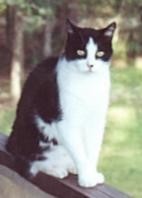 Behind Our Eyes is a nonprofit organization, and we are not quite large enough to earn grants to sustain our operating expenses. We don't have a rich uncle either. Therefore, we need to ask for help from those who enjoy the work we produce as well as our members who constantly work at improving and promoting our writing through sharing. If you can offer us your support in this way, rest assured it will be used wisely.
If you can, use the PayPal button on our website http://www.behindoureyes.org to pay by credit card. You may use the contact form or call 773-572-7744 to obtain an address for a check or money order or if you have questions. We'll get back to you soon. Thank you.
---
The Writing Chair, poetry
by Brad Corallo
I went out to the world
and with a great deal of care,
bought myself a writing chair.
A few weeks on,
I thought, perhaps
a chair mat?
How about that?
Old house, burnished hardwood floor
but, a few degrees off true.
So I found a nonskid rug;
Walmart not Persian.
Fitting into whatever
decorating scheme there may be.
An so, on Mother's Day
I sat outside
in another newly purchased
chair, but wholly different.
Some lovely Colleen from the Fortum U station
beaming over the sonic Skyway,
singing about her mother, gone.
Wishing she was a child
once again, being held.
My eyes filled,
then brimmed.
Yes, I understand,
I am there.
So it was all the moment,
not the chair!
Gratitude, some glorious Jazz
came along and turned my tears to smiles.
And once again
it wasn't the chair.
The timing, the moments
they come unbidden.
And so I learned
I was there.
What doesn't really matter
is the chair.
---
Defense Mechanisms, book excerpt
by Jessica Goody
Defense Mechanisms consists of seventy-five poems, mostly free verse, deeply personal confessional and narrative pieces which explore the public perception of disability and the many aspects of living with a handicap. These poems cover a wide variety of subject matter, including numerous odes to the beauty of nature, but the main theme is Hope–the triumph over pain and trauma and the resilience of the human spirit. The title stems from the fact that nearly every part of nature is a defense mechanism, a way of coping with life and above all, survival.
Highly observant and deeply moving, the seventy-five poems in this collection from award-winning poet Jessica goody utilize themes of difference and affinity to open vistas into the nature of reality. Whether describing the confines of an iron lung or the liberty of the open sea, her nuanced language delivers unforgettable images of a world that holds more questions than answers. There is pain here, and loss, but also joy and freedom in which the fetters of physicality become the means to explore what it means to be fully human.
********************
The Mermaid
The mermaid wears a mask. Tubes drift from
her nostrils, linking her to an oxygen machine.
She relies asthmatically on artificial air, fluid
dripping wetly into her nasal passages. The air
she breathes is blue and cool; she cannot adjust
to the smog ashore. They have performed every
test, gluing wires to her chest, her tail, her skull.
They have EKG'd her cold-blooded heartbeat, MRI'd
and scanned, her silhouette glowing with radiation.
Surgeons in white deftly wield gleaming scalpels.
They have stitched her gills shut, and scraped the
barnacles from her shoulder blades. Round, puckered
scars remain, in the spot where earlier that morning,
an angel had her wings removed. You have to stare
to see the scars hidden beneath her Technicolor hair,
the ones from when they drained her brain, swollen
with seawater. They will fade eventually, to the color
of a crab carapace, abandoned and bleached by the sun.
The orthopedist traces her bone scan with his finger
as he talks: her knees are twisted, kissing instead
of facing forward. Her joints push and tug toward
one another in a scissors gait. Removed from the
succoring ocean, her skin is dull and roughened,
her sloughing scales losing their gleam. They plan
to surgically remove her tail and outfit her with
prosthetic legs, carving away her aqueous identity.
Out of water, she cannot walk, cannot stand.
Dragging along the dun-colored corridor, she
is floppy, uncoordinated, her tail hanging limply
from the wheelchair seat. Draped in the shapeless
hospital gown, her previously tangled hair now
shorn, she cannot make them understand that
her body was not made for life on land. They fill
her with electricity, with distilled stars. The names
of the pills are elaborate, like the Latin names of
seashells: Thorazine, Lithium, Stelazine, Sertraline.
She feels heavy, leaden, like she is floating. It
is not a kind sensation. She is unwilling to be
swept out to their psychopharmalogical sea.
She wants to go home. "You do not come from
the sea," the psychiatrists say. They attempt
to hypnotize the truth out of her, to smear it
from her mind, the way the sea smooths away
words scratched into damp sand. "Delusional,"
they say. "Psychotic features represented by
hallucinations. She believes she is a mermaid,
a mythological creature." According to their
files, the manila folders of endless prescriptions
and transcripts of talk-therapy sessions, she
does not exist. According to them, she is an
impossibility, a figment. But she must be real,
they have seen her, touched her. How long
will they keep her here? She is drifting like
the seasons. Away from the sea, she cannot
hear its call, only gaze at the topaz eye of the
changeling moon from her glassless window,
straining towards the ebb and flow of the tide.
********************
Human Curiosity
Nurses stand behind velvet ropes like game show hosts,
gesturing to pansy-faced babies squalling in iron
incubators instead of lacy bassinets. Swaddled infants,
the runts of the litter, are tended like hot-house orchids
by doctors bearing leather satchels, the wax melting
from their mustaches in the heat of the milling crowds.
See their saran-wrap skin, translucent as vinyl slipcovers,
organs pulsing to the the hiss and rasp of the respirator.
Marvel at living miniatures big enough to put in your pocket.
The world's little weaklings lie in glass-fronted cabinets
of industrial steel among the human curiosities of the
sideshow: Birth defects and confused chromosomes,
the hirsute, hermaphrodites, the swollen and stunted,
the limbless and conjoined. I see myself in their faces,
limp, shrunken, wizened rag dolls with skim-milk skin.
I can read my life in the pages of the history books,
what I might have been: a ragged beggar rattling a can
of hard-won coins; an asylum of lice and gruel, or simply
dead, laid out and forgotten in a coffin no bigger than
a breadbox, sleeping beneath silt for all time.
********************
Certain Doorways
Doorways are a metaphor for transience,
transformation, opportunity. The two-faced
god Janus controlled the doorway between
past and future, a cosmic stage scrim. Behind
each wooden portal, between brass digits
and flowerpots, lives occur. Auras of lamplight
illuminate domestic scenes like something
in a play. A cat stares from a window, an
all-knowing glow in its green eyes. A door
is a blind eye, glassless and impenetrable.
A closed door is a haven, a cave guarding
the privacy of its occupant, a friendly
fortress, a retreat, a cocoon of calming
silence, encouraging contemplation.
Every house is a box filled with heartbeats,
footsteps, history, a potpourri of voices.
The old trees lining the street bear witness
to their gossip, their comings and goings.
As I pass, I consider the geometry of every
door: Narrow windowpanes, light glowing
through stained glass, the mouth-flap of
the mail slot, the gleam of knob and hinge,
the relationships that shift and evolve with
every entrance and exit. It is human nature,
when one encounters a box, an eagerness to
look inside and discover its secrets. The most
basic desire is the one to open the door, to step
inside, secure in the knowledge of arriving home.
********************
The Red Cadillac
My eye is drawn to the tinted window, waiting for him
to lean out and wave. Strangers sit in it now, watching
the rain beading the windshield instead of playing fighter
pilot in the driver's seat. The scents and sounds of our
secret missions, our weekend excursions, have evaporated.
In my mind's eye, we are two spies tailing double agents
in the sedan ahead, our chariot shining with enthusiasm
at the imagined adventures of fighter jets and car chases.
I am the co-pilot belted beside him as the car consumes
the striped asphalt passing beneath us. The Cadillac idles
at the light, its radio blaring, background music changing
with every passing year, the ghost of a bygone childhood.
The taillights flash red in the darkness like curious nocturnal
eyes, a distance measured in memories instead of miles.
********************
Mixed Emotions
For Chrystie
I have been carrying my anger around in my pocket for years,
stuffing it down until it leeches into the fabric like a stain.
Anger is a colorless substance, a noxious invisible gas clinging
like fog to the roof of my mouth, seeping into my veins.
If you had told me of its existence, I probably
would have denied it. Anger is not my emotion;
it is fear which bites me like an insect.
We meet across the tundra of our frozen emotions,
at the places we do not dare to feel.
You carry the anger, I hold the fear.
Anger is an open wound, a swollen red infection.
It demands to be filled, scabbed over, seamed by scar tissue.
Fear is a germ, a virus, invisible and deadly.
It weighs me down, tightening every limb,
turning my body into a neurotic marionette,
anxiety burning in my bloodstream like heroin.
Anger has made you a feral cat,
striking and spitting in self-defense,
hiding in corners, wary and insecure.
I am not Atlas. I cannot hold the world's collective pain on my back.
The fear which holds me captive has been replaced by bitter ferocity:
Anger is electricity. It roils in me like eddying water.
I want to scream, but the words don't come, only
silent shadows on my lips with no sound behind them.
I could never let my anger show.
For so many years we have defined ourselves by our pain:
Our broken places connect at the shards.
Our combined anger would make the world combust.
********************
Autumn Rising
Leaves spasm and shiver
in the breath of the trees,
fluttering to the ground
like brittle butterfly wings,
their tawny sunset flush
fading to ochre. Scattered
now, they rustle and flicker
to the spritely laughter of
wind chimes, gossiping in
the breeze. Auburn leaves
crisp underfoot at every
step, with a sound like
bitten apples, the empty
branches curling like
talons, the smoky scents
of autumn bonfires and
spices lingering in the air.
********************
Oceans
Everything is absorbed by the ocean's maw.
It gulps secrets, dreams, memories abashed
and cringing. The ocean is the ultimate metaphor,
the quiet, insatiable all-seeing eye. Its salty breath
whispers siren secrets, arias sung by the
seductress Loreleis, and the melodies of
whale songs like moaning winds. It belches
up seashells, pearly and salted with sand.
A pink conch, stained with sunset, Gabriel's celestial
woodwind. Pandoras shaped like irregular crescent
moons, and giraffe-splotched Junonia. Taxonomists
pore over their nonsensical and poetic names.
They taste the syllables on their tongues like spices,
affixing labels over each specimen, christening each
one in Latin, a reverse Baptism, every seashell having
been shipwrecked, berry-picked from the tide.
********************
Ancient Trees
The trees have grown old together,
a witch's coven of seers and sages.
Gray tresses of moss drip from the
brittle bones of their aging branches.
Tumorous and spotted with age, they
gracefully toss their tangled hag's hair
against the breeze with reckless dash.
Storm-torn and stripped by wind, they
bear their bark with pride, their broken
limbs now ragged and arthritic, ravaged
by the scar-deep fissures of time. The old
trees whisper secrets with every hiss of
wind. We cannot hear their green voices,
only feel their truths straining to be told,
and their calming green aura of serenity.
Like vampires they have stood, ageless
observers of humanity's endless cruelty:
Generations of soldiers poised on a hill,
brass buttons shining and muskets firing,
leaving the trees silent witnesses scarred
by shrapnel. The trees watched the elegant
ships, their sails taut and gleaming like silk
shirt-fronts, bearing the cringing cargo of
slaves. They have seen the grandeur of the
glaciers, massive and crystalline, tumbling
into the depths with every crash and crack
of ice. They have watched the cold glitter of
the stars, the silhouettes shifting with every
season; the hushed beauty of the Northern Lights,
amethyst, emerald, lapis lazuli and tourmaline.
********************
Great Expectations
"Everything is flaking, cracking, disintegrating, wearing away in the long, imperceptible weather of time."
-Loren Eiseley
A rusted iron gate hangs askew on its hinge,
leading to a path paved by faded flagstones.
The world is green in this prehistoric garden
of vivid, devouring emerald, moss, celadon,
filling the gaping mouth of the empty fountain.
Japanese lanterns sway from the boughs, long
unlit. Beneath them, the garden statues ponder
green mysteries. Massive tents of kudzu drape
their green tentacles over the shrubs. The trees
weep Spanish moss. The old iron table, rusted now,
still bears remnants of teatime: Chipped pottery
and cracked china anchor mildewed napkins, once
white and starched into crispness, now sodden.
The tea has evaporated, staining the porcelain
with a sepia ring resembling a half-healed shiner.
A wedding cake sits, fallen and furred with mold.
Fronds of shredded, peeling wallpaper shiver in
the breeze from a broken stained-glass window;
stucco damply crumbles into plaster dust. The
Bronzes and brasses are dull, stippled with rust.
The copper is mossy with verdigris. Forgotten
candles are iced with tears of wax, no longer
lighting the painted pages of crumbling books.
The curtains hang sodden in this disintigrating
palace. The rugs squelch underfoot, leaving
ghostly imprints of every tread, crunching
over pottery shards in this fallen kingdom
of cracked, ancient china and broken glass.
********************
Stockings
The delicate cobwebbed stockings are scarred with stitches.
Fresh tears like flesh wounds gape at kneecap and heel from
a day of pounding pavement, waiting in soup kitchen queues.
They are soaked in the tin washtub, rinsed of the day's grime
of sweat and silt and hung to dry, fluttering on the clothesline
or draped over a chair. The fading luxury of silk, her last pair.
Every night she attempts to repair the damage, to weave them
into wearability. Runs are scratched into silk, where they will
spread like the routes and rivers on a cartographer's map. She
bathes her blistered, callused feet. Her bare legs are smudged
and soiled, her toenails the color of stone, her skin cracked and
leathery as old shoes. In the morning, she crosses legs sheathed
with spiderwebs, arranging her skirt to hide the latest darning.
********************
Transcendence
The cotton mill looms over the town, its silver smokestacks
expectorating an asthmatic fog. One house is the same as
the next in this abandoned town of red dirt and loneliness.
The ever-present scrim of smog has tinted everything gray.
Tar-paper shingles line the leaking roofs of wooden shacks.
Scrap-heap cars rust in crabgrass yards of broken asphalt.
In the tired backyard garden sits a shed whose mossy roof
is stained red with rust, spiderwebs glinting from the eaves.
Down the iron-rich stretch of road, creased and dry, distant storefronts are tiled with soft-drink signs, bright tin squares advertising conspicuous consumption. Painted pin-ups flash
brightly lipsticked smiles, offering Moon Pies and toothpastes,
Good Humor bars and soda pop. They extol the virtues of Lux
and Lifebuoy, Brylcreem and Bromo-Seltzer, the medicine-chest ablutions of the hypochondriac. Their cover-girl complexions
taunt the lint-heads and farmers with a glamour that they will
never possess, with their leathery skin and blackened fingernails. Townsfolk gather at the ticket booth beneath the unlit marquee.
The dead scent of stale popcorn lingers in the air like stickiness,
and bald spots are worn in the red plush of the velvet seats.
Each week, they meet to worship at the altar of the silver screen,
to imagine a life where sunburns and dust storms are replaced by marble floors and polished shoes and servants with silver trays.
Here the specters of drought and debt are erased, forgotten amongst
the gleaming surfaces, the graceful dancers swirling in elegant
gowns of marabou and chiffon. The lights are dimmed as the
music floats into the darkened room, and affluence and ease
become theirs, until the images fade and the lights rise again.
Defense Mechanisms is available in print and in Kindle format from Amazon.com.
Bio: Jessica Goody has cerebral palsy. She lives in South Carolina, where she is a columnist for SunSations Magazine. Jessica's work has appeared in over three dozen publications including Reader's Digest, Phantom Drift, The Seventh Wave, Third Wednesday, Event Horizon, Really System, Chicken Soup for the Soul, and The Maine Review. She is a frequent contributor to The Creativity Webzine. Her debut poetry collection Defense Mechanisms was released by Phosphene Publishing and is available from Amazon. Defense Mechanisms* has been featured at the 2017 AWP Conference and Bookfair Disability Literature Consortium, Authors Under the Live Oaks, and the Bluffton Book Festival.
---
Part V. Seasonal Wonders
Hobgoblin Breath, poetry Honorable Mention
by Leonard Tuchyner
An old man now, I rest on my deck,
touched by late October Halloween's breath,
spookily sighing out of the past,
steeling its way down the back of my neck.
Memories waft from a town long ago,
when goblins, pirates witches and ghosts
ran in feral, unfettered, festive packs.
We were spirits with fresh wide eyes and hopes,
bursting with cauldron bubbling energy,
haunting door-to-door with booty-driven greed,
alien immigrants to this old world,
and I gloriously amongst them.
I chuckle in my current old man's costume
at the recall of such wonderful greed,
when filling my bag was my only need.
I thought it was candy-laden plunder
that drove me to such unfettered mischief,
but it was the crisp kiss of Hallow'Eve's breeze
that blew us screaming from house to house
and buoyed our spirits on witches' broom sticks,
as we fled under the watching moon.
It is that Gypsy breeze that haunts me now,
as darkening twilight thrills my heart.
Those Halloweens were long ago.
They belonged to innocent spritely souls.
With age, sometimes comes perspective.
Sweet treats were never the treasure.
The true prize is the memories
of flying through the eerie night,
as magic creatures free of sin,
swaddled in a world of love,
with lairs to which we would return.
Soon I'll shed this thread-bare costume,
to fly above a sundown sea
and wonder what next costume I will be.
Bio: Leonard has Stargardt's disease which was first noticed during his teenaged years. He is now seventy-seven. He reads through the media of Braille, recordings, and electronic voices produced by Open Book and Zoom Text. He lives with his wife of thirty-eight years and their two dogs. He is active in the local writing community, which includes attending critique groups. He also facilitates a Writing for Healing and Growth group at the Charlottesville Senior Center and writes a column for Dialogue Magazine. He recently published a poetry book through Cedar Creak Publishing. His hobbies include Tai chi, and gardening.
---
Fall Wind, poetry
by Valerie Moreno
October comes in brilliant color,
crisp shades of red and gold
adorn the leaves, a show of brilliance
before they scatter and fade in gusts of change.
How to love and dread
this time of year
tossing fancy to the waiting wind
before it sweeps away every color
but deep, solid brown.
Bio: Valerie Moreno, age 62, lives in New Jersey. She has been writing fiction, poetry, Memoir and articles since the age of twelve. Her interests include books, music, movies and helping others.
---
The Taste of Curiosity, memoir
by Mary-Jo Lord
"Sexy Melesky! Woo! Woo! Woo!" Our Clear, high voices echoed across backyards and over cyclone fences.
Mrs. Melesky lived down and across the street, two doors from my friend Theresa. We knew that Mr. Melesky left in the morning for work and came home at the end of the day. The doors and windows were usually closed, even in the summer. We never saw Mrs. Melesky outside. She didn't sit on the front porch or hang clothes on a line in the backyard like all of the moms and other neighbor ladies. We didn't see her at Great Scott on Friday nights when we went grocery shopping. Nobody ran into her at the beauty shop or the dentists. We didn't see her at Don's Drug Store getting medicine, birthday cards, or magazines. She or Mr. Melesky must have gone there though, because they gave out pumpkin seeds for Halloween and Don's sold them for a Nickel a box.
The fact that Mrs. Melesky gave out Pumpkin seeds for Halloween was one of the few things that we knew about her. The other things that we knew were that she was Theresa's mother's sister, her name was Jean, and that she and Theresa's mother didn't speak to each other. Theresa didn't remember her Aunt ever coming to her house and she had never been to her house, not even for Halloween. She and her sister Joanie weren't allowed to go there. They would wait on the sidewalk while the rest of us would go to the door, Mrs. Melesky would put exactly four pumpkin seeds in our bags, say something in Polish, we would say "thank you," and walk back to the sidewalk.
So on a hot afternoon near the end of August, Theresa and I had run out of things to do. We were tired of playing Barbies, coloring, and riding the tandem bike. We had made our trip to Don's and ate all of the candy that a quarter could buy. We started with the butterfingers before the chocolate got all melty, ate Sweet Tarts until our mouths tasted funny and sucked every last bit of the sour, fizzy centers from our zots. We had finished off all of the pumpkin seeds that crunched and tasted salty and a little like the cardboard box that they came in. There was nothing more to say about school starting soon. We did and didn't want it to start.
We were bored, until I brought up the subject of Theresa's aunt. We wondered if we could make her come out of the house. We talked about calling her name over and over again in a singsong voice until she would get mad or curious and come out. Theresa thought it would be good to make up a cheer but we didn't know any cheers. We searched our seven- and nine-year-old vocabularies for a word that would rhyme with "Melesky." The best and really bad word that we came up with was "sexy!" The rest just fell into place.
We were in the second round of our chant, about to get to our favorite part, the "Woo! Woo! Woo!" when Joanie opened the back door. She stepped out on the porch and hissed, "You shut up right now! If you don't stop, Theresa, Mom's gonna ground you and I'm gonna tell Mrs. Kaiser."
We froze with the beginning of a "woo" formed on our open mouths. Joanie didn't yell but we felt like we were in big trouble. Theresa didn't want to be grounded and I sure didn't want Joanie telling my mother anything.
Theresa and I didn't say a word until Joanie was back in the house and we were sure she wasn't coming back. We tried to find other things to talk about and eventually moved on to something else.
We forgot about Mrs. Melesky until Halloween. We all went out as witches, ghosts, pumpkins, clowns and bums. As usual, when we got to the Melesky's house, Theresa and Joanie waited on the sidewalk. We went to the door, and before we could say, "trick or treat," Mrs. Melesky was there with her pumpkin seeds. She counted out four for each of us, said somethingin Polish, we said, "thank you," and we were on our way.
When my sister Laura and I got home, tired and weighed down by large bags of candy, our mother was waiting and ready to do her inspection. Anything that wasn't wrapped, or looked like the wrapper had been opened went into the garbage. My mother said that bad things could be in unwrapped candy. Mrs. Melesky's pumpkin seeds never made it into the candy bowl until that year. Somehow, two of the four small, almost flat, unwrapped seeds escaped my mother's scrutiny. I made the discovery the next day after school. I was tempted to eat them right away, in case my mother found them, but I remembered that something bad might be in anything unwrapped.
A couple of days went by and curiosity overcame fear. I took the two pumpkin seeds from the bottom of my candy bowl and went into my room. If something bad happened, I wanted to be in my room. I put them to my lips and pulled my hand back quickly. Then, before I could chicken out, I put both pumpkin seeds in my mouth and chewed them fast. Nothing happened. They didn't taste bad, or funny, or anything. They weren't crunchy anymore and they just tasted like salt, peanut butter, Sweet Tart, and bazooka bubble gum. There was still a hint of that cardboard box taste and maybe the flat, bitter taste of disappointment. I felt relieved that I wasn't poisoned and my mother didn't come into my room, or call out from the kitchen with sudden knowledge that I had just eaten unwrapped pumpkin seeds. Nothing happened at all.
Now that I knew that Mrs. Melesky's pumpkin seeds were just ordinary, boxed pumpkin seeds, like the ones that we bought from Don's every week, I wanted to know more. What was she really like and what did she say to us every year when she put the seeds in our bags on Halloween? Why four, always four? I discovered that curiosity feeds knowledge and Knowledge feeds curiosity. It was an endless and crazy circle. Knowledge, like candy and pumpkin seeds comes in all flavors, sometimes sweet, sometimes sour, and sometimes just a little bitter.
bio: Mary-Jo Lord writes poetry, fiction, and memoirs. A section of her work is published in a Plain View Press anthology called Almost Touching. Her work can also be found in Behind Our Eyes, Behind Our Eyes: a Second Look and in past Issues of Magnets and Ladders. She was recently published on the blog, "Walking by Inner Vision" and Dialogue Magazine. Mary-Jo is the current Coordinating Editor of this magazine. She has a masters' degree in counseling from Oakland University, and has worked at Oakland Community College for Twenty-five years. Mary-Jo lives with her family in Rochester, Michigan. She has been blind since birth.
---
The Mystery and Magic of the Yellow Mum Plant, nonfiction
by Alice Jane-Marie Massa
Are you ready for a Thanksgiving mystery? Are you ready for a little autumnal magic? Like so many people who want to stretch the season of outdoor flowers, I, toward the end of each of the past several or more summers, have purchased chrysanthemum plants to add some cheery notes to this time of year when days are growing shorter. I am partial to the yellow mums, and this year, I carried home the most beautiful mum plant that I have ever nourished from Metro Market. As Goldilocks might describe the plant, it was not too large nor too small; it was just right. Unlike some mum plants of the past and my two basil plants of this season, my perfect yellow mum plant withstood all of the strong winds and never fell over.
This hearty chrysanthemum touched my heart in another way; my Leader Dog Willow and I walked home with this plant purchase on August 24, 2016–the second-month anniversary of the day Willow, my little Black Labrador Retriever, came home to Milwaukee with me from Leader Dog School (Rochester, Michigan). These beautiful yellow mums were our celebration plant. During the next several weeks, Willow and I checked out the cheery budding blossoms each day, as we passed the plant on our front porch while we began and/or ended a walk.
Then two months later, on October 28, Friday of Halloween weekend, the perfect yellow mum disappeared! On Saturday, the 29th of October, when I went to reach for the cheery and bright yellow blossoms, I felt only the extra plastic saucer in which the container had rested for eight weeks. To my knowledge, there had been no wind during the previous night; nevertheless, I examined all areas of my porch, as well as the stairs and sidewalk area–just in case a gust of wind had somehow caught my favorite plant of the season and rolled it away. No luck! On one small table, my purple sage plant was sitting alone. On the other side of the bench were the two varieties of pink geraniums and one of the basil trees, but the anniversary chrysanthemum plant was missing.
Since the disappearance occurred on Halloween weekend, I did hope that someone was enjoying the gorgeous plant and had not destroyed it. Our unusually warm weather of autumn of 2016 had kept the blossoms in perfect shape for someone to admire.
Still missing the plant after more than a week, I mentioned the plant's disappearance to one of the maintenance workers at my large apartment complex. Although J.P. maintains the grounds of the complex, he said that he had not seen the mum, but would let me know if he did.
A few days later, on November 10, despite some wind, I decided that I had to clear my porch of most of the dry autumn leaves. As usual, my plan was to sweep all the leaves off the porch, down the stairs, down the sidewalk, and off to the west lawn. When the four stairs were heavily covered with crispy leaves, I detected with my broom a large object on the lower stair. What in the world is this? I wondered as I probed the base of the object which I had unknowingly covered with leaves. I knew that the object had not been there when Willow and I had recently come up the stairs. Examining the object more thoroughly, I most happily realized that this leaf-covered object was my perfect yellow mum plant!
After I cleared away the leaves from this special plant, I was filled with gratitude to welcome home this still cheery yellow mum which, despite its absence of two weeks, was nearly in as good shape as when it disappeared. Although we had no rain around that time, the plant really did not need water. Someone had taken good care of my chrysanthemum.
I placed the container of the mum plant back on its little table; then I moved the mum and purple sage into the cubbyhole area of my porch for safe keeping. Eventually, I watered the mysterious mum which continued to thrive in those most unusually warm November days of 2016.
On the following Friday morning, I called the office of my apartment complex and asked the manager if J. P. had found my mum plant. The answer was, "I wish I could take credit for finding your mum plant, but I did not find it." Of course, I did not think that anyone who knew me had found the plant and returned it because no one I know would have placed the plant on the stair where I could have tripped over the plant's container. For a couple more weeks, Willow and I continued to enjoy the magical wonder of this perfect mum which was so dear to us–even though its mystery remains.
Through the thoughtfulness of my house guests, my sister and two friends– Willow and I still enjoy this yellow mum plant. During a September visit, my sister, who lives in Colorado, took a photo of Willow posed perfectly in front of the yellow mum plant; then Mary shared the photo with others via e-mail. Last January, when my friends Sue and John came into the city from their farm (about one hour from my home), they brought a special gift for me–a beautifully framed photo print of Willow with the mums looking as if they are a crown upon her head. The special gift is displayed beside my rocking chair, upon the end table as a memory piece of this true story.
During the November month of thanks, I am especially thankful for the return of my yellow "anniversary" mum and am thankful for my entire container garden which has brought me so much relaxation, peace, and happiness. I also think of my treasured dad–who had a cerebral hemorrhage on November 16, 1997, twenty years ago, and who then lived only two additional weeks. I remember and am ever thankful for his bountiful and beautiful gardens from which my family and I grew strength and nourishment, as well as respect and love of the land and gardening. Still today, I appreciate and am thankful for my family's tradition of good gardening through the generations. From my grandparents' gardens and grape arbors to my dad's gardens, from my meager container gardens to my nephew's bountiful garden this year–a good gardening tradition thrives without any mystery–with just the magic and wonder of nourishing plants and flowers.
---
A New World Vision, poetry
by Elizabeth Fiorite, O.P.
The dining hall is…
Wider than the Ganges and vaster than the Pleiades.
The sun rises at one end and the moon sets at the other.
There is room for everybody at the table of plenty.
All the women are comely and lithe with keen intellects and soft eyes.
The men are all handsome, with strong limbs and clever minds.
The multi-hued children laugh and play and share peanut butter cookies.
The babushkas sip cider and pretend not to be watching
Young people as they flirt and circle dance with one another.
Israelis and Palestinians sit together and share challah.
Black Democrats from Wisconsin, White Republicans from North Carolina, And Progressive Feminists from New Hampshire
Play pinochle and eat collard greens and corn bread.
Catholics put away their Bingo cards and pass the Brussels sprouts
to the Evangelicals who are arranging flowers around steaming
bowls of minestrone.
Muslims pass tabbouleh to the Japanese,
who are toasting the Native Americans with sake.
The Chinese share chow mein with the Mexicans who are
folding frijoles into their tortillas.
Baptists offer ratatouille to the Bishops,
Who are welcoming gay couples.
The sounds of dulcet stringed instruments and gentle woodwinds,
The blare of brass horns and the roll of bass drums are interspersed with
hymns and shouts of
"Gloria!" "Halleluiah!" And "Allah be praised!"!
While atheists say, "Whatever," but no one is shamed,
For the food is richly flavored with a sauce of acceptance.
The songs are filled with hope and compassion.
All are enveloped in strong, sweet love.
And all the fat babies lie sleeping in warm beds,
with true freedom.
Bio: Elizabeth Fiorite has enjoyed a career as an educator in Catholic elementary schools, as well as asocial services counselor in a rehabilitation center for people with vision loss. She keeps active by facilitating a peer support group, a Talking Book Club, and Women of Vision, a group of women with vision loss who meet to write and "do" art. She has been a Dominican Sister of Sinsinawa, Wisconsin for 62years and lives in community with two other Sisters in Jacksonville, Florida. She is blind due to retinitis pigmentosa.
---
A Song for Adrienne, memoir nonfiction First Place
by John Justice
It was almost Christmas in 1973 when I was asked to tune a piano in a New York mental hospital. This immense facility was located on Governor's Island in the East River. A bus took me out to the gate and a security guard led me to the main entrance. The captain took me up in the elevator. We walked down a long hallway and he stopped. "Mr. Justice. We're about to enter a closed psychiatric ward. There are certain things we will ask you to do for your own protection as well as that of the patients. When you enter this facility, the guard will give you instructions. He'll lead you to the Activities Room where the piano is located. We're about to approach the entrance. Two guards must be present at all times, one outside and one inside the ward. In that way, we can be sure that none of our guests leaves without authorization."
By this time, I was becoming concerned. What was it going to be like in there? If I went in, would I meet any of the patients?
The captain pressed a button and I could hear a loud chime coming from inside the facility. The inside guard spoke to us through an intercom. "Is this the piano tuner, Sir?" The captain confirmed who I was and the door was unlocked. The inside guard greeted me and I took his arm. As we moved through the ward, I could hear strange noises coming from some of the doors we passed. Soon, I was brought into the Activities Room and the guard showed me the piano. "this is very important, Sir. Please open your tool kit, remove what you need and close the case. Then, put it under the piano at your feet. We'll be watching you through a two-way glass partition to your left. If anything odd happens, we'll be here in seconds, but don't worry. We allow certain patients to move freely through the facility. They are people who pose no harm to themselves or anyone else. Your tuning might draw them and they will wander in and out. Hold onto your tools at all times, please. Okay Sir. That's it. Do you need help taking off the front of the piano?" I thanked him and assured the guard that I didn't need any assistance.
I opened the front of the big upright and tested the keys for possible problems. The instrument was old but in good condition. I collected the tools I would need and started to tune it.
As soon as I hit a few notes, someone came in. She spoke to me. "Hello, I'm Adrienne. Are you playing the piano?" Then she surprised me. The lady began playing some kind of classical piece on a flute. I turned to her and explained that I was tuning the piano and I needed quiet to finish the job. She stopped playing, apologized and left the room.
A few minutes later, Adrienne came back and said exactly the same thing again, as if we had never met before. She played what seemed like the same flute passage. Once again, I explained that I needed quiet to tune the instrument and she stopped playing.
When Adrienne returned the third time, I understood what was happening and repeated my explanation. She apologized and walked out.
I finished the piano and reassembled it. I sat down and played "It Came upon a Midnight clear." Adrienne returned, sat down on a nearby couch and started to cry. That made me sad and my face must have shown my feelings. Adrienne got up, touched my shoulder and said, "Oh no! it's alright! The music is so beautiful. That's what made me cry." She sat down again and I paused before continuing to play.
Something had reached this young woman in her troubled world. Music had taken her out of that odd cycle where she would repeat the same words and actions again and again.
As I continued to play, others joined us but none of them spoke to me. At one point, Adrienne rose, touched my shoulder and thanked me quietly. She left and I never heard her speak again. I wondered why she didn't try to play her flute. I would have been happy to move to any key. I remembered that she had only played a small part of something I didn't recognize. Maybe, she wouldn't have been able to remember an entire tune.
As I left the ward and was escorted down to the bus stop, I thought about Adrienne. What happened to her? Was she a musician at one time? Did something happen which shattered her existence and left her playing a part of a classical piece, which was all she could remember? For a brief time, the music of Christmas brought that lost soul out of her misery. I was glad to give her that little gift of reality. For that brief interval, we shared something very special, the joy of music.
---
The Groove in the Ceiling, memoir nonfiction Honorable Mention
by C. S. Boyd
As a child, I loved the two-week break from school for Christmas. I awaited with eager anticipation for the moment when we all gathered around and opened our presents, followed by waiting on pins and needles to see what Santa would bring. Then the holiday and all the anticipation and waiting were over. What a letdown. Everything was over until another eternity of 365 days had passed.
I never knew why, but my dad always made sure we had a tree for Christmas. No matter whether we had anything else, we had to have a tree. He did his Christmas shopping on Christmas Eve, and a trip to the Christmas tree lot was always one of the stops. He normally came home with a nice but modest tree. I realize now he probably waited until Christmas Eve to get a decent tree at a discount.
We got out the old, worn decorations and put them on the tree, then put our presents underneath. I never really saw the attraction. It was always interesting to me that we all gathered around to put it up and decorate it, but I was the one who got to take it down all by myself at spring break and put everything away.
Christmas further lost its glitter when my brother went off to college. My mother passed away six years later leaving just my dad and me. Not long after that, my brother got married and two years later, during my senior year, he and his wife came to live with us.
At Christmas that year, we were all going about our secret business of picking that special gift for each loved one. I had decided to wait and see what they would get me, but when I overheard them asking each other if I had dropped any hints about what I wanted, I decided to hint for a drafting set, a box of Lego's, a race car set, and a Barbie doll.
On the last class of the last day of school before the holiday, I sat in my Chemistry class watching the second hand on my watch.
Ten, nine, eight, seven, six…
"…and everyone have a Merry Christmas. See you next year," concluded Mr. Simms. The bell rang. I grabbed my books, hurried to dump them in my locker, and headed at a near run to the school bus line, the final step in my goal to wish this place good-bye for the rest of the year.
Behind me, I heard my Chemistry teacher call my name. I stopped and turned around, then walked backward to continue progress toward my goal, but I stopped when I heard him say: "Would you like the school Christmas tree?"
My mouth dropped open and thoughts of I should ask my dad sprinted through my mind. Then I thought, I don't have time to do that. I have to make a decision. Then I wondered what my dad might do if I showed up with a Christmas tree. How would I get it on the bus? Would they wait for me to put it on the bus?
"I guess so," I heard myself say. "But, I can't get it home."
"No problem, we'll bring it."
I arrived home on the bus just as the men bringing the tree stopped in the drive way. I hurried in the front door with the men carrying the tree hot on my heels. My dad was sitting in his rocking chair by the butane heater we used to heat the house.
"Daddy," I said hurriedly "they gave us the school tree."
There was no time for discussion during the confusion that followed. I looked around to see one of the men walking backward pulling the bottom of the tree. It looked a lot bigger stuck in our doorway than it had sitting in the school hall. They had to stop while we moved the TV, followed by much pulling and twisting and pushing as they worked this huge tree into our 10 by 12 foot Living room. When they tried to raise it up, it was too tall and the top dug a deep groove in the ceiling tile my Dad had worked hard to put up several years before. I was afraid they were going to take it away, but my dad got a saw and they cut off the bottom and trimmed away some of the lower branches so it would fit. The tree finally in place, we thanked them and wished everyone a Merry Christmas and Happy New Year.
"We need new decorations for a tree like this," said my dad.
We went to town and bought red, green, and gold balls with glitter on top. We got new lights and tinsel, and one of those white tree skirts to make it look like there was snow underneath.
Back home we all joined in to decorate the tree. I pulled out and scattered homemade star, angel, and bell ornaments from Christmases past among the new. A few candy canes among the branches supplied the finishing touch.
The whole house smelled of pine. My brother plugged in the lights and the tree came to life in a cascade of blue, green, red, and gold. The fake snow under the tree sparkled between the gifts. Dad got out his camera and took a picture.
I never knew why they chose to give my family the tree that year. I didn't think to ask and I regret that I never told them how special it made that Christmas for me.
Years later, when we sold the house, the new owners saw that groove in the ceiling as an eye-sore to be fixed. For me, memories of that groove, and the Christmas tree that made it always take me back to the last and very special Christmas when we were all together as a family.
Bio: Cleora Boyd often uses the pen names, Sly Duck or C. S. Boyd. She has Retinitis Pigmentosa. She first pursued a career in Accounting. After receiving a B.S. degree in Math from Texas Tech University, she obtained employment with a major pharmaceutical corporation in Fort Worth, Texas where she still lives. At that time her writing appeared in a company journal. This gave her the incentive to continue writing seriously. Cleora moved on to write a number of stories and she enrolled in several writing courses to improve and build her skills. In her retirement, she has joined a writing group, and enjoys reading and taking adult education courses.
---
A White Christmas in Santa Monica, fiction
by Nancy Lynn
It was a few days before Christmas, another beautiful 78-degree day. I was sitting out on my front porch enjoying the December sunshine. I had grown up back east where white Christmas meant freezing cold snow.
Now I had a cozy little house in a friendly neighborhood with a nice group of families. I was the fun old lady in the neighborhood. I never yelled at the kids to "GET OFF MY LAWN" or "DON'T YELL SO LOUD. CAN'T YOU KIDS PLAY QUIETLY?" That was all they heard from Mrs. McClusky down the street. All the neighborhood kids loved hanging out with Miss Lynn. I hated being called Miss Lynn, but you had to teach the kids respect, so Miss Lynn it had to be.
It was about time for the kids to come home from school, and many of them walked by my house. "Hi Miss lynn," said Maria Sanchez. "Hi there," said Billy Chong. It was quite a diverse neighborhood, and everyone got along well most of the time.
"Hi guys," I shouted back.
Sometimes after school, some of the kids would come up on the porch and hang out for a while, no doubt hoping I might have some cookies or something good and cold for them to drink. And so it was on this day that they came up on the porch and started telling me about their school day.
"Today we heard the song 'White Christmas' in school, and the teacher told us what a white Christmas was," Maria said. "Do you think we can have a white Christmas here Miss Lynn?"
"Sure. Why not? You never know with all this climate change what can happen."
"Nah, I don't think so," Billy said. "It's 78 degrees today, and Christmas is only 2 days away."
"Hey Billy," I said, "what kind of faith is that? Anything's possible at Christmas time. You just have to believe, and think outside the box a little."
"Think outside the box? What does that mean?" asked Joey, another little neighborhood kid.
"I'll show you what it means. Come back here tomorrow at 10:00 AM sharp and I'll show you. You'll see how to have a white Christmas right here in Santa Monica."
"How are we going to see a white Christmas here?" asked the rather skeptical Billy.
"You'll just have to wait and see," I said.
I was the Nan with the plan. That night I made lots of sandwiches and put them in the refrigerator along with a variety of drinks. The coolers were ready to pack in my minivan early the next morning.
They came back the next day, looking forward to being surprised, with lots of questions and innocent curiosity.
"Come here guys and hop in the minivan," I was grinning like I was one of the kids. All the parents knew and trusted me with their kids, so they just hopped right in.
"Where are we going?" asked Joey.
"You'll see. Now buckle up everybody and hang on for a fun little ride."
Ten minutes later I parked pretty close to the Santa Monica Pier, and now they really wondered what I was up to.
"Here we are. Let's get out and grab the coolers from the back.
"What scam are you trying to pull on us?" asked a rather disappointed Billy.
"What do you mean?" I asked innocently. "I wouldn't scam you guys. Come on. Let's go where I can show you a white Christmas."
They still weren't sure what I was talking about, but they went along with this little charade till we got right down to the beach.
"Who says you need snow to have a white Christmas? Look down and you'll see some of the whitest sand around. You know, with all the pollution today, snow isn't as white as it used to be, but look at all this white sand. This is what I meant by thinking outside the box."
"oh wow!" Maria exclaimed. "I never thought of it this way."
"You mean we always had white Christmases around here, just a different kind?" asked Billy.
They got down and dirty building sandcastles. Billy and Joey approached a family with other kids their own age. "How do you like this white Christmas?" Billy asked.
"What white Christmas?" the father asked. "This isn't a white Christmas."
"you have to think outside the box," Billy said.
"Or maybe inside the sandbox," Joey said.
I was proud of my kids that day. I had taught them a new way to think, and they passed it on.
---
A Special Christmas Present, fiction
by Bill Fullerton
I was halfway between Sears and totally broke, sitting alone in the noisy food-court, eating a tasteless salad, and wondering why I let my mother brow-beat me into getting dressed and driving into town with her to go shopping the day after Thanksgiving, the busiest shopping day of the year.
She was right to insist. My mother is always right. And to prove the point, I had somehow managed to finish all my Christmas shopping. That's good, because I could be a little busy in a few weeks.
Today's shopping cost me more than just maxed out credit cards. My feet hurt, my back ached, I felt tired, bloated and miserable. Of course, I felt that way long before hitting the mall. Being eight months pregnant can do that to a girl.
Make that an unmarried, pregnant girl. Of course, I'm no girl either, although it does seem like I stopped growing a lot sooner than the owner's manual told my parents to expect. In her infinite wisdom, Mother Nature decided five foot nothing was more than enough for Becky Miller to handle. So there's not a whole lot of me to pack around a baby that keeps getting bigger by the hour and seems anxious to get out and look around.
It's not like I didn't know better. This will be my second. My first, Kylie, is two and can't wait to play with her baby brother. But my knowing better and doing what's smart isn't the same thing. At least it isn't for me, not after falling in love with someone I may never see again.
The new baby's daddy, Matt Hampton, never knew I was in love with him. And I wasn't, not at first. We'd known each other forever. Of course, everybody knows everybody else out where we live.
In high school, we fooled around a little, but never really dated. I'm not sure why. But he never came on to me. Maybe that's why I never made a move on him. We even went to the same college for a couple years. Then I got married, while he dropped out and joined the service.
Last December, I came limping home with Kylie and a black eye. Stuart, my rich, good-looking, socio-path husband, gave me both.
That's when I learned Matt really had come limping home because his left leg was in a cast. He'd been wounded wherever he was serving while doing whatever it was he did. He was staying with his parents while healing up. Kylie and I went over to visit him the next day.
When we were in school, a lot of girls had a crush on Matt. He was an all-everything jock with a boyish smile and teasing attitude that was just a bit cocky. The Matt I saw that day was still blonde and good-looking, but he was no boy. His skin wasn't tan so much as a hard, weathered brown. There were tiny creases around the corners of his familiar, blue eyes. Sometimes they would get this funny, distant look. Most of all, the cockiness was gone, replaced by a quiet self-confidence.
In other words, he was a man–and I wanted him.
The next afternoon, I went back, without Kylie. We were alone, and soon making love.
"Becky Miller, you have the finest boobies." He had interrupted a very thorough job of nuzzling my breasts to say that, and was now smiling at me.
My sweater and bra were off; my jeans and panties were about to follow. We were on the carpet in the living room. A few small logs burned in the nearby fireplace. The lights on the big Christmas tree were turned on. So was I.
That business about my breasts was pure BS, of course, but it made me grin. "Don't give me that crap. We both know I'm an original member of the Itty Bitty Titty Club."
"Size don't mean diddly. I've always told you that." Matt used the tip of his tongue to emphasize the point. "Quality means a lot more than quantity. Believe me, lady. While these prime examples of female flesh may not be among the biggest, they are without doubt, the most perfect pair I've ever had the pleasure of enjoying."
I don't mind having small breasts. In fact, I prefer mine to the big udders most guys seem to go nuts over. That's just as well. Even after having Kylie, there was little change in mine. At most, I went from having two hard-fried eggs to a couple sunny-side up.
Even if Matt's teasing compliments were bogus, they reminded me how sweet he could be, and how much I wanted him. "If that's what you think, then more than just your leg needs attention. Lay back and let's see if I can give you an early Christmas present."
When it ended, I was content, tingling all over, and stretched out on his chest. It was a good place to be, feeling his heartbeat slowing while my body moved to the steady rhythm of his breathing.
Matt broke the silence. "Personally, I think you look a lot more like a cute elf than old Santa Claus. But I do love your Christmas presents and the great way you deliver them."
After that we were together almost every day. Since his parents both worked, their house was the usual setting. I'm sure everybody in town figured they knew what was going on between us. After all, everyone in our town not only knows everyone else, they usually have a pretty good idea what their fellow citizens are doing. But there were no raised eyebrows, much less objections. That included our parents. In fact, I think they like everyone else, approved.
Still, Matt and I knew it was just a brief affair, nothing more. He would return to the service; I'd go back to college. No strings attached. That's the way it always had been between us.
Then I fell in love with him. It'd been coming on for some time, but I wouldn't admit what I was feeling. Sure Matt had changed, so had I. But we hadn't changed that much, had we? There'd been no chemistry between us back in high school, so why now? What I felt wasn't love, I told myself, just a combination of friendship, sympathy, and sex.
All that ended the night he beat-up Stuart, my husband who had beaten me up twice. The week after the divorce papers were filed, we were at a club with some friends. Matt still had his cast on, so we were just listening to the band.
Stuart came over to our booth and started carrying on. Matt never moved, just told Stuart, who was leaning over him to get closer to me, that he should leave. When Stuart ignored him and kept yelling at me, Matt hit him several times, real fast, just how and where I'm still not sure. Stuart let out this funny, gurgling noise and sank to his knees.
Matt put a hand on Stuart's shoulder and must have done something, because I saw Stuart grimace. Then Matt pulled him a little closer, and asked, in this dead-calm voice, if he was ever going to bother me again. Stuart's a big guy and, believe me, he's strong. But I could see fear in his eyes as he mumbled, "no."
From then on, I was hooked. You see, I'd always felt in total control around men. It's not my looks. I'm short, flat-chested, and no great beauty. But most guys don't seem to notice. I like to think it's my eyes, and smile, and personality. Maybe those do play a part, but mostly it's my butt, and the fact I'm a total flirt.
All that ended when Stuart beat me up. After that, especially the second time, the last time, when he started for Kylie's room, before I got him to turn back on me, I would feel this twinge of fear and uncertainty around men. But after that night at the club, there was none of that when I was with Matt. Then I felt safe, in control, and in love. I'd always liked Matt, now I loved him, big time. My problem was how to convince him he loved me.
Then he told me he wasn't just going back to the service, but back to wherever he was when he got wounded. He felt responsible for the deaths of two friends. "I trusted someone who betrayed us. My friends are dead. He's still there."
I thought I was going to have a breakdown. This wasn't fair. What scared me most was the absolute certainty he didn't give a damn whether he lived or died, just so long as he killed that other person first. The only thing that seemed to give him any second thoughts was when I brought up his being an only child. I begged him to think what his death would mean to his family.
But I knew he wouldn't budge.
In January, he went back to the service to spend a few months getting his leg in shape and preparing to return to his old assignment. Meanwhile, I reentered college and considered my very limited options.
In April, he came home on leave prior to going back to wherever that other guy was. I met him with a big smile and a body that was all his and free of birth control pills. If all I could have of him was these last few weeks, maybe I could at least have his child. And his parents, who I dearly love, might lose their son, but I was going to do my best to make sure they had his grandchild. Maybe that would ease their grief, our grief.
Now eight months later, Matt may be dead or alive, I don't know. But I've got his child, his son. "Mathew Hampton, Jr.," I whispered the name, smiling at the sound. Then I heard myself continuing, "…only child of the late Matt Hampton," and began to cry.
"This seat taken?" I didn't look up, just shook my head and kept searching for a napkin.
Someone slid into the chair next to me. "Is the food here that bad, or are you just sad to see me?"
Who the hell was this idiot? I turned and was staring at someone who looked just like, Matt Hampton. For maybe the first time in my life, I was speechless. Just breathing was hard enough. Before I could think of something to say, he leaned over and kissed me. It was soft and gentle, and seemed to last forever, which was way too short for me.
Nothing made sense. "What are you doing here?"
He smiled. "Glad to see you, too, Miss Miller."
Then it registered. "You're alive!" I threw my arms around his neck, buried my face against his chest, and really began crying.
I didn't want to look up. The face I saw might not be Matt's. This could all be a dream. But I recognized his hard body, his special smell, and his gentle touch as he stroked my hair.
When I did dare to look, all I could think to say was, "Really, what happened?"
"I quit."
"You can't just quit, can you?"
"My mission was accomplished. My time was about up. I told the honchos I had personal business to attend to and quit."
"Am I that personal business?"
"Damn straight. I got a message a few weeks ago from old Dad. Don't ask how. Anyway, he filled me in on what you did and how things have been, well, developing since I left. He said you were way too good for me, but that while there may have been a few bastards in our family, they were all self-made men, not accidents of birth."
"He shouldn't have done that. This was no accident." I touched my belly. "I don't want you here because you feel sorry for me."
"I don't. I'm just…." The smile left his face. To my amazement, Matt looked away, but not before I saw a tear roll down his cheek. After a moment, he wiped a hand across his face, turned back, and gestured toward my protruding middle. "You love me, that much?"
I nodded.
Matt swallowed hard. "Before leaving, I had to fight falling in love with you. It wasn't easy. But what I had to do could have been a one-way mission. Dad didn't let me know about you and the baby until he knew it was over. He was right to wait. You see, since he told me, you and the baby, and Kylie, and just life itself, that's all I can think about. So I had to get out. I want life now, not more death. Most of all, I want you, I love you. God, how I love you. Becky, will you please, please marry me?"
I nodded ,and we were hugging, and I was crying again all the while grinning like a girl who'd gotten what she wanted most for Christmas. Then we kissed. It made the first one seem like a chaste peck on the cheek. When we came up for air, I patted my very big belly. "I'm afraid it won't be much of a honeymoon."
"That's all right. I'm counting on having a long life to make up for lost time. When's the baby due?"
"Well, if your son will wait that long, around Christmas."
"A boy, around Christmas." He seemed pleased with the prospect. "And we're not even Jewish."
"You're an idiot. But I do love you."
"And I love you, too. Always will. Remember last Christmas, when we first made love and I said I liked your presents and the way you delivered them? Well, I still do." He reached out and laid the palm of his hand on my belly. "It's just that I never counted on such a special Christmas present this year."
I started to cry again, and pressed his hand tighter against me. The baby picked that moment to kick. Matt grinned, stood up, and helped me out of my chair. "I'm not sure, but I think that was a not-too-subtle hint from our son that we better get moving on this marrying business. Where's the nearest jewelry store? We need to buy some rings."
Bio: Once upon a time, Bill Fullerton was a more-or-less semi-reputable sports columnist and government paper-pusher in Louisiana. The retired, beat-up Vietnam vet now lives in Arizona, where he has sunk to being a short story writer and author of unpublished novels. His wife, kids and perpetually shedding dogs try to ignore this fall from grace.
---
Santa's Tech: Magic of the Season, fiction
by Ted Nicholas
A deep blanket of year-round snow fills the open meadow. Glittering ridges build in the distance to tall mountain peaks, stark blue-white jutting up into the night sky. The polar wind gathers frozen ground-clouds, herding them downslope through deeper parts of the valley, squeezing them between covered cone-shaped sentinels that were once trees. The hush of eternal winter muffles the land to the distant peaks. Only the sounds of wind and snow can be heard in the remote surroundings.
Winky, Blinky and Clive sit in the back, huddling together. Frosty air and the occasional giant snowflake swirl about them in the old open-air vehicle. Their attention is focused elsewhere though. Their heads bowed low and close, they are staring intently at something in their mutual lap. An enormous, overstuffed bag consumes most of the seat beside them.
"Is it okay to use your location, Grandpa?" Clive, always the techie asks. His dark green skin gleams in the newly risen moonlight, now sparkling in all directions from the tops of sprawling snow fields.
"It is fine, though I think you will have trouble," Grandpa states, amused. His silver beard catches on the fur-lined collar of his red leather flight gear as he smiles. The vehicle shifts and creaks as he settles into place, pulling the reins up into his lap. He is preparing for a very important trip which he has repeated for ages.
"It can't find us," Winky blurts out, slender fingers flying across the device's surface as he makes another attempt. His timeless, boyish grin reflects in the glossy tablet, a thousand stars twinkling in the night sky from behind.
"Maybe it needs an update. Did it say anything about an update?" Blinky suggests, suddenly looking cross-eyed at a snowflake momentarily perched atop his nose. His pointy ears poke up from both sides of his worn leather cap.
"No, we are most likely out of satellite range," Clive answers, adjusting his spectacles, "We still have a ways to go."
Small bells jingle as a frigid gust blows the team's steamy breath back towards the trio. The steeds stomp the always frozen ground, champ at their bits and rattle antlers in preparation for the long awaited journey.
"As soon as we clear those mountain peaks, you should get a signal," the old elf states over his shoulder, his round cheeks red from the biting cold. He loves this time of year. "The season is upon us. It is time to deliver the Gift." With a tug on the reins and a deep warm laugh building, his eyes twinkle with elfin magic. The team responds lurching the long runners from the frozen ground.
"Hang on boys, here we go…Ho team, ho team, ho, ho, hoooo! Woo Hoooo!" the sounds of his laughter mix with the bells.
The team heaves on their harness, the huge sleigh becoms airborne and heads up towards the snow peaks buffeted by the icy polar winds. The trio laugh and yell with excitement as well. They know that Grandpa's sleigh will never let them fall. Clive even records the events as a keepsake on the tablet.
Responding to the moment and picking up speed, the team trumpets a deep chorus of bellows, an ancient call of the wild. Their echoes ring in the ears of the occupants, bouncing back from blanketed cliffs of enormous mountain peaks passing rapidly on either side. The bellows distantly repeated from below come from huge herds of snowbound elk looking upward and answering the call as they fly overhead. Moonlight glows on the vertical snowfields, shimmering ribbons that blur past the trio on their high-speed, once-in-a-lifetime thrill-ride with Grandpa. A fading choir of "Awesome!" blending with the jingling of sleigh-bells, dwindling into a star-filled night.
"Now that we've left the hidden valley behind, you can probably get a signal," the old elf yells over the team toiling up front. The sounds blow past quickly on the wind, his silver bangs whipping about savagely over his wrinkled brow.
"Let me try first," Blinky stammers out, normally a bit more reserved. His hands move over the tablet in a practiced motion. "It wants to install anti-virus, maybe we got a bug?" he states shrugging his shoulders.
"Let me see that thing!" Winky proclaims, playfully elbowing his brother while simultaneously taking the device. "Now it wants us to create a membership," he states frowning at the tablet. "What should our login be?"
"We don't have time for this. Cancel that," Clive says to the device, raising his voice over the wind. The tops of immense snow clouds pass rapidly by far below. "Hey tablet, give us directions."
A puzzled grin on his face and barely containing himself, Clive repeats the command once more just to be sure. Half laughing and half yelling he pronounces, "It says, 'in 3000 miles, turn right.'" at which they all laugh out loud.
Grandpa turns completely around with a huge grin on his face, letting the team have their reins. "People have been following the stars for eons. We all know the way, remember? What was that rhyme you were taught when you were young?" his eyes twinkle, reflecting the starlight, now filled with the magic of the season.
The trio recite the well-known rhyme as they have since their childhood.
"When the journey begins, put your home at your backs, till the Southern Cross's low in the sky.
"Then pick up the pace to a phenomenal rate, in the blink of a human eye.
"Three times round to spread some laughter and fill them all with good cheer.
"Then once more round at the speed of starlight, to deliver some hope for the year.
"To return home again the pathway is true, no matter the place or how far.
"Point the team and the tip of your nose at the glow of the Great Northern Star."
At the end of the poem, the ancient elf points out past the team far up ahead. There low in the sky, glowing through the wispy tops of the clouds, is the Southern Cross.
The trio now know what they have to do, as Grandpa returns to the reins pulling right and urging the team to greater speeds. Winky and Blinky open the huge bag revealing a glowing ball of elfin magic that tickles and makes everyone laugh. Scooping out double handfuls, laughing loudly with great joy, they spread their good cheer as the sleigh speeds around the globe three times. Clive records the event and posts to all their friends on Elfbook.
"Ho team, Ho! One more time round at the speed of starlight, to give some more hope." The old elf's hands thrust up and down rapidly, ripples of reins heading up towards the team urging them to even greater speeds.
The team's wild call, trumpets and blends with the jingling sleigh, rings as clearly as a freshly struck bell. The trio, tingling and giddy with exhilaration watch everything around them blur from back to front as they enter star-speed. Not sure if they were yelling from fear or laughing with excitement, they all become a blur traversing round the globe in a matter of moments. Energy and friction build around them creating a sparkling, glowing tail nearly ten miles long. As they fall, each sparkle becomes a fresh new snowflake glittering on its way down.
Bio: Ted has been published in several venues over the years. Much of his writings and works became parts of educational software packages as clip libraries and tutorials. He has written articles for reoccurring publications, usually technical articles written in a creative style. His column "The Ted Zone" won the Michigan Press Association award for Best Local Writer. Ted currently writes a monthly blog for the "AppleVis" website under the blog team name Nicholas.
---
Signs of an Unbartered Holiday Season, poetry
by Alice Jane-Marie Massa
You begged off going to The Nutcracker Ballet
because your feet would ache
if you watched people
dancing on their toes.
At every party,
you mistakenly missed every mistletoe;
but you did not miss me
at the one party
where I did not go.
You didn't want to go
skating or skiing:
you were much too cold,
getting too old.
You wanted to watch Home Alone;
I wanted to watch White Christmas.
When we walked through the mall,
you did not hold my gloveless hand.
When we went to see the City Tree,
your hand never touched my down-coat-covered back.
At the Holiday Pops Concert,
you made a concerted effort
to avoid helping me with my red opera coat.
At Midnight Mass,
you hesitated scooting closer to me
when we needed to make more room
for other parishioners in our pew.
On Christmas morning,
there was no little velvet box
with a gold or silver bow.
So, on New Year's Eve,
during the twelve strokes of midnight,
I sit alone;
and with wishes for a new beau
for the new year,
I eat my twelve grapes.
¡Feliz Ano Nuevo! Happy New Year!
I knew the twinkle was
no longer in your gray eyes.
Your demeanor had shifted:
you were in disguise.
I know, I know,
I know, I know-
between the pieces of my broken heart,
on my toes,
I need not ask you why.
I know, I know,
I know, I know, I know
this is
your perfectly timed,
unbartered good-bye.
---
A January State of Mind: nonfiction
by Lynda McKinney Lambert
January is a confusing month!
Do you feel stretched in two different directions? Strange, because I feel like I am two different persons. One is the public image, the forward-looking face I wear most of the time. She is the go-getter, the high achiever, the bold, fearless professional woman. Yet, at different times, you can see the other face, another me. She is often unusually quiet, private, occasionally uncertain, aloof at times, and not always much of a group person. This brings me to a deeper question. "Do we experience duality because January is on our minds?" I do have these mixed and competing thoughts in January every year. Do you?
Have you ever scanned back through your own previous January entries in your journals? January is a great month for reflection. Some scrutiny will give you additional insight into what you were thinking about at that time.
Another way is to look back over your calendar from last January. This might help you get some insight into your activities for the month.
I feel like I am doing a circular dance of duality. The tensions must be the two sides of me. There's something hidden deep inside of us that makes us restless, uncertain, and hesitant, in spite of all our best efforts to make changes for the year ahead. Is it possible that while we are looking forward for the new horizons in our life, at the same time, we are looking backwards?
Perhaps! In January, we can gain wisdom and reconnect with something spectacular that we missed because we were too close to it to really see it!
The ancient Romans named the months in their year after their pagan gods. They had only ten months in their year and did not have the two months we know as January (Januarius) and February (Februarius). These two months were added to the Roman year circa 700 BCE. January was named after their god Janus.
Unlike our calendar today, January was not the first month of the Roman year until after Numa Pompilius, the second king of Rome, changed the sequence of the months into the twelve-month calendar. To the Roman mind, an odd number was considered to be lucky. For this reason, the king changed the number of days in several months from the unlucky even numbers to the lucky odd numbers. Long after this change from a ten-month to a twelve-month calendar, the emperor Julius Caesar made additional changes. After 46 BCE, February was designated the month which could make up a "leap year," and additional changes were made. Instead of the Roman calendar, it was now called the Julian calendar.
Maybe the dual feelings we are having on this first month of the year is because it is named in honor of Janus. Naming is so important. Our name has helped us to develop into the person we are today, even though we were unaware of that most of the time. Experts recommend that families carefully consider what they will name an unborn child. They caution us to choose a name that will be a positive influence on a child, because the child will grow into the various aspects of the name's meaning. I often pause to be grateful to my parents for giving me a name that means "beautiful." It makes me smile every time I think of it. I appreciate my name, and I'm reminded I want to live up to its traditional meaning.
In Roman and Greek mythology, the pantheon of gods and goddesses has different functions or jobs. Janus is the god who guards and controls gates and doorways. I envision his job as that of the one who orchestrates migrations and journeys.
As a Christian, I know that only God is the One who controls my gates and doorways. Because of this fact, I am thinking of January as a doorway or gate into a new beginning with fresh, exciting expectations. In my personal life, January is a gateway to pass through, into a new beginning.
I love to travel and visit new places, to learn about interesting things I enjoy. I'd like my personal path for this New Year to include some type of travel. It could be that God's will for me this year is to help me move through a passageway to arrive at a place of new opportunities or challenges. In reality I know each of us will travel from one place to another in the next year. We often say, "That's life!" But more than that, our circumstances are an inner voyage or personal transfer of some sort. Sensations of discontent and uncertainty are only natural as we realize the impact of January.
I often think of my life as a passage from one place, left behind, to the new place, just ahead of me. I searched for those pathways in my poems, journal entries, and dreams. This recurring theme develops in my writing projects as I write about being in one place, yet longing to go to another place, or back to where I used to be. I view my life-journey as a pilgrimage-and I believe we can all see different kinds of personal journeys in our recollections.
The poet Matsumo Basho expressed such thoughts in his book The Narrow Road to the Interior. He wrote: "The past remains hidden in clouds of memory. Still it returned us to memories from a thousand years before. Such a moment is a reason for a Pilgrimage."
For the ancient Romans, January was the festival month for Janus. He is depicted in artworks as standing in the doorway. But the problem is that Janus has two faces! Simultaneously, he looks forward through the doorway to the passage ahead with one of his faces, while the other face looks backwards. One face to the front. One face to the back! Here is the dual message that we encounter if we do not know which way we are facing at the beginning of the year. It's a problem that has been with humankind since the time when Adam and Eve had to leave the Garden. Is it any wonder we feel so uncertain in January? Sometimes we don't know if we are coming or going through Janus's passageway.
On the other hand, Jesus also spoke about standing at a door. His message was clear, and we can be certain that when Jesus stood at the door and knocked, He was looking directly at us. His invitation to open the door and let Him into our hearts is recorded in Revelation 3:20.
If we do not personally know Jesus as our Savior, we will be like Janus. We want to go forward; another part of us looks backwards. I've stepped right into Janus's vision myself at times. That is when we become confused and uncertain and feel like we are going in two directions at one time.
When we choose to look only to Jesus, we will look forward, asking Him to help us set our intentions into the pathway where He will be walking with us for the New Year. But what I feel rumbling inside of my being is the reminders of a backwards step at the same time. I often wonder why I don't recognize, or put into language, what I am really experiencing internally in January.
Is it because the noisy crowd drowns out our inner life, inner feelings, intuitions and our internal voice? They shout out, "Happy New Year." We have been told this is the time for our expectations to be declared and realized-yet there is that other side of Janus in our mind. As we ride the crest of January, the pinnacle of the New Year, we have expectations for what we believe the New Year holds for us. Those are the thoughts we talk about with others.
Here is what we often do not speak about, though. It's just too hard to put into words sometimes, because it's painful.
We have an inner critic, an unseen voice reminding us of past failures, deflated expectations, shortcomings, blunders, and more. That is the other side of Janus! Oh, we fail to understand this side, and we sure don't want to be talking about it to anyone. We have to keep up the smile, keep up with expectations. We have to…you fill in the blanks here.
It does not take much of a leap to see the self-centered, secular expectations of our contemporary culture. The New Year resolutions madness can literally paralyze anything creative, inspired, spiritual, artistic, resourceful, inventive, imaginative, intuitive, innovative, and productive on the inside of us. The Janus masks, facing in two directions at the same time, are in place for so many people who will never experience inner peace and joy because they are running so fast in a direction that will lead them to emptiness, after all.
But there is a way out of this predicament. Stop and be quiet for a little while. Maybe get up early tomorrow morning, when the house is still. Spend fifteen minutes in silence. Keep your thoughts focused on getting in touch with God. Let Him direct you to your purpose in life. In a quiet time, we can turn off the loud voices that distract us so easily and cause us to be confused. God is there, in the still, small voice, waiting for you.
Contemporary culture tells us to be determined to do what we want to do, to push our way to the top of whatever we decide to do. The clamoring voices are loud and demanding, often brightly colored, cutout images of what we should look like and how we should think. They shout to us about how strong we are, how we need to be "empowered" so we can do anything we want to do. The crowd says we need to call ourselves powerful and smart.
Oh, but wait a minute! Stop for a moment; listen for the gentle whisper of your inner being. Listen.
We can look forward with expectations that are grounded in divine purpose for our life.
I recommend a look back because it is wholesome for us to do. History bears fruit, you know. We bear fruit as we discipline our mind to study history. Our life's personal story is like a display of artworks on a gallery wall. The images are displayed. If we are careful and honest when we look at the pictures of our own thoughts, we'll find some gems as well as some clinkers. Both are good for us to consider, because they all show us the path we are on.
January is a state of mind.
A January State of Mind was published in Walking by Inner Vision: Stories & Poems, 2017, DLD Books.
Bio: Lynda McKinney Lambert is a visual artist and author who lives in The Village of Wurtemburg, in western Pennsylvania. Her 2nd book,Walking by Inner Vision: Stories & Poems, was published this year by DLD books. Christian faith, visual arts, nature, history, and mythology are her themes. She adds, "At my core is the gift of encouragement.' Every person has a Gift from the Creator. Mine is encouragement of others." Lynda retired from her position of Professor of Fine Arts and Humanities (Geneva College, Beaver Falls, PA) in 2008. She is now working on her 3rd book, Appalachian Alchemy.
---
Part VI. Coming to Terms
The Healing Voice, poetry Second Place
by Abbie Johnson Taylor
Sunlight streams in through large windows
of the room where we sit,
some like me in wheelchairs,
others on couches, in armchairs,
a few with walkers in front of them.
Some shout, cry, wander, fight.
Others, like me, watch the passing world.
The television talks–no one listens.
Then she appears, guitar in hand,
asks if we're ready for some music.
TV silent, she stands,
strums the guitar, sings favorite songs,
knows our names.
Nothing else matters when her voice
fills each corner of the room.
I love to sing,
wish she would stay forever.
---
Leaving, fiction
by Abbie Johnson Taylor
Sally felt a strange tension at the breakfast table one sunny April morning. Her husband Jack appeared nervous. He usually seemed confident and in control, but today, it was as if he were waiting for the right moment to tell her something, something she didn't want to hear. Just as she took a bite of her bagel, he looked her in the eye and said, "I'm sorry, honey, but I'm leaving you for another woman."
She choked on her bagel and wondered why she was bothering to try and remove the obstacle. Maybe it would be for the best if I went right here and now.
Jack, a prominent heart surgeon at a Denver hospital, knew the Heimlich maneuver. In a flash, he was behind her, his arms wrapped around her middle, his fingers on her chest pressing inward and upward. After a few thrusts, the piece of bagel flew out of her mouth and landed on her plate with a soft plop.
"Here honey, drink some orange juice."
Obedient as usual, she took the glass in her trembling hand and sipped from it. "April Fools, right?" she said.
"No, it's no joke."
Sally stared at him, trying to comprehend. "Is it that bitch you recently hired as your receptionist?"
"That's not a nice thing to say about Martha. She's been a big help in the office, and I was lucky to find her after Darleen quit at the last minute."
"And she's a good looker," said Sally, her body stiffening. "Don't think I didn't notice her that day last week when you forgot your lunch, and I dropped it off on my way to the DAR meeting. I saw her skirt cut just above the knees, her see-through blouse that showed way too much cleavage. She would have been a good catch for any man. Why did it have to be you?" She fought back tears.
Jack knelt by her side and took her hand. "Honey, I don't know how it happened. I guess I was captivated by the long blonde hair falling down her back."
Sally ran her free hand through her short dark curls. "I thought you liked my hair," she said, as tears cascaded down her cheeks.
"I did like your hair before you had it cut short and got that permanent and coloring."
"I'm fifty-five years old. My hair is turning gray. I wanted to look good for you."
Jack stroked the top of her head with his free hand. "Honey, you were beautiful the way you were."
Sally brightened. "Okay, I'll grow my hair long. I won't have Rachel at Clips and More curl it, and I'll ask her if she can restore it to its natural color. Will you stay with me if I do that?"
Jack sighed. "Honey, I'm afraid it's too late for that. Martha's pregnant."
"Pregnant!" Sally jerked her hand away and shoved her chair back from the table. "You're the same age I am. How could you be so stupid? She must be at least twenty years younger."
"I don't know," said Jack with a sigh, as he hung his head. "but I have to do the right thing."
"She could get rid of the baby like I had to do with Shirley."
"That's not funny. You know as well as I do that our daughter would have been mentally retarded. She wouldn't have had a happy life. As far as we know, Martha's baby is healthy. I see no reason why she should have an abortion."
"You bastard!" said Sally. It was all she could do to keep from striking him. "Do you love Martha?"
"I guess I do."
"More than you love me," said Sally, wiping her nose with the sleeve of her bathrobe. Jack sighed again.
"I should have known something like this was going on. You seemed to be spending too much time away from home. I know how dedicated you are to your work, and you don't like to leave your patients until they're out of the woods, so I shrugged off my suspicions. Then last week when I saw Martha, I wondered if you two were having an affair. I had no reason to think so."
She rested her head in her hands. "Last night when Maria Gonzales was rejecting her heart transplant, and you needed to stay with her, I tried to reach you on your cell a couple of hours later, and you didn't answer. I called the hospital, and the operator said you left an hour earlier."
Fresh tears fell, and Sally removed a Kleenex from her pocket and wiped her eyes. "I told myself Maria had died, and you and your colleagues were drowning your sorrows at My Buddy's Place like you do sometimes after you lose a patient. You didn't come home until two in the morning, but when I smelled booze on your breath, I was reassured. Now, before I can offer my condolences, you drop this… this… bomb." She blew her nose.
"I called the hospital a little while ago. Maria is doing much better. The anti-rejection medication we gave her last night seems to be working."
"I sacrificed a lot. It was bad enough I had to give up my job at the flower shop when I married you and be a stay-at-home wife and mother."
"I thought you wanted to…"
"I loved you, damn it, and I wanted to make you happy, and look where that got me."
"You had Judy. You were involved in the Garden Club, the DAR, and the Civic Theater Guild. Wasn't that enough?"
"It was until I had to give up Shirley. You don't know what it's like to kill your own baby, a child of your own flesh and blood. You don't know the emptiness I felt all these years. She was just an embryo to you, but to me, she's still a human being, and I miss her." Huge, racking sobs shook her, as she buried her head in her hands a second time.
"Now you're being dramatic," said Jack, rising to his feet. "Save it for your next play, why don't you?"
"Then I had to have my tubes tied," said Sally through her tears.
Jack paced the floor. "You and I both know that there was a good chance you could have carried another disabled child. We were lucky Judy was normal."
A car horn sounded outside. "Who the hell's that?" asked Sally, jerking upright.
"That's Martha. Since my car's still in the shop, she offered to give me a ride." He picked up his coat from a nearby chair and put it on.
"That's it. You're going to walk out, just like that."
"I'll come back this afternoon and pick up some of my stuff while you're at your Garden Club meeting," he said, jingling the car keys in his pocket. "My car ought to be ready by lunchtime."
Sally felt a sense of desperation, as he turned toward the door. "What about me? What am I going to tell Judy if she ever calls and asks to talk to you? Just like you, she works too hard and can't get away. She hardly ever calls or e-mails. She didn't even come home for your fiftieth birthday party."
"I'll call Judy tonight when I get settled at Martha's. You'll be hearing from our lawyer soon. You can have the house and your car, and I'll pay you a generous alimony each month."
He turned back to her, and his face softened. "Maybe you and your friends should think about opening that flower shop. I'm sorry I discouraged you from doing that last year. You've always been interested in flowers, and I shouldn't have insisted you quit your job and be a stay-at-home wife and mother."
"And you shouldn't have made me have an abortion and then get my tubes tied. Just get the hell out of my sight!" Sally rose to her feet.
The horn sounded a second time. Jack turned and hurried out the door. Sally stood and gazed out the kitchen's bay window at Martha's red BMW, as it idled in the driveway. She watched Jack climb into the passenger seat and the car pull away.
She grabbed several trash bags before heading upstairs. In the master bedroom, she emptied Jack's closet, shoving his pants, shirts, jackets, and shoes into the bags. She cleared his dresser drawers of briefs, socks, and ties. His toiletries on the dresser and in the adjoining bathroom and books and CDs in the study downstairs met the same fate. She even disposed of his medical school diploma, home insurance records, and other important papers in the bottom drawer of his desk.
She would have taken a hatchet to the computer, stereo, and other items, but that would have been too much work. Besides, the sanitation truck would be there any minute, and she had better things to do.
She needed to make several trips to the dumpster in the alley behind the house. As she was stuffing the last bag into the bin, the truck pulled up. Self-conscious about being seen in her bathrobe, she waved to the crew before hurrying indoors.
She retrieved a notepad and pen from the top drawer of Jack's desk in the study and went upstairs. The note she left on Jack's dresser read, "You fucking son of a bitch, you are trash, and so is all your stuff."
In the bathroom, she ran hot water in the tub. In the bedroom, she removed her bathrobe and hung it on the closet door. She placed her slippers on the floor at her side of the bed. She took off her nightgown, folded it, and placed it in its usual drawer.
In the bathroom, she stepped into the tub. Leaving the water running, she sat back, let the warmth surround her, and thought of Shirley. She hoped she and her daughter could make up for lost time.
With her right hand, she picked up the razor that lay on the side of the tub and held it poised over her left wrist. She hesitated for a moment, then cut deep, ignoring the pain. As the bath water gradually turned red, she closed her eyes.
---
Class Reunion, fiction
by Trish Hubschman
"I can't go to this!"
The invitation arrived that morning in the mail. Hailey clasped it tightly in her right hand. She kept reading it over and over. It was beautifully done, scripted like a wedding invitation and on that crisp, expensive paper. The Alumni of Madison High school invites you to attend the Thirtieth Reunion of the Graduating Class of 1987.
"Why not?" Emma demanded.
Tears filled Hailey's eyes. She stared at Emma. The forlorn look Hailey gave her broke Emma's heart. It also piqued her curiosity. Emma waited. Hailey licked her lips. How could she say this? "Because I wasn't me thirty years ago," she finally said, her hand resting on her chest.
Emma wasn't going to let Hailey off that easily. "Who were you then – the paper boy?"
A chuckle escaped Hailey's tightly pressed lips. She shook her head. "No," she fired back, plopping down on the sofa. "Oh, Emma," she burst out. "I've come so far since those days. I was shy and mousy in school." Hailey picked up a bunch of her shoulder-length blonde hair, a great dye job. "I didn't have many friends." She squeaked. "I don't want to remember those days." She looked straight at her friend. Emma's face was placid, arms crossed over her chest. Oddly, Hailey felt an urge to bubble over with laughter. "What if people remember me? What if they don't?" The second option seemed even more upsetting.
With a broad smile, Emma dropped her arms from across her chest. She plopped down on the sofa beside Hailey. "That's the idea of a class reunion, Hail, to see who remembers you and who doesn't." Hailey shook her head vigorously. "You don't have to reminisce about the past, hey, the good old days at Madison High," Emma teased. Hailey blanched. "You can talk about what you've done since then." I think people are more interested in their classmates lives, what the heck have they done since 1987. Let's compare notes." Emma laughed.
Hailey sighed. "I know you're right, but I don't know, Em, I can't. I feel like I'm going in reverse suddenly."
She had accomplished so much for herself. Okay, her lousy eight year marriage wasn't on the success list, but she had done well professionally. Hailey Commet was the editor-in-chief of The Bradford Bulletin, a popular online weekly newspaper. Her friend, Emma, was associate editor. That would make pretty good let me talk about myself stuff, but that wasn't her. She couldn't do it.
Hailey jumped up from the sofa. The Class Reunion invitation dropped to the rug. Emma bent over and picked it up before rising to her feet as well. "How about I make you a deal?" Emma dared. Hailey narrowed her eyes. She was curious and suspicious. She waited. Emma chuckled. "Did I tell you I went to my tenth and fifteenth high school reunions?" she went on. Hailey said nothing. "Both were a lot of fun and, hey, I wasn't Miss Popularity in those days either. It took a lot of self-coaxing to push myself to go to either," she confessed.
That got Hailey's interest. Her eyebrow rose. "You're getting at something, Em, and it's taking too long," Hailey noted.
Emma shrugged. "How about I go with you to the reunion?" Emma held the invitation out and slapped it with her other hand.
Hailey's mouth dropped open. Emma hadn't gone to Madison High. Heck, Emma hadn't even lived in the same state thirty years ago. Hailey was quiet for a long time. "I'll think about it," she finally blurted out, and then swiveled on her heel and went into her home office.
********************
"Who were your best friends in high school?' Emma asked.
They were in Hailey's bedroom. Hailey was applying makeup for the evening's event. Her blonde hair was pulled up in a French twist. She wore a blue and white cocktail-length dress. On her feet were flat-heeled black shoes. Emma wanted her to wear high-heels, but Hailey refused. It was enough she was going to the reunion. She was uncomfortable as it was. Emma wore a pink spaghetti-strap dress that made her look a little plump, but Hailey didn't say as much. Her high school yearbook lay open on Emma's lap. Hailey had fished it out upon Emma's insistence. Emma wanted to know what the people looked like thirty years back, so she'd have some idea who she was looking for at the restaurant tonight.
She turned from the dresser mirror, blush compact open in her hand. "Amanda Smith and Sarah Jones," she replied easily. After a moment's hesitation, a deep frown crossed her face.
Emma was leafing through the pages of the yearbook, back to the letter J, and then forward again to S. She glanced up, a curious glint in her eyes. "What's that about?" She lifted a hand and flipped it at Hailey.
Shrugging, Hailey turned back to the mirror. She was afraid Emma would read her mind. She had thought Amanda and Sarah were her best buddies in those days, but she was feeling iffy. Amanda and Sarah had been at each other's weddings. Neither had been at hers. "I haven't seen them in thirty years," Hailey said.
Emma smiled. Hailey could see her face in the mirror in front of her. "Well, you'll get to see them tonight," Emma chimed. Before Hailey could respond to that, Emma went on. She was still flipping the pages. "Did you three girls go to the senior prom together or did you have dates?"
Sighing, Hailey turned back to face Emma. Obviously, it was no use trying to squirm out of her third degree. "I went with my cousin, George." Amanda went with my dream boy, Logan Runner, and I don't remember who Sarah's date was." Hailey waited for Emma to say or do something, such as laugh. She didn't. Instead, she flipped a bunch of pages over together in search of Logan Runner.
"Mmm, he's not bad," Emma said, smiling. Her hand came up to rest on her cheek. She stared at the picture for a long time. "He was voted most likely to succeed," she read. "Homecoming king, class valedictorian, impressive." Emma looked up at Hailey, her expression soured. "I bet he's fat and bald now."
Hailey burst into laughter. She couldn't help it. Emma was laughing too.
********************
She should have done this two weeks ago when the invitation arrived. Well they were on their way there. This was her last chance to log onto Classmates.com and see what she could find out about the people she'd gone to school with.
Emma was driving. She was keeping up a bright banter. Hailey found it nerve-racking. Emma didn't seem to expect Hailey to respond, which was good. Hailey pulled out her cell phone and logged onto the Internet. She brought up the search screen and keyed in classmates.com, waited a second till it opened, then typed in further information, Madison High School, New York, class of 1987. Again, she waited. A list of graduates names appeared. She scrolled down it, glancing at names as they passed, to see if any one popped out at her. It didn't seem odd to Hailey that not many of the names listed rang any bells.
It took a long time to get down to the J's. Sarah Jones wasn't listed. That meant she hadn't posted on this site. Hailey hadn't either, so Sarah not being here didn't come as too much of a surprise. Logan Runner not being listed did come as a major surprise. He was Mr. Everything in high school. She'd had a wild crush on him, as did many other girls in school. Her best friends knew she dreamed about Logan, but somehow Amanda and Logan went to the senior prom together. That broke Hailey's heart, though she hadn't told Sarah or Amanda that.
Her own date, George, was a second cousin. He lived in New Jersey. Her mother had suggested she ask him. Hailey hadn't, but her mother had, and he said okay. Nobody had known they were related.
Amanda Smith was listed, bingo! She posted here. Hailey clicked on her name and her page opened. She read the data.
"What's up there?' Emma asked.
Hailey had been so engrossed in what she was doing she was startled by Emma's interruption. She nearly jumped to the car roof. She glanced up. To her surprise, they had pulled into a parking spot at the restaurant and Emma had idled the engine.
"Looking for my classmates," Hailey replied sheepishly.
"Did you find anyone you know?" Emma shot back with interest. Her elbow rested on the steering wheel.
********************
"Hailey Commet, is that you?" squealed a chic-looking woman. She held up a wine glass in hopes of getting Hailey's attention. She already had it! The woman started making her way toward Hailey and Emma. "You look absolutely gorgeous," the woman intoned, wrapping her arms around Hailey.
So did Amanda Smith, Hailey thought, automatically wrapping her arms around Mandy's waist. She hadn't gotten a chance to fully see her friend before she was enveloped by Amanda. When the two women parted, Hailey had her chance. Amanda wore a tight-fitting silver dress that clung to a very shapely figure. She stood on four-inch heels and her dark hair from thirty years ago was even darker. "You look fantastic too, Mand," Hailey praised.
According to classmates.com, Amanda had five children and three marriages. She was still with husband number three, a prominent neurosurgeon. They lived in Connecticut.
"Is Sarah here?" Hailey asked. Emma, who stood beside her, had virtually been forgotten. She wasn't protesting.
Amanda turned her head toward a throng of people. "Sarah, darling, you'll never guess who I've got here," Amanda called. "Come quick or the cat might steal her away."
Hailey giggled nervously. Emma rolled her eyes.
The best way to describe Sarah Jones as a teen was cute. The woman that approached them upon Amanda's command didn't resemble the young Sarah in the slightest. This woman was a lot older. Her short-cropped hair was pure white and she was on the heavier side. Hailey glanced questioningly at Amanda. "Is that Sarah?" she whispered.
Amanda smiled warily. "Contentment of the years, darling," she whispered back, gesturing with her hand.
Sarah gave Hailey a warm hug.
"We have to join the others now," Amanda announced.
Before they moved forward, Sarah noticed Emma. She smiled. "Are you one of us?" Sarah asked lightly.
Emma chuckled and shook her head. "No, I work for Hailey on her website," Emma replied brightly. "My husband took the boys to a baseball game tonight, so I decided to tag along with Hailey."
With that, the foursome joined the growing crowd of Madison High classmates.
"Is Logan here?" Hailey asked delicately. The question was directed to Amanda. As far as Hailey knew, Amanda and Logan had been a couple into college.
Amanda's expression soured, but passed quickly. She glanced around the crowd. Hailey was sure that was more to avoid her, than to check who was present. "I don't see him as yet, darling," Amanda said brightly. "But I'm sure he'll be here soon enough."
Sarah grabbed Hailey's arm. "You had such a crush on Logan, Hail," she teased.
Hailey felt her cheeks burn. "I did," she admitted. "But he was Amanda's guy."
Amanda scowled. "I'm sure you've seen him more over the years than I have, darling." Her tone seemed unusually cutting. Hailey didn't understand the comment or how it was said. She narrowed her eyes and shook her head. Amanda sighed. "You're in the same business, darling, writing, editing, whatever you call it." She waved her hand loosely. "Yes, I snooped around to see what you have been up to, since no one has heard from you for 30 years."
Hailey was still in the dark and embarrassed that Amanda had looked her up. Sarah came to her rescue. "Don't you know, Hail, Logan's a big time publisher. He owns something like five popular magazines."
Hailey's mouth dropped open. She was almost speechless. "I had no idea. Goodness, that's wonderful!" What else could she say? He had been voted Most Likely to Succeed. "Is he married?" It seemed a logical question, though she wasn't asking for her own personal benefit.
Sarah supplied that answer too. "Divorced, I heard."
Hailey chuckled nervously. "Who isn't?' she teased.
Sarah pushed her shoulders back and held her head high. "I've been married to the same boring man for twenty-three years," she announced proudly, gesturing to the throng behind her. "Donald's a chiropractor."
Hailey was impressed. Her best friends had done well for themselves. They continued chatting.
Emma tapped Hailey's arm. She looked at Emma, who pointed toward the entranceway. Hailey glanced that way. Logan Runner was there, his boyish good looks had matured into grownup handsome. His hair had streaks of silver in it. He was still fit and trim and could turn heads. He did in fact. As he made his way toward the throng, people said hi to him. Hailey seemed to stop breathing when she realized what she was seeing. Logan was heading in their direction, but of course, it had to be for Amanda's sake. She thought so too. Her hand came up and patted her dark hair.
"I hope I look okay," Amanda said more to herself. She knew she looked fantastic. "I haven't seen that old coot in ages."
Hailey glanced at Amanda oddly.
"Maybe he's coming over here to see you, Hail," Sarah chimed. "I think he liked you in high school."
Hailey shook her head vigorously. Amanda shot a scathing look at Sarah.
"Ladies," Logan said in his smooth voice. He was looking at Hailey, not Amanda or Sarah. "Hailey Commet?" he asked, but he knew she was Hailey. "I'm a big fan of The Bradford Bulletin."
Hailey blushed. "Thank you," she replied. "We try to give it our all and print the best pieces." Oh God, that sounded like an advertisement.
"I'd love to swap notes," he said.
Amanda jumped forward and swatted Logan's shoulder. "No business chats at the reunion, Logan. This is relaxation time, fun."
He glanced over his shoulder and nodded at his old girlfriend, and then turned back to Hailey. The music had changed from bouncy pop and rock to a slow song. Hailey was trying unsuccessfully to name the tune. She wanted to kick herself. What did it matter anyway? Logan Runner was staring at her intently, that's why. Her heart was pounding too fast. Her palms were sweating.
"Would you care to dance with me, Ms. Commet?" he said, winking and smiling at the same time. Hailey nearly fainted. Amanda grunted indignantly.
She had to find her voice and fast. She swallowed hard. She smiled. "I'd love to, Mr. Runner," she finally replied and took his elbow.
Amanda sniffed. Sarah and Emma clapped happily.
Bio: Trish is deaf-blind and has a walking/balance problem. She loves writing short stories. She also has two books published with America Star Books, a short story collection Through Time, time travel/romances and The Fire, first in her own Tracy Gayle mystery series.
---
Barb, fiction
by Susan Muhlenbeck
Patty settled herself on the plane and waited impatiently for the rest of the passengers to embark so they could take off. She enjoyed spending the Christmas holidays with her brother's family in New York, but she was eager to get home to Quebec. She had not seen her cats for almost two weeks, and she was curious about what she had missed at work.
After what seemed like forever, the plane took off, and she started to relax. Around her, conversations buzzed, but she was in the mood for a nap. She closed her eyes and dozed off for about an hour. When she woke up, she was ready to make conversation, but her seatmate was engrossed in a book. Annoyed that she had not thought to bring along a book herself, she looked around casually.
She started playing a game, making up stories about the people near where she sat. The old lady across the aisle, who was knitting something that looked very complicated, was making a sweater for her granddaughter's birthday. The child would probably never wear it, she sighed, except when Grandma came to visit. The young man behind her was going back to college after the Christmas holidays. He looked like he was majoring in computer science. The middle-aged man in front of her was returning from a business trip, probably with a little pleasure on the side, she thought wryly.
She looked at the young lady in front of the old lady who was knitting and almost had heart failure. She put her hand over her mouth to stifle a scream. She felt her face grow hot, and she concentrated on taking slow, deep breaths. There in the seat not three feet from her was Barbara Rudd, Patty's arch enemy from high school.
She had attended Beechem Academy in Vancouver for four years, the worst years of her life. Right from the start, Barb and her pals, Pam and Sally had bullied her mercilessly. Patty felt a headache coming on as she thought of the countless pranks they played on her.
Patty remembered walking into her room one night and finding a dead rat on her pillow. She had screamed, thinking it might have still been alive. As it was, she had had nightmares for weeks. She also remembered looking in her closet and finding her favorite silk blouse shredded. Her headache got worse as she thought about the girls' cruelty.
One morning after breakfast, Patty ran to the bathroom and was violently sick. "Patty the Fatty is doing some serious purging," came Barb's voice from the sink.
"You shouldn't do that, Fatty," her friend Sally scolded. Your teeth will fall out." Then the three of them had collapsed into giggles as Patty realized what they had done. They had somehow snuck some of that vomit inducing substance for people who accidentally swallowed poison in her food.
Patty stared at the head of copper colored curls bent over a magazine. Rage built within her and threatened to explode. What should she do? I'm not going to just do nothing, she told herself firmly. That had been her mistake back then. She should have told somebody. The problem was, she didn't have any proof. Barb and her cronies were too clever for that.
They even stole my term paper, she thought furiously. She had written a term paper about the Salem witch trials for her history class. The day it was due, she could not find it anywhere and explained to the teacher that she must have lost it. The teacher said she would not accept a late term paper due to Patty's carelessness. The next day, the same teacher praised Barb's friend Pam on her excellent paper about the Salem Witch Trials while Patty received a big fat 0 for not turning in a paper.
"Ma'am, are you okay?" Patty's seatmate asked, closing her book. "You don't look well."
"I'm all right," Patty said thickly. "I feel a little air sick. I'm going to the restroom."
She heaved herself to her feet and lurched to the bathroom. She looked into the cloudy mirror and was horrified at her ghostly expression. She fumbled in her purse and quickly dry swallowed two aspirin for her raging headache. Then she dabbed on some lipstick and rouge, trying to get some color in her cheeks. That isn't much of an improvement, she thought glumly, gazing into the mirror again. She tried cheering herself up by thinking about graduation day.
She remembered walking resolutely across the stage and accepting her diploma as her parents and brother cheered her on. Then it happened. As she was walking down the steps, the heel broke on one of her pumps, and she went sprawling. She ended up with a knee injury, which still bothered her from time to time. She knew Barb and her satellites were behind that final insult, but by then, she no longer cared. She took consolation in the fact that she would never have to see those awful people again, and she hadn't until now. There has to be a reason I am on the same flight as Barb, Patty told herself. Maybe the reason was to point out the error of her ways, if such a thing were possible for such an unpleasant person.
There was a pounding on the door. "You all right in there?" a man's voice asked.
Startled, Patty wrenched open the door. "Sorry about that," she said, feeling herself blush. "It's all yours."
"Thought you fell in or something," the young man laughed. "Sure you're all right?"
"I'm fine," Patty said airily, willing it to be true. She walked slowly towards her seat, determined that she would confront Barb at long last. She didn't know exactly what she would say yet, but she would make the worm squirm. Not only that, she would let everybody within hearing range know what kind of person was in their midst.
I'm a registered nurse now, she imagined herself telling her. And what have you done with your life? I'm surprised you're not in jail, or did you already spend time in there? And how are your minions Pam and Sally? I didn't forget them either. Remember that time you put glue in my hand lotion? That's right, the really expensive kind that my aunt got me from her trip to Paris. How about the time you sent me a box of worms for my birthday?
She approached Barb boldly. She caught the whiff of some primitive scent. She remembered that Barb had always reeked of a cloying perfume called Poison. She still wears the same perfume, Patty thought dryly. At least she managed to tone it down a notch. She took a moment to appraise Barb critically. If nothing else, at least she still looks good. She had to be in her mid-forties by now but somehow managed to look almost ten years younger. That's probably the only feather in her cap, Patty thought as she reached out and tapped Barb on the shoulder.
Hello!" Patty said loud enough for everybody in her section of the plane to hear. It wasn't the most brilliant beginning, but it had its effect. Barb set down her fashion magazine with alacrity and gave Patty a questioning look. "I'm Patty Moore. I attended Beechem Academy, class of 88." She practically spat the last three words in Barb's beautiful face. She had a sudden urge to grab a fistful of those copper curls and pull them out of that swelled head, along with a big chunk of scalp. Better yet, she wanted to wrap her plump hands around that slender neck and squeeze the life out of her old enemy.
"It's nice to meet you," the other woman said sincerely, holding out a perfectly manicured hand and offering Patty a warm smile. "I'm Michelle Piccard. I attended Montreal Finishing School, class of 96."
Bio: Susan Muhlenbeck was born in Korea and spent her first five years there. She lost her sight at the age of two. She was raised in the Midwest and moved to Virginia as a teenager. She received a bachelor's degree in psychology and master's degree in Rehabilitation counseling from Virginia Commonwealth University. Her interests include reading, swimming, bargain shopping, and cats. Her books are available on Amazon.
Seventy-Seven and Holding, poetry
by Marilyn Brandt Smith
Author's Note: This poem represents my sister-in-law's current situation.
I guess I lost my balance, just don't know;
It made an awful racket when I fell.
They called for help, crying, of course I'll go;
Did I misstep? I thought I was doing well.
How many stitches needed? Thirty-three?
They stopped the flood, said blood was everywhere;
Testing overnight, then wait and see,
They must be sure at home I'll get good care.
Seventy-seven and holding, how I wish
For my downtown apartment and my cat;
Not someone else's choices in my dish;
It's been twelve years since I could live like that.
My sister Linda loves me, does her best;
My check let her quit work and stay at home,
But shopping, church, her doctors, and the rest
Mean sometimes I just have to stay alone.
Now, who will make the call, say yes or no?
I'm fragile, could soon fall again they say;
Linda sees me shutter, scared to know.
Without some change, they might send me away.
"Walk more; eat less; take pills!" I heard the voices;
But I ignored them, spoiled myself too much.
Now I'm angry, left with no good choices;
I grasp for hope, a laugh, a nurse's touch.
My nephew's daughter's here, no school today?
She helps me dress and hands me my old sweater;
Linda's shopping, cleaning, on her way!
We get another chance to do things better.
New shoes with treads, a walker, other tools;
Three times a week a nurse comes in. She's fine.
Three times a day it's Amber after school,
She'll work this Summer, wonder who they'll find?
I guess she pays attention, music's loud!
If I complain, she'd not be here at all.
They worry when I walk, but still we're proud,
The devil in the woodshed's my next fall.
---
Old and Valuable, poetry
by bonnie Rennie
You've heard what is said about aging wine.
we treasure it more,
Finer flavor with time.
I've ridden the rapids,
Paddled at peace, Past my prime.
Now, I'm old and valuable!
The joints and stamina do not bend to my will.
I retain creativity, passion and skill.
How my volunteer opportunities inspire and fulfill!
Life's good!
I'm old and useful!
There is leisure for laughter,
Warm memories, new friends.
The pleasure that drinking in nature extends,
Bright elation!
Immersion in books and music lends.
Yes, I'm old and I'm joyful!
I did not achieve every dream I had planned.
Still,
Other kites soared from the dreams that were canned.
I felt blessed and guided
by an invisible Hand.
So I sing,
I'm old and I'm grateful!
Bio: Bonnie Rennie recalls her first writing attempt at age twelve, a song parody expressing anticipation and anxst about entry into junior high. Her clinical social work career in medical and mental health settings fostered the creation of psycho-educational literature for patients and families. In retirement, Bonnie writes poetry, essays, articles, and materials for support groups. Some favorite subjects/themes are: music, Christian/spiritual, thriving while blind, blossoming in retirement, life's charms, quirks, challenges, and choices. Find Bonnie on Facebook.
---
Where's Joe? fiction
by Leonard Tuchyner
Marsha lay in her Hospice bed surrounded by her children and grandchildren. It had been five years since she had recognized any of them consistently. Over those years, occasionally a correct name would fly out unexpectedly, accompanied by an unmistakable glint of awareness in her eyes. Maggie and Jeff, two of her children, lived for those bittersweet moments. But that light of awareness rarely lasted for more than ten minutes.
Now, as life was making one last rally, Marsha seemed to have come to herself. She recognized everyone, even the grandchildren.
Maggie asked Tim, the attending Hospice nurse, "My mother hasn't been this sharp for years and years. Don't you think she might be getting better?"
Tim could hear the note of desperate hope in Maggie's voice and wanted to disappear rather than answer her question truthfully. "I've seen this happen before," he said. For a moment, his eyes were no longer focused on Maggie, as his attention was drawn to a memory of his deceased brother.
After a moment of discomfort, Maggie prodded, "What have you seen?"
Tim jerked his head, bringing himself back to the present and the anxious woman. "Of course you can never be sure, but a lot of dying people seem to rally at the very end of their lives. We don't really know why, but it often appears as though they are saying goodbye."
"Oh." Maggie's head drooped momentarily. Then her head lifted and her eyes searched those of her bearer of bad news. "But you say that we can't be sure, right?"
He shrugged his shoulders in resignation to his compulsion to respond to this woman who was begging him for hope.
"My brother and I used to race motorcycles. He wiped out, and it turned into a terrible mess. I wanted to believe that somehow he could walk away from it, but he was transported to a hospital, where things looked pretty bad for him. Then, all of a sudden, he was okay. He walked out of the intensive care unit against medical advice. To make a long story short, he died that night in his own bed."
Maggie's hand flew to her mouth. "Oh, I'm so sorry." She stood there not knowing whether or not to reach out to him.
"I shouldn't have told you that story. I'm sorry. It's not what you needed to hear just now. I'm not sure why I did."
Maggie was about to say something to console him, but he waved a dismissive hand.
"That happened a long time ago. Time does actually ease the pain. I gave up racing after that. It was really his thing anyway. I haven't talked about it for ages. I'm glad we had a few good hours after the accident."
"I guess I should be grateful for having my mother back, even if it's just for a few hours."
Tim felt guilty because he didn't mean to tell her how she should feel. That was the first lesson they had taught him at Hospice training.
Slightly uncomfortable, Maggie turned her attention back to her mother and her surroundings. Her private room in Hospice House was tastefully decorated in the ambiance of a cozy, country bedroom. A warm quilted bedspread covered Marsha's body.
"Oh Lord," Marsha said in a clear voice. "I'm going to be late."
"Where you going, Mama?" her son asked.
"You know very well where I'm going, Jeffrey. I have to meet some very important people."
"What important people would that be, Mama?" Jeff asked.
"Never you mind. I just don't want to be late. I've never been one to be late. It shows a lack of respect. But I can't go until Joe gets here. What's keeping that boy? I hope he's not in trouble again."
"But Mama, Joe…." he cut himself off in mid sentence when he saw his sister glaring at him. He was going to remind Marsha that Joe had died in a car accident twenty years ago.
"We'll be right back, Mama," Maggie said as she signaled Jeff to follow her out of the bedroom.
Jeff followed his older sister as she walked stiffly out the door. When they got out of ear shot of the Hospice bedroom suites, she turned on him.
"What's wrong with you, Little Brother? Why do you want to go and get her all upset?"
"What are you talking about?" He was forcing his voice not to rise in volume, but he couldn't help it rising in pitch.
"Don't act as dumb as you sometimes are. Mama is doing so well. If you tell her that Joe is dead, it's apt to disturb her to the point that she won't even know who we are. Do you want that?"
"Well, of course not. But…."
"Don't butt me. Use your head for something else."
Jeff lowered his head sheepishly and cow-towed to his older sister.
"Okay," she said. Let's go back in. Just humor her about Joe."
"Okay. I guess you're right, Sis."
By that time, Maggie was already on her way back to Marsha's Hospice room. Jeff followed dutifully. When they re-entered, a lively conversation was humming through the room. It was hard to believe that this was the place in which Marsha would soon pass away.
"Oh Jeffrey, there you are. I need a strong boy like you. Help me to sit up a little straighter in this confounded bed."
Jeff looked around desperately toward the attending nurse for instruction. Tim had remained in the room. Ordinarily, he would not have found the need to remain, but his instincts told him his assistance might be needed.
"Come on, Jeff," he instructed, "we'll get her sitting a little straighter, so she doesn't feel so slumped. You get on the other side and just follow my lead." With words and demonstration, Tim and Jeff gently maneuvered Marsha, who was as light as a feather. Jeff was afraid that his mother was so frail that she might break under his hands. He was relieved when she held together.
"Ah, that feels better. I feel more like a person now. Confound it, Where is that boy? What's keeping him?"
Seeing Jeff's distress at not knowing how to respond, Maggie said, "Don't worry, Mama. There's plenty of time. I promise, you won't be late. Just enjoy our visit."
"Yes, yes. Of course." The old woman looked around at her entourage, pausing to gaze at each member. "My, aren't we a good-looking group. And, Jeffrey, you are so handsome. Your Papa would have been so proud."
Jeff's face flushed slightly, and he stole a furtive glance at his sister and thought he saw a tear welling up in her eye, but her expression maintained its usual in-charge demeanor.
"Jeffrey, I'm so thirsty. Would you kindly get me some water?"
Eager to do something, Jeff went to the bowl of water and its swab rag which was used to wet Marsha's parched mouth and lips. For several days, she had been unable to drink anything. When he returned with the washcloth and tried to wipe his mother's lips, she protested, brushing his hand away.
"No, no. I want real water."
"Is that possible?" Maggie asked the attending nurse.
"I'm not sure. I'll be right back with a straw and a glass of water."
When he returned, he proffered the cup and straw to Maggie. She took them and soon had Marsha sipping. Maggie had developed a technique which she had often used while visiting her mother in the nursing home.
"Thank you, dear. That drink hit the spot."
Maggie longed for her mother to call her by name, which she so rarely did. She wondered whether Marsha saw her as anything but an attendant. After all, it was she who spent the most time with Marsha in her years at the nursing home, watching her dementia claim more and more of her mother's faculties. She wondered whether being taken for granted was just another part of the sacrifices she had been making for her mother. As they say,' she thought, it's a bitter pill, but someone has to swallow it. On the other hand, Marsha had always been partial to the males in the family. Maggie knew that Jeff did not relish the special attention. She could see the guilt in his eyes whenever the issue was obvious. Maggie held no animosity. She loved her brother. I wonder what he would do without me?
"Oh Lord, I'm getting tired. I think I'll take a nap. Jeffrey dear, help me lie down, please," Marsha sighed.
As Marsha's eyes fluttered closed, Tim and Jeff removed some of the pillows propping her up.
"Where is that boy? I want him to meet those important people with me. He'd better shake a leg."
Marcia's breathing began to slow down and become shallower.
"Oh, Maggie, I don't know what I would have done without you. You know I love you." she said, almost too softly to be heard.
The dam holding Maggie's tears back burst, and they dropped like hot rain drops to the floor.
Suddenly, Marsha's eyes opened, and a broad smile swept her face. "Thank God you made it, Joseph. I'm all ready to go."
A long, gentle exhale marked the old woman's last breath.
---
Night Star, poetry
by Valerie Moreno
She lived next door–
a wall, a world away–
someone I'd see in the hall,
say "Hi" as our lives
touched.
She grew frail
as illness claimed mobility.
Sometimes, in night's silence,
I could hear her singing,
sweet praise to God that
equaled the sound of angels.
Her spirit rose like sparkling light
as I sat listening
to her hope and desperation
poured out in clear, sweeping melody.
I moved around the corner of our hall
where bland noise took the place
of her sweet voice–
a loss of assurance.
Often, standing near the elevators,
I listened, but there was no sound.
She died quietly.
Many unaware until her son
came to open her apartment's
padlocked door.
In the night quiet,
I miss her–somehow,
knowing she is singing
somewhere bright and flawless
with true freedom.
---
Part VII. The Melting Pot
Turn Around – Look Away, poetry
by Leonard Tuchyner
A white friendly fluffy puppy
scampers across a busy street.
A heedless driver doesn't see —
puppy lies — body limp and dead.
Turn around – look away.
We must get on with our day.
A scruffy man in wear-torn rags
slack-shuffles down the sidewalk,
his eyes wandering here and there,
with lost unfocused wonder.
A group of fractious, callous kids
converge, surround and jeer him.
With hopeful desperate smile,
his shabby hands search his pockets,
and offers nickels and quarters.
They grab their swag and dash away,
his tears staining a smiling face.
Turn around- look away.
There is nothing you will do or say.
She cries and tries to fall asleep.
He swears there's nothing going on –
nothing worth her groundless weeping.
The woman's just a dear old friend.
Their affair had ended long ago.
Wouldn't it be a travesty
to abandon an old friend in need?
What can his parents do or say?
We can only turn around and look away,
But all broken hearts still will pay.
---
Driving to Monterey Bay, poetry
by Lynda McKinney Lambert
I watch-
migrant workers in
sunny fields
gathering the salads
for America.
Brussels sprouts,
strawberries,
artichokes,
as far as you can see.
The flame that grows
in my heart
is hidden-
like the concrete stacks
of Moss Landing.
On the road to
Monterey Bay.
---
A Tribute to Timeless Greatness, ninette poetry
by Terri Winaught
Under his leadership, lives were changed:
Touchdowns of acceptance were scored;
Field goals of fairness were kicked.
Football, faith, family
are what he valued.
This legacy
Dan Rooney
gave to
all!
Bio: Any time something is important to Terri, she shows it by being passionate. Terri likes to joke that she was so passionate about being born that she arrived three months early. This 63-year-old blind woman is passionate about racial justice, equality for persons with disabilities, and doing what she can to help others. Terri lives in Pittsburgh, PA where she has been married for over 11 years, and is the proud mother of two grown children. Mrs. Winaught loves singing in her Church choir, attending sporting events with the world's best husband, and listening to oldies.
---
Cane of Cchulhu, poetry
by Shawn Jacobson
Surely elder gods,
who dwell in deepest darkness
do not walk by sight.
Cchulhu, the monster god
is legend to live in utter darkness,
in some stygian depth, some lightless void,
some realm beyond the ken of man.
What would this eldritch creature know of light?
To it as alien as blindness is to those who see,
and trust in sight alone, unaware of dark strangeness,
in their normal suppositions excluding the other.
Should Cchulhu walk our mundane ground
what then could help him navigate the way?
A cane perhaps to help him on his travels
Through lighted lands we surely take for granted.
And what then of this soul of mine,
neither living in sight or blindness,
surrounded by a mighty unseen host
by Gods and monsters alien to my nature.
Then should I offer Cchulhu this cane?
So he can walk with barrowed confidence,
the ways of light and darkness so to know
all the worlds in which us monsters dwell.
Let mad king Azizof summon his musicians
to play a tune to commemorate this sharing
when monsters bridged the gulf twixt realms
of light and darkness and twilit worlds between.
I do not walk by sight
for I to live in darkness
in need of guidance.
---
Sanctum Sanctorum, poetry
by Susan Muhlenbeck
Few men have ever been there.
Fewer will go there yet.
Some view it as a challenge,
While others consider it a threat.
Dark, tight quarters leave the mind little room to wander.
Silent tranquility may give the mind much to ponder.
As dawn approaches and the only sound is the rain,
Mercilessly beating hard against the window pane,
I hear another sound in the depths of my soul,
Which burns its way into my heart like a hot coal.
From a quiet corner of the world,
A voice I once knew,
Soothingly whispers, "I remember you."
---
Shadow, poetry
by Sally Rosenthal
Seeking refuge from the relentless summer sun,
He arrived on my patio
Unbidden and collarless,
His plaintive meows brought forth
Bowls of food and water as
He watched, warily, from a distance.
He returned mornings and evenings
For meals and eventual friendship,
Winding his ginger tabby bulk around my legs
And kneading his large white paws on my lap
As I stroked his scarred body.
When the chill of autumn tinged the breeze,
He made a decision, and with
His name tag swaying softly from
His new collar, he resolutely, and
Without a backward glance, walked through
My front door into the security
Of his forever home.
Bio: A former college librarian and occupational therapist, Sally Rosenthal left both professions due to vision loss. A childhood stroke survivor, she, now blind and losing hearing due to age-related genetic hearing loss, is the book reviewer for Best Friends Magazine. Her nonfiction and poetry have appeared in numerous periodicals and anthologies.
---
The Wolf and the Loon, poetry
by Brad Corallo
A tiny spec out of the hazy distance grows;
a dark point, Expanding.
Framed by sunlight,
amidst shadows of young green leaves.
The Great Northern Diver, with a flash of silver
parts the surface of the lake like a lover.
In a stolen moment,
she rises with a wriggling silver fish in her implacable beak,
more luminous than her own plumage.
Seconds later, it is gone!
On the shore,
a grey and black wolf watches her success.
She swims off, majestic and satisfied.
The wolf continues to gaze, not hungrily
but at an equal.
Out of the distance her unearthly call of mournful triumph,
echoes eerily, splitting the silence!
---
Laika, poetry
by Mary-Jo Lord
on November 3, 1957,
Laika, a Good-natured, 11-pound stray
of mixed breed, was harnessed into a capsule,
provided food and water, and
launched into space aboard Sputnik 2.
Could a living animal be launched into orbit?
Laika and Sputnik 2 would
reveal the answer and
pave the way for human space travel.
Reports were conflicting as to
how long she survived, what she experienced.
Her six hour survival in space,
the overheated cabin, her elevated vital signs
were finally revealed in 2002.
Armed with the knowledge that her capsule would
not return to Earth in one piece,
a scientist took her home to play with his children.
On that cold November afternoon,
Laika, perky-eared with tail wagging
willingly followed the scientists to her capsule,
trusting, eager to please.
Laika, without offering consent,
was launched into the unknown,
where (in 1957) no man had gone or
would be willing to go.
Author's note: On April 11, 2008, officials unveiled a monument of Laika at the military research facility where staff had been responsible for preparing her for the flight. The monument shows Laika poised on top of a space rocket.